Thursday, July 16, 2020
25 Dhu Al-Qi'dah 1441
| | Starts | Iqamah |
| --- | --- | --- |
| Fajr1 | 4:59 AM | 6:00 AM |
| Zuhr2 | 1:44 PM | 2:00 PM |
| Asr | 5:42 PM | 6:45 PM |
| Maghrib | 8:52 PM | |
| Isha | 10:22 PM | 10:35 PM |
Friday, July 17, 2020
26 Dhu Al-Qi'dah 1441
| | Starts | Iqamah |
| --- | --- | --- |
| Fajr1 | 5:00 AM | 6:00 AM |
| Zuhr2 | 1:44 PM | 2:00 PM |
| Asr | 5:41 PM | 6:45 PM |
| Maghrib | 8:51 PM | |
| Isha | 10:22 PM | 10:35 PM |
Masjid Omar Bin Abdul Aziz
955 Harbins Road
Lilburn, GA 30047
(770) 279-8606
Fundraiser for Masjid Omar
Wednesday, May 20, 2020 9:50 am
---
Hifz Enrollment 20-21
Tuesday, May 19, 2020 9:47 am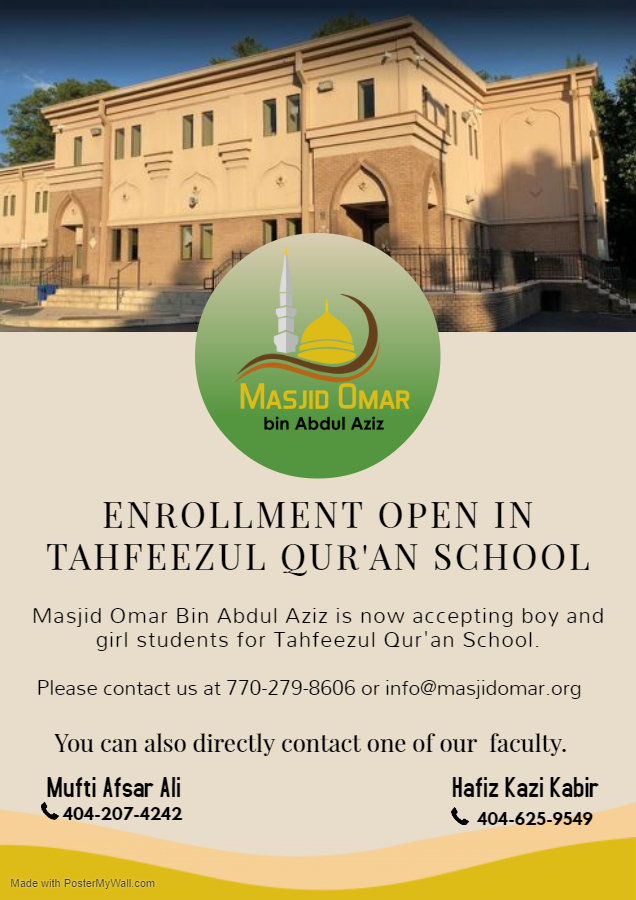 ---
Masjid Omar Closed Until Further Notice
Friday, April 3, 2020 10:00 am
---
All Activities Suspended Until Further Notice
Tuesday, March 24, 2020 12:59 pm
On March 23, 2020 Georgia's Governor announced a ban on gatherings above 10 people.  With the rapid growth of Coronavirus infections, Management has decided to suspend all activities including:
- Jama'at (congregational) five daily prayers
- Jama'at (congregational) Friday Jummah prayers
- All daily, weekly or monthly activities including Hifz Graduation
Both Masjid Omar bin Abdul Aziz and Al-Farooq Masjid will remain closed until further notice.  We will continue to monitor the situation daily and will provide updates on our website inshaAllah.  Please continue to follow the guidelines as stated by the Center for Disease Control and keep our Ummah in your prayers.  
---
Message to our community
Sunday, March 22, 2020 10:17 pm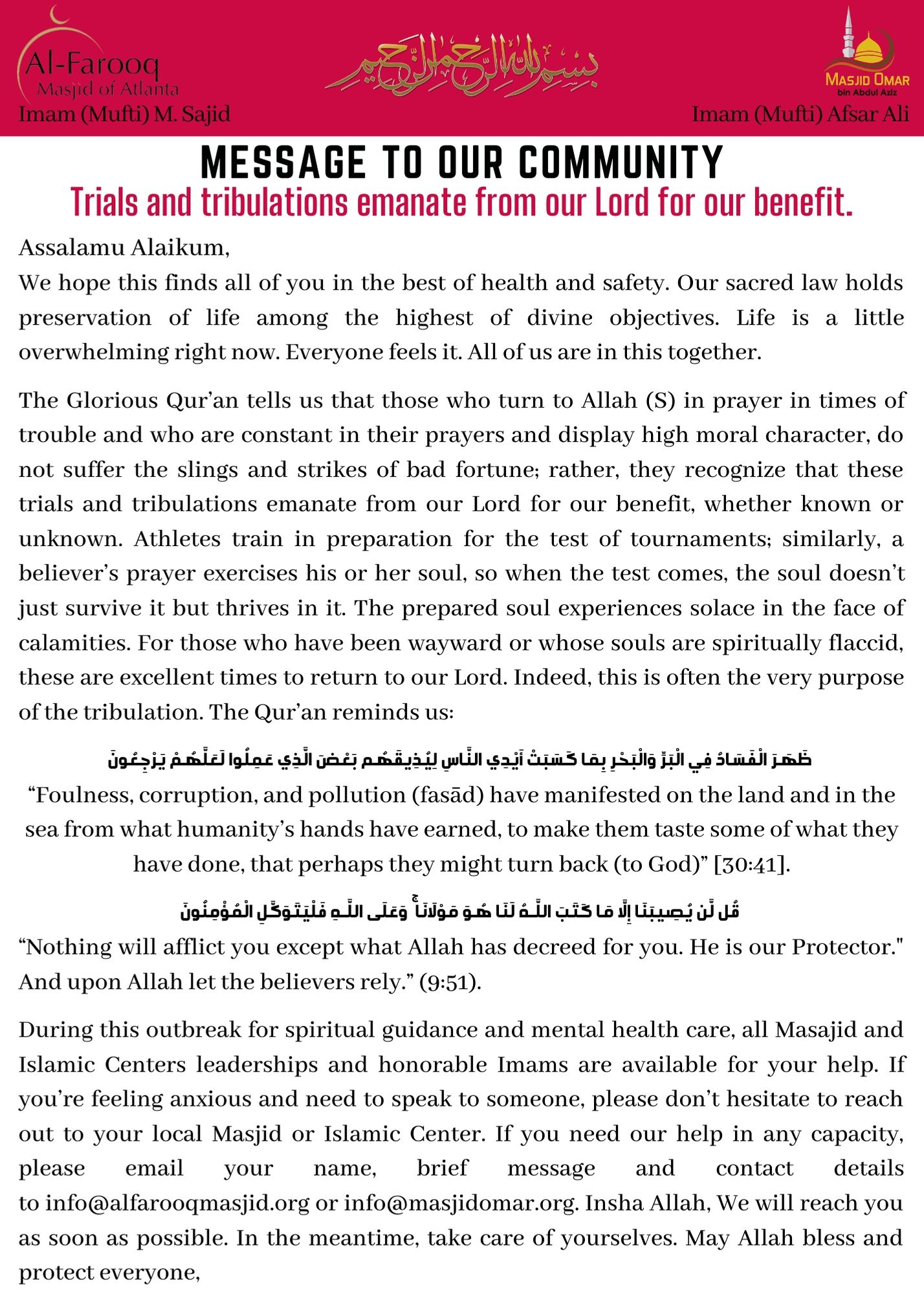 ---
How to Lead Jumu'ah Salah
Thursday, March 19, 2020 9:06 pm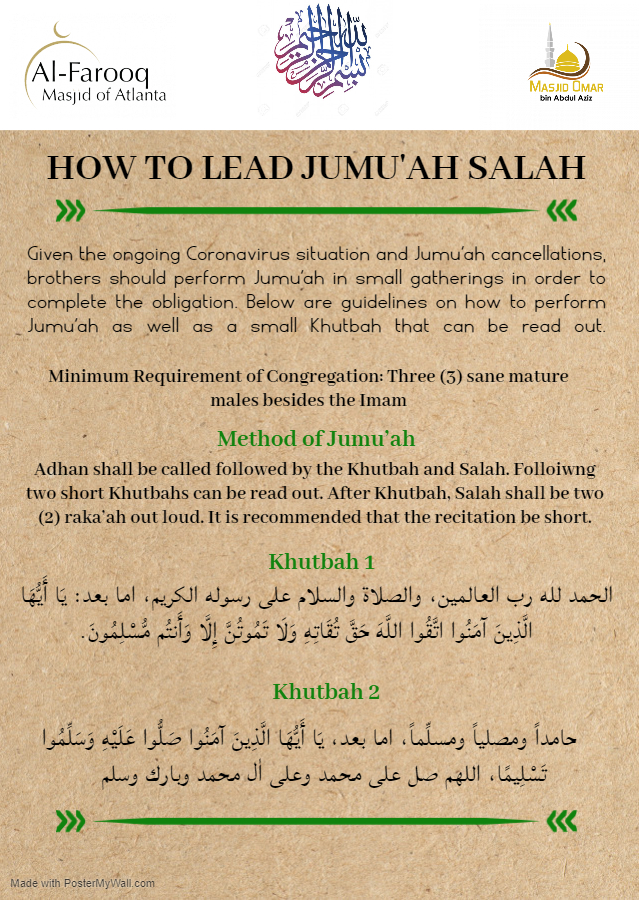 ---
Duas for Sicknesses Viruses and Diseases
Wednesday, March 18, 2020 3:35 pm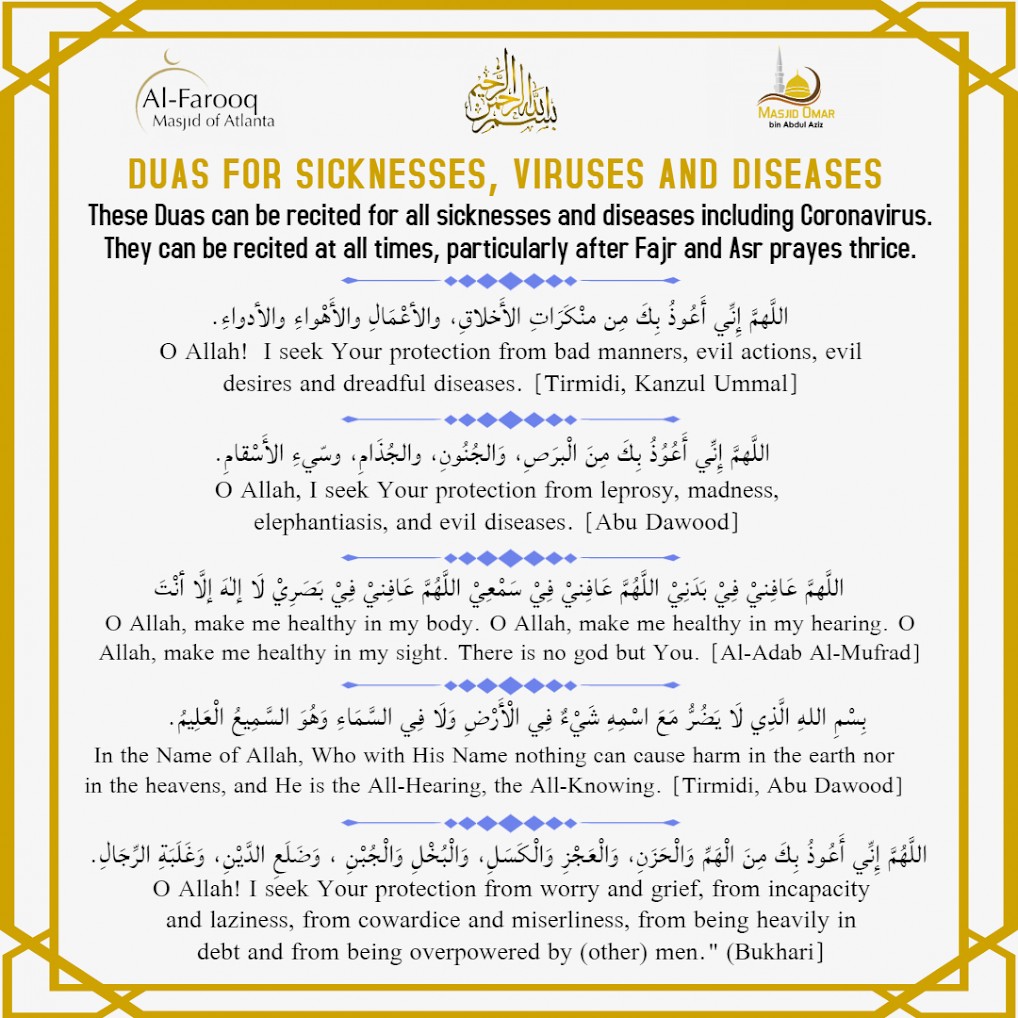 ---
Friday Prayer Suspended
Monday, March 16, 2020 11:05 pm
---
Announcement Regarding Jumu'ah and Daily Salahs
Friday, March 13, 2020 12:31 pm
Assalamu Alaikum dear community members,
Due to the Novel Corona Virus outbreak and in the interest of everyone's health and well-being, Masjid Omar bin Abdul Aziz management has decided the following until further notice:
Masjid will be open for daily prayers for those who are willing to perform Salah at the Masjid. However, the daily Salah schedule will not be followed until further notice. Everyone is advised to perform their own Salah or in a small group and leave.
Everyone must bring their own prayer rug if they are willing to come to the Masjid.
Everyone must wash their hands when they come to the Masjid and again before they leave.
Elderly and those with chronic illness or with weak immune systems should not come to Masjid for any Salah including Jumu'ah Salah.
We encourage everyone to limit their appearance in public places such as Masjid.
We will perform the 1st Jumu'ah today (03/13/2020) at 2 pm. Please visit www.masjidomar.org for the following Jumu'ah prayers later this week.
We will not have 2nd Jumu'ah until further notice.
We encourage everyone to perform their daily Salahs and Jumu'ah Salah in following few weeks at home, workplaces and businesses. The minimum number to perform Jumu'ah Salah is three people and one Imam/Khateeb.
We advise everyone to read the following two Declarations for more clarity on the issue.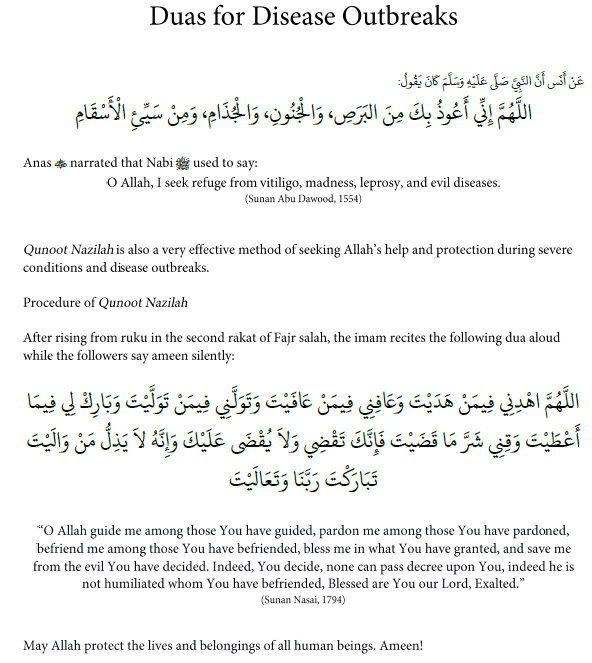 ---
Masjid Omar - All Classes Cancelled
Thursday, March 12, 2020 7:34 pm
Assalamu Alaikum dear community members,
You must be aware of the serious situation of Coronavirus (COVID-19). Therefore, following the guidelines of APS (Atlanta Public Schools) and USG (University System of Georgia) we have decided to cancel all the part-time and full-time classes at Masjid Omar Bin Abdul Aziz. Please see the the link below. 
All congregants are strongly advised to stay and perform all Salahs at home. If you still intend to come the Masjid, you must bring you prayer mats, don't shake hands, maintain distance from each other and leave as soon as you finish the Salah. 
May Allah (S) protect all of us. Ameen! Please stay healthy and safe.
---
EVENTS' POSTPONEMENT DUE TO COVID-19
Thursday, March 12, 2020 4:40 pm
Assalamu Alaikum dear brothers and sisters,
In the interest of health and wellbeing, the following Masjid Omar bin Abdul Aziz events have been postponed until further notice;
Monthly Quran Recitation

Paint Your Heart Away

Youth Bonfire
We advise everyone to follow the precautions and guidelines set by the federal government and public health officials regarding the COVID-19 pandemic. May Allah (SWT) protect and guide us. Ameen.
---
Masjid Omar COVID-19 Guidance
Wednesday, March 11, 2020 10:22 pm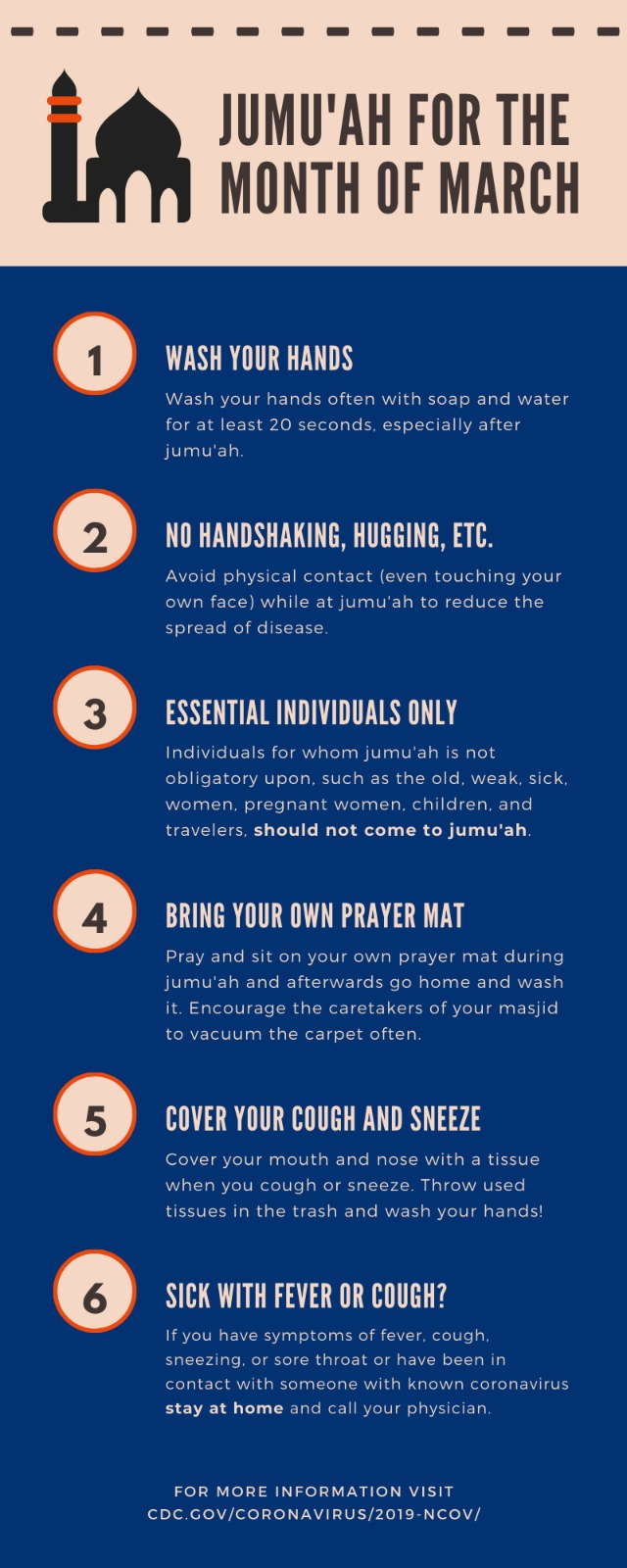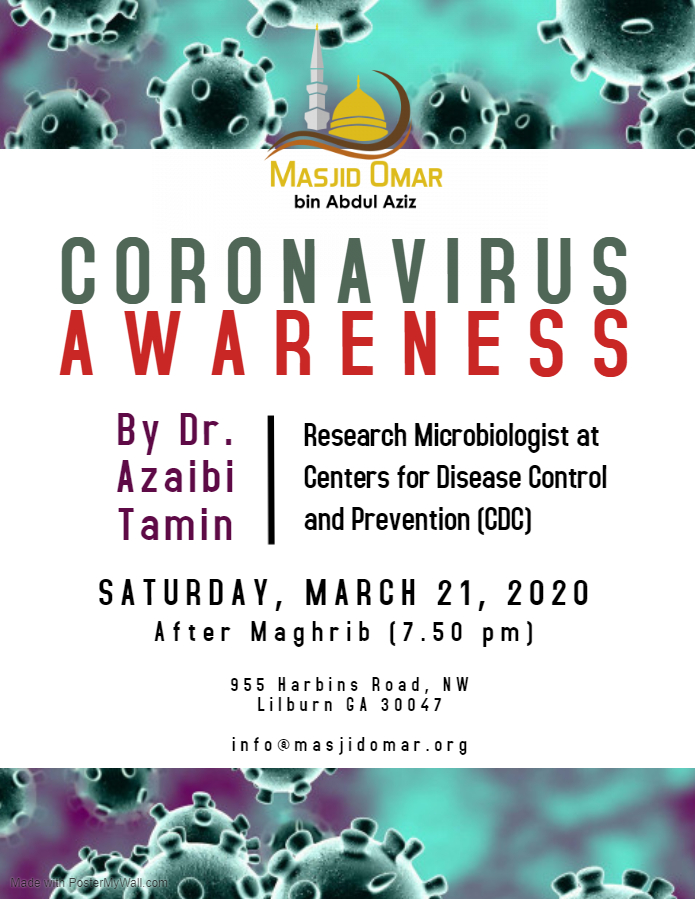 ---
You may also listen previous tafseer here
MOHID is Masjid Omar Bin Abdul Aziz's preferred method of accepting donations/payments.
Please write a check to "Masjid Omar" and either put it within a donation box at the masjid or mail it to:
Masjid Omar Bin Abdul Aziz
955 Harbins Road
Lilburn, GA 30047
"
Surely those who guard (against evil) are in a secure place, In gardens and springs;"