Tuesday, November 30, 2021
25 Rabi' Al-Thani 1443
| | Starts | Iqamah |
| --- | --- | --- |
| Fajr1 | 5:56 AM | 6:30 AM |
| Zuhr2 | 12:26 PM | 2:00 PM |
| Asr | 3:11 PM | 4:15 PM |
| Maghrib | 5:33 PM | |
| Isha | 6:52 PM | 7:30 PM |
Wednesday, December 1, 2021
26 Rabi' Al-Thani 1443
| | Starts | Iqamah |
| --- | --- | --- |
| Fajr1 | 5:56 | 6:30 |
| Zuhr2 | 12:26 | 2:00 PM |
| Asr | 3:09 PM | 4:15 PM |
| Maghrib | 5:32 PM | |
| Isha | 6:51 PM | 7:30 PM |
Masjid Omar Bin Abdul Aziz
955 Harbins Road
Lilburn, GA 30047
(770) 279-8606
info@masjidomar.org
Blessed Interaction
Saturday, September 7, 2019 11:50 pm
Come join us for a special lecture by Imam Asif Hirani on September 20th inshaAllah! Please save the date and share with your friends & family! #BlessedInteraction #Sep20thMaghrib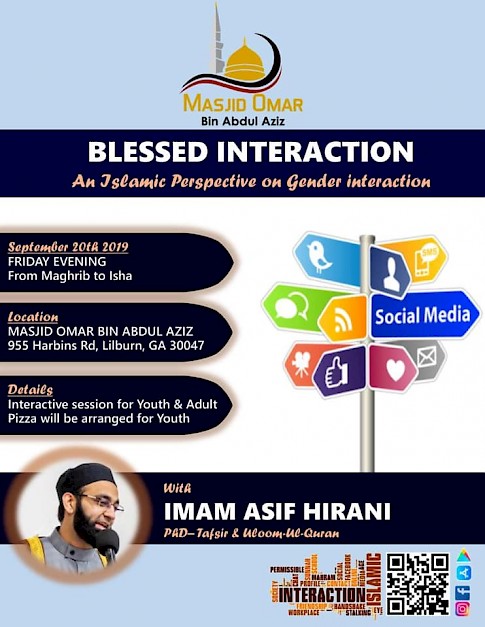 ---
Deen Driven Car Show
Thursday, August 22, 2019 9:42 am
Love cars and BBQ? Join our Youth Committee for the #DeenDriven car show inshaAllah! Come and get to know our committee and find out more about their planned activities on August 24th!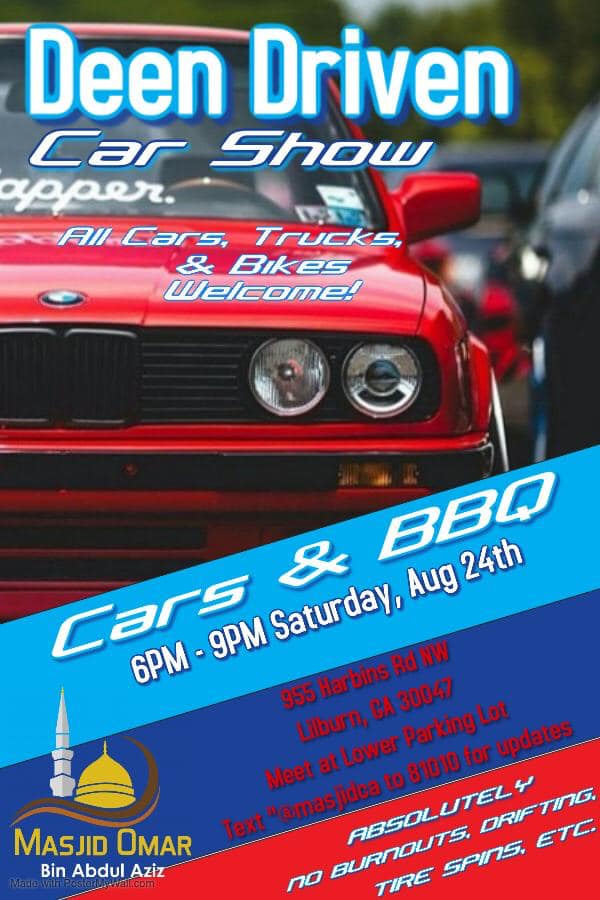 ---
Online Programs:
* Prophet Seerah
Every Tuesday at 7:30 pm on Zoom.
Meeting ID: 863 5276 3696
Password: 786786

* Don't Despair of the Mercy of Allah

  Every Wednesday after Maghrib

Zoom Series for Sisters

Lives of the Prophets
MOHID is Masjid Omar Bin Abdul Aziz's preferred method of accepting donations/payments.
Please write a check to "Masjid Omar" and either put it within a donation box at the masjid or mail it to:
Masjid Omar Bin Abdul Aziz
955 Harbins Road
Lilburn, GA 30047
"
And the servants of (Allah) Most Gracious are those who walk on the earth in humility, and when the ignorant address them, they say, "Peace!";"
You may also listen previous tafseer here