Thursday, September 19, 2019
9 Muharram 1440
| | Starts | Iqamah |
| --- | --- | --- |
| Fajr1 | 6:01 AM | 6:30 AM |
| Zuhr2 | 1:32 PM | 2:00 PM |
| Asr | 5:01 PM | 6:15 PM |
| Maghrib | 7:42 PM | |
| Isha | 8:58 PM | 9:25 PM |
Friday, September 20, 2019
10 Muharram 1440
| | Starts | Iqamah |
| --- | --- | --- |
| Fajr1 | 6:02 AM | 6:30 AM |
| Zuhr2 | 1:32 PM | 2:00 PM |
| Asr | 5:00 PM | 6:15 PM |
| Maghrib | 7:41 PM | |
| Isha | 8:56 PM | 9:25 PM |
Masjid Omar Bin Abdul Aziz
955 Harbins Road
Lilburn, GA 30047
(770) 279-8606
Mental Health Forum
Monday, September 16, 2019 10:23 pm
A life comes to an end every 40 seconds due to suicide (WHO). Suicide affects people of all ages in all communities and it is certainly preventable. Are you aware of the signs? Do you know what resources are available for help? What can you do? Join our upcoming forum to find out more inshaAllah!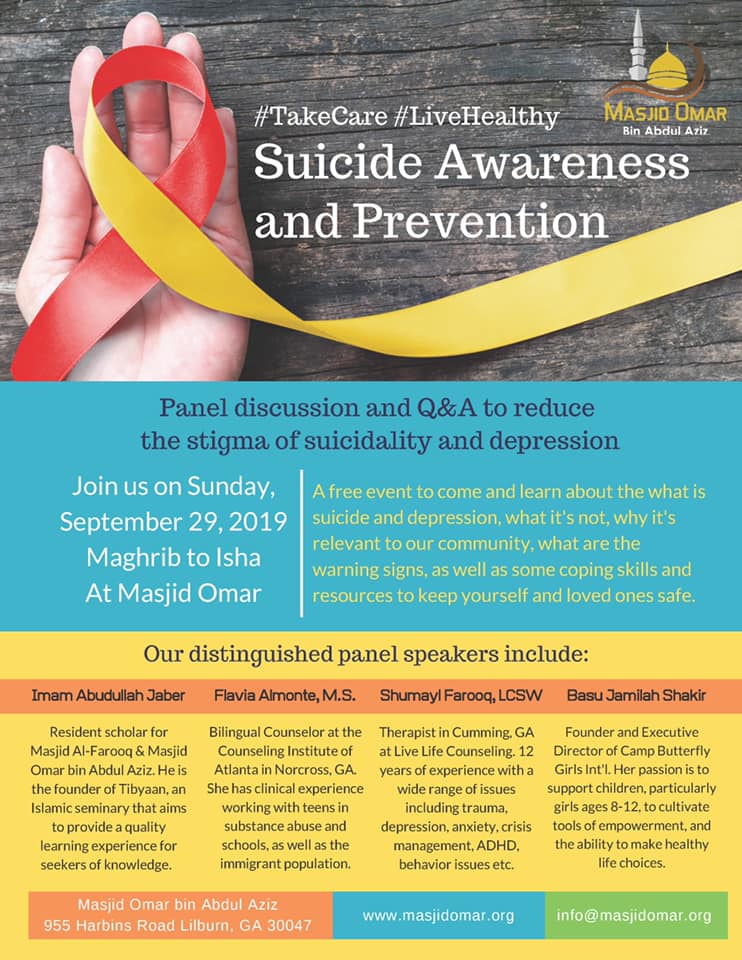 ---
Eid Field Day 2019
Saturday, September 7, 2019 11:55 pm
Let's end this summer heat with a bang! Families, friends, and neighbors all are welcome! Let us come together and celebrate the blessings that was brought upon Eid-ul Adha and give a special, warm welcome to our Hujjaj that completed a pillar of their faith!
RSVP Now: https://forms.gle/ZNdHfB5UXAnhTVfe7
 #CelebrateCommunity #WelcomeHujjaj
---
Blessed Interaction
Saturday, September 7, 2019 11:50 pm
Come join us for a special lecture by Imam Asif Hirani on September 20th inshaAllah! Please save the date and share with your friends & family! #BlessedInteraction #Sep20thMaghrib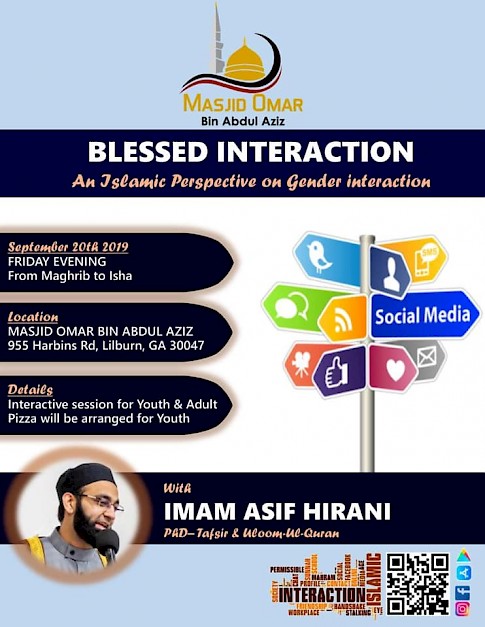 ---
Deen Driven Car Show
Thursday, August 22, 2019 9:42 am
Love cars and BBQ? Join our Youth Committee for the #DeenDriven car show inshaAllah! Come and get to know our committee and find out more about their planned activities on August 24th!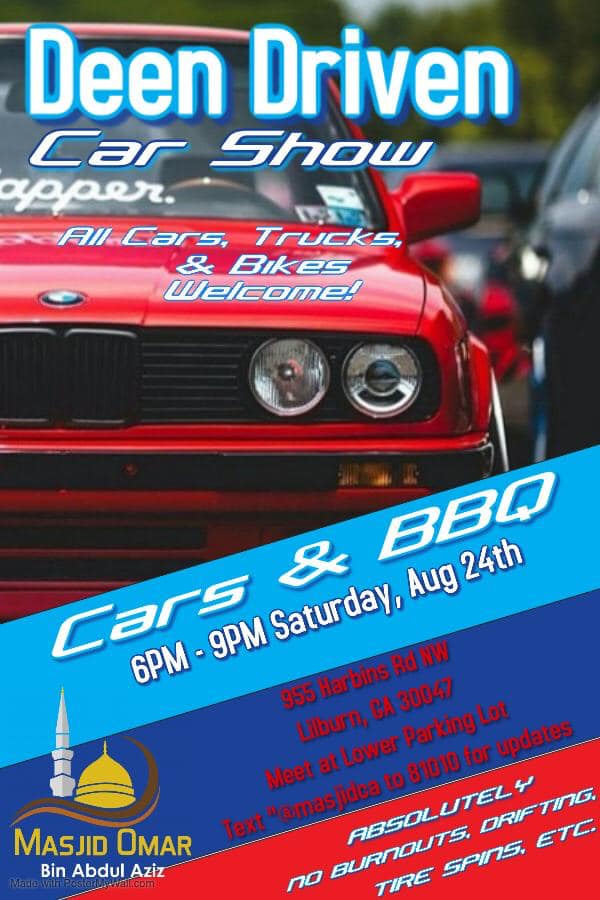 ---
Sunday & Evening School Registration
Monday, August 12, 2019 4:10 pm
---
eid al adha
Saturday, August 3, 2019 9:16 pm
---
Dhul Hijjah Mubarak
Thursday, August 1, 2019 9:21 pm
Alhamdulillah- the moon for the month of Dhul Hijjah has been sighted! This marks the beginning of the blessed 10 days of Dhul Hijjah. May Allah accept our good deeds, duas, and dhikr. May Allah bless all of us, our family members, community, and ummah during these Blessed Days! Ameen!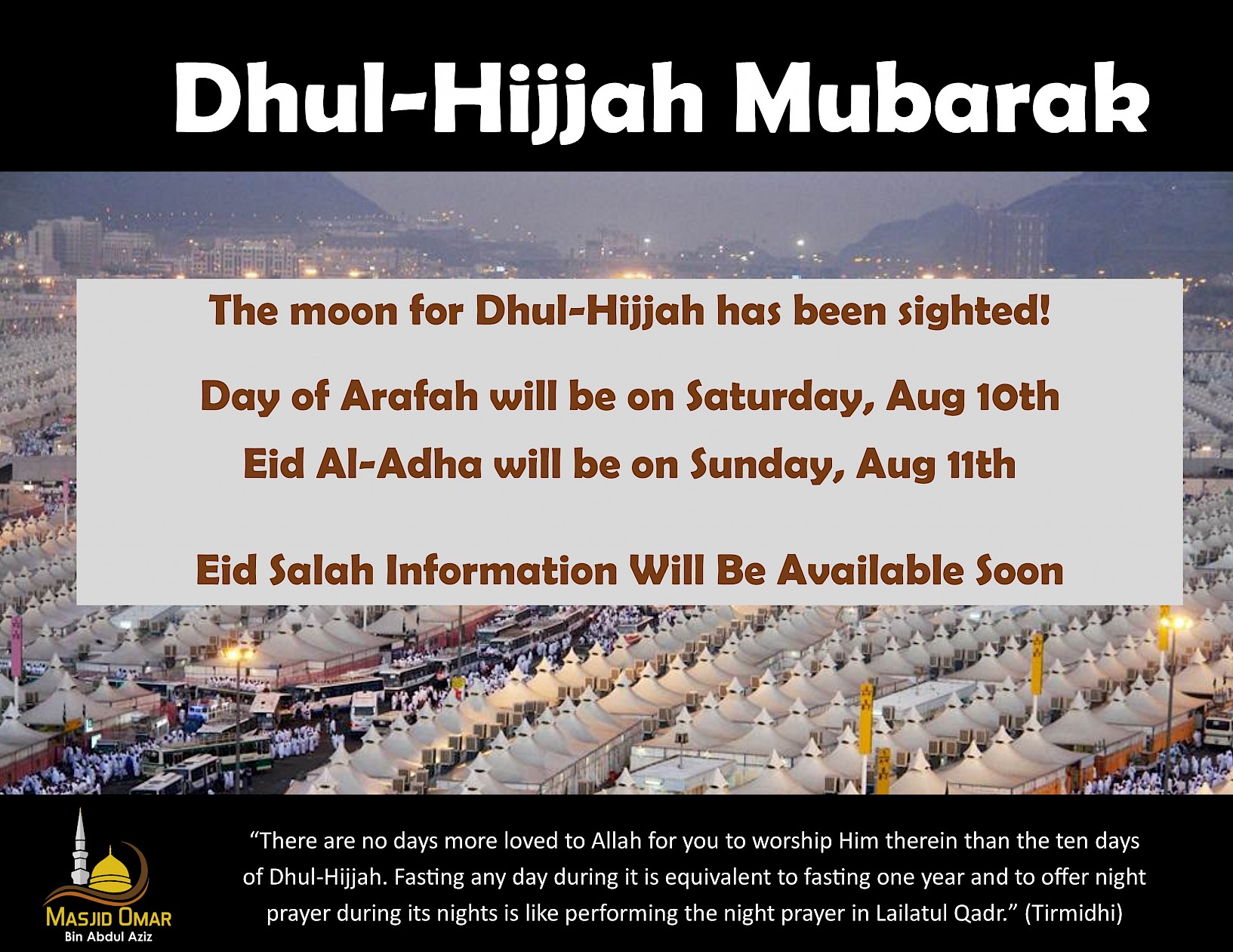 ---
Tibyan Calarity- Open House
Tuesday, July 23, 2019 2:41 pm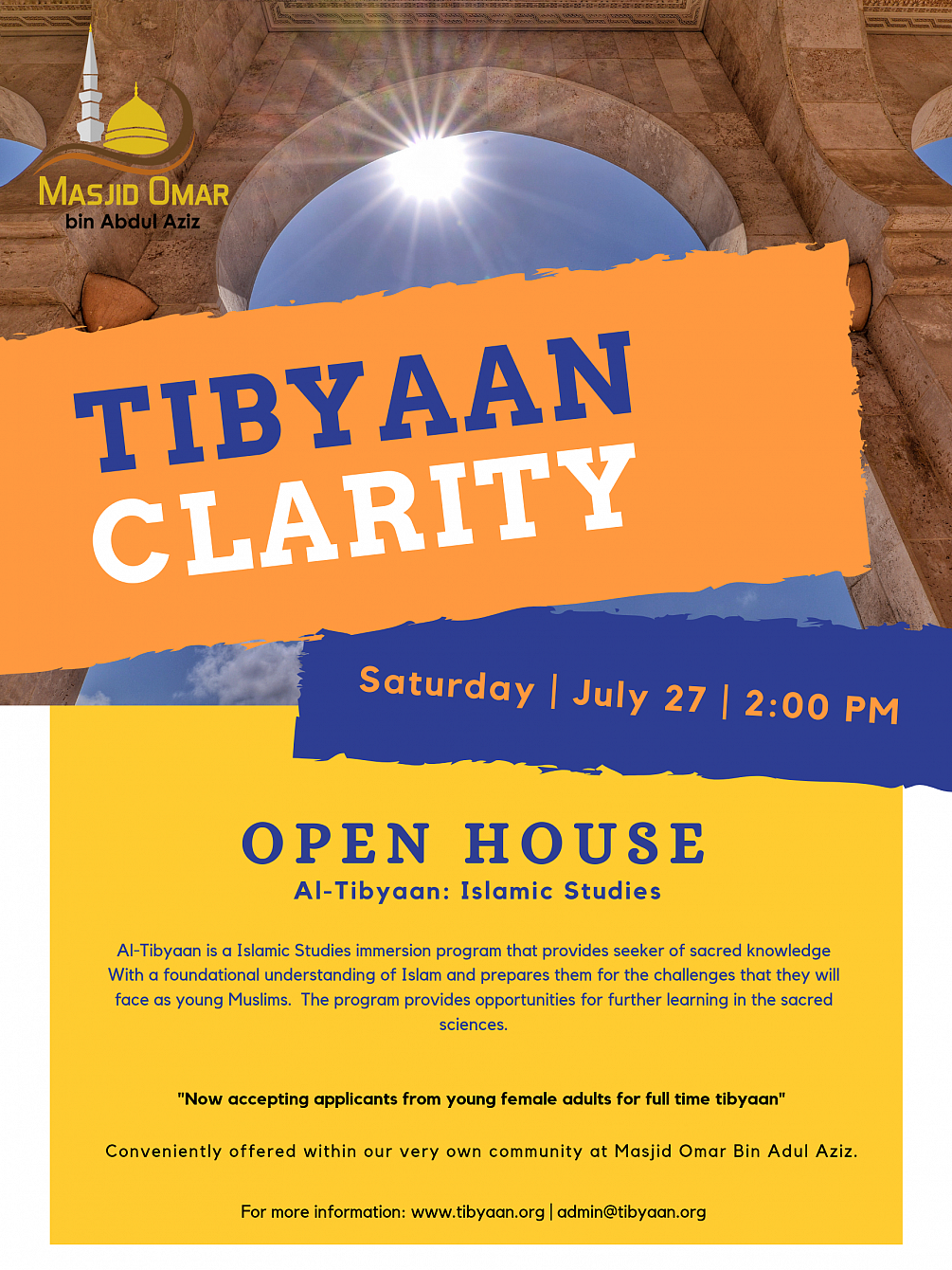 ---
Annual Eid Gift Drive
Saturday, July 20, 2019 10:22 am
---
Sister's Gym Timings
Friday, July 19, 2019 5:26 pm
---
Annual Audit Results
Tuesday, July 16, 2019 12:15 pm
Alhamdulilah the Board of Trustees completed an annual audit of the organizations finances, including Masjid Omar bin Abdul Aziz, through a third party independent accounting firm.  The results of the audit can be viewed here.  JazakumAllahu Khairan!
---
Summer Basketball Camp
Tuesday, July 16, 2019 11:22 am
---
You may also listen previous tafseer here
MOHID is Masjid Omar Bin Abdul Aziz's preferred method of accepting donations/payments.
Please write a check to "Masjid Omar" and either put it within a donation box at the masjid or mail it to:
Masjid Omar Bin Abdul Aziz
955 Harbins Road
Lilburn, GA 30047
"
Say: He is Allah, the One and Only; Allah, the Eternal, Absolute; He begetteth not, nor is He begotten; And there is none like unto Him."