Sunday, May 29, 2022
28 Shawwal 1443
| | Starts | Iqamah |
| --- | --- | --- |
| Fajr1 | 4:48 | 6:00 |
| Zuhr2 | 1:35 PM | 2:00 PM |
| Asr | 5:34 PM | 6:45 PM |
| Maghrib | 8:45 PM | |
| Isha | 10:16 PM | 10:30 PM |
Monday, May 30, 2022
29 Shawwal 14430 Dhu Al-Qi'dah 1443
| | Starts | Iqamah |
| --- | --- | --- |
| Fajr1 | 4:48 | 6:00 |
| Zuhr2 | 1:36 PM | 2:00 PM |
| Asr | 5:34 PM | 6:45 PM |
| Maghrib | 8:45 PM | |
| Isha | 10:17 PM | 10:30 PM |
Masjid Omar Bin Abdul Aziz
955 Harbins Road
Lilburn, GA 30047
(770) 279-8606
info@masjidomar.org
Basics of our Deen
Friday, May 27, 2022 7:49 pm
---
Princess Tea Party
Friday, May 27, 2022 12:53 pm
---
Annual Hifz Graduation Ceremony
Saturday, May 21, 2022 11:11 pm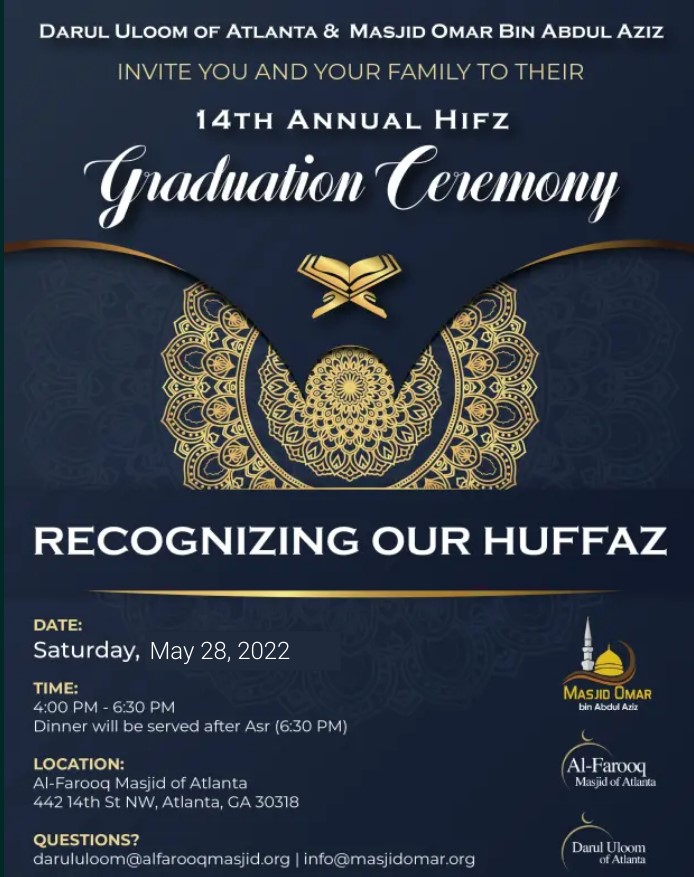 ---
Sister's BoneFire
Saturday, May 21, 2022 11:10 pm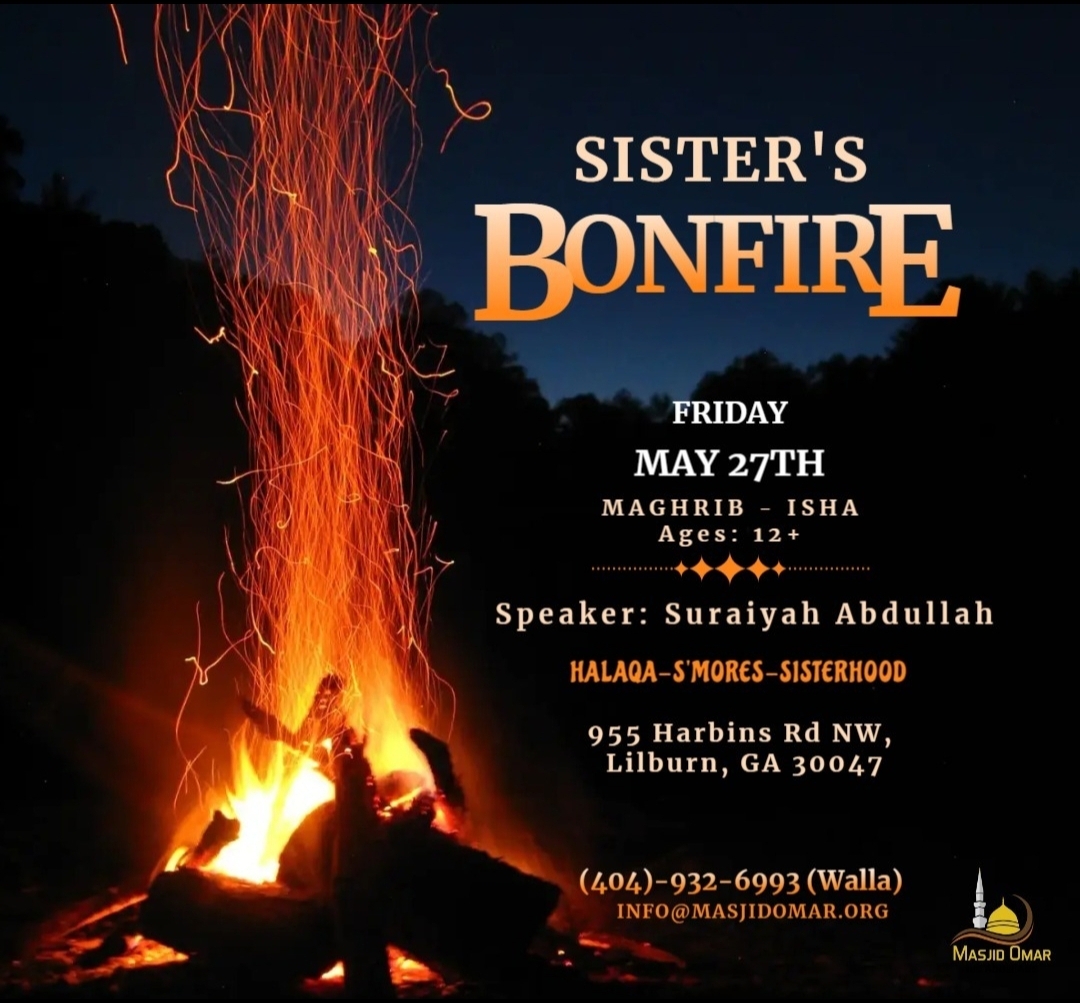 ---
Siraat Graduation
Monday, May 16, 2022 9:19 am
---
Boys and Girls Summer School
Friday, May 13, 2022 1:09 pm
---
Eid ul-Fitr 2022 (Photos)
Tuesday, May 3, 2022 10:37 am
---
Ramadan Quran Club - Girls Only
Monday, April 18, 2022 7:22 pm
Assalamu Alaikum, 
Ramadan Quran Club for Girls Only. Please join Monday to Friday at 5 pm during Ramadan to learn and practice your Quran online. No age limit.
Zoom Link:* https://us02web.zoom.us/j/6594414735
---
Sister's Qiyam Night
Tuesday, April 12, 2022 6:16 pm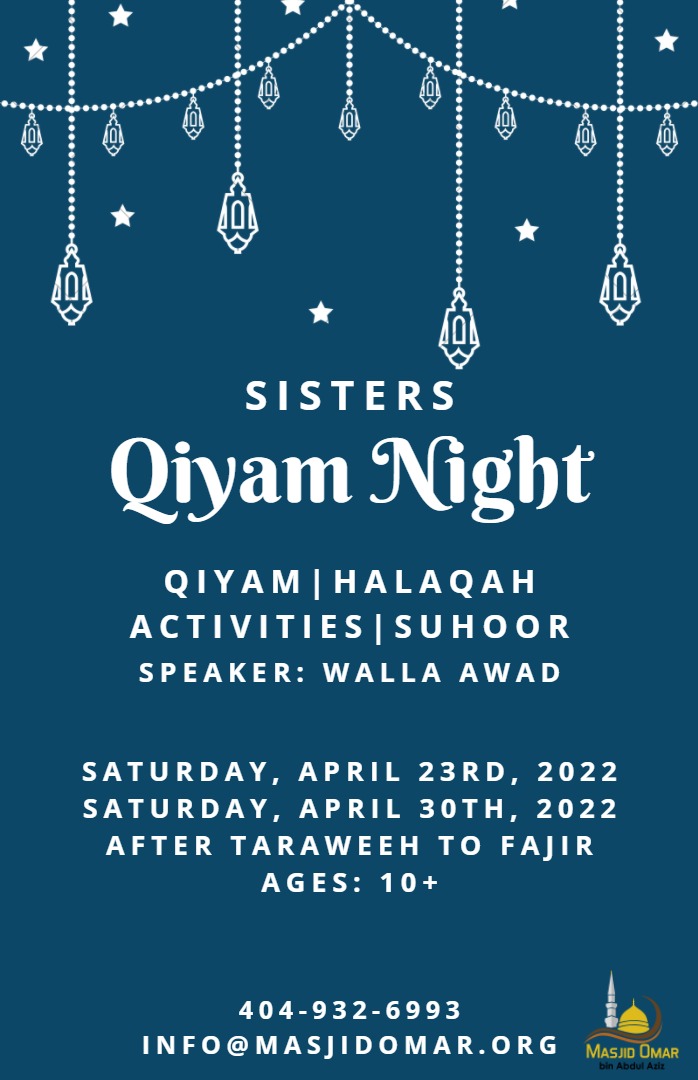 ---
Qiyam Bonfire
Wednesday, April 6, 2022 6:43 am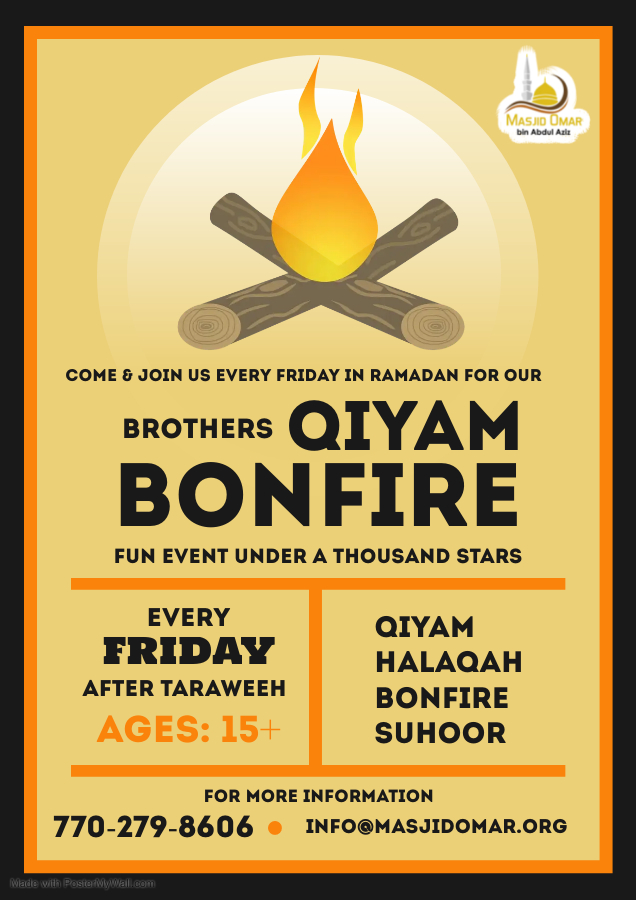 ---
Islamic Kahoot Trivia
Monday, April 4, 2022 5:58 am
---
Ramadan Begins today
Friday, April 1, 2022 8:19 pm
As-Salamu Alaikum Wa Rahmatullahi Wa Barakatuh.
Ramadan Mubarak! Insha'Allah the first day of fasting is tomorrow (Saturday). We will commence the 1st Taraweeh tonight. The Iqamah for Isha Salah tonight will be at 9:30 PM. Fajr Iqamah tomorrow is at 6:20 AM. Please download Masjid Omar's Ramadan Prayer Schedule from the masjid website or install Masjid Omar's new App here. May Allah SWT accept all your efforts during this holy month of Ramadan and grant you His Mercy, Blessings and Forgiveness.
---
Please write a check to "Masjid Omar" and either put it within a donation box at the masjid or mail it to:
Masjid Omar Bin Abdul Aziz
955 Harbins Road
Lilburn, GA 30047
"
Narrated 'Umar bin Al-Khattab: I heard Allah's Messenger

saying, "The reward of deeds depends upon the intentions and every person will get the reward according to what he has intended. So whoever emigrated for worldly benefits or for a woman to marry, his emigration was for what he emigrated for.""
You may also listen previous tafseer here