Tuesday, September 28, 2021
20 Safar 1443
| | Starts | Iqamah |
| --- | --- | --- |
| Fajr1 | 6:08 AM | 6:30 AM |
| Zuhr2 | 1:29 PM | 2:00 PM |
| Asr | 4:53 PM | 6:15 PM |
| Maghrib | 7:30 PM | |
| Isha | 8:45 PM | 9:10 PM |
Wednesday, September 29, 2021
21 Safar 1443
| | Starts | Iqamah |
| --- | --- | --- |
| Fajr1 | 6:09 AM | 6:30 AM |
| Zuhr2 | 1:28 PM | 2:00 PM |
| Asr | 4:52 PM | 6:15 PM |
| Maghrib | 7:28 PM | |
| Isha | 8:43 PM | 9:10 PM |
Masjid Omar Bin Abdul Aziz
955 Harbins Road
Lilburn, GA 30047
(770) 279-8606
info@masjidomar.org
Free Health Fare
Sunday, August 29, 2021 9:42 pm
---
Sunday Islamic School and Evening School 2021-22
Tuesday, August 24, 2021 1:09 pm
Sunday Islamic School Registration link: https://us.mohid.co/ga/atlanta/masjidomar/masjid/online/registration/index/a1VLTGcrRUptdVFvQmVYL0RwZldHZz09
Evening School Registration link: https://us.mohid.co/ga/atlanta/masjidomar/masjid/online/registration/index/RlZveDdSNjlkTFRYUUtGQXZCZ0lqZz09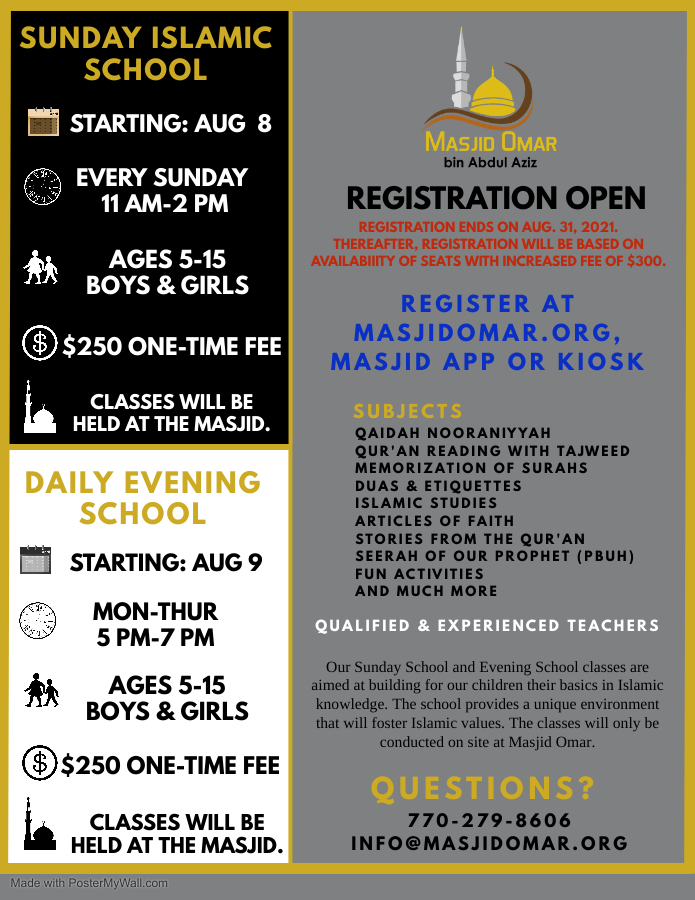 ---
Important Jumua Announcement
Friday, August 13, 2021 11:21 am
Upstairs Area will be used for brothers during 1st Juma Prayer.
Due to the rise in covid cases again, sisters' prayer area upstairs will be used for brothers during the 1st Juma prayer. However, sisters are most welcome for 2nd and 3rd Juma prayers. Our apologies for any inconvenience. Thank you!
---
Fundraiser for Basketball Hoop
Friday, July 30, 2021 12:36 pm
Assalamu Alaikum,
From Masjid Omar Youth
Attention to all the youth of the Masjid Omar bin Abdul Aziz Community. We have started a fundraiser to acquire an NBA regulation basketball hoop for the Masjid! The purpose for purchasing a new professional basketball goal is due to the recurring damage to the previous goals installed in the Masjid, including the current goal which has once again been broken. As the next generation of Muslim leaders of our community it is our responsibility to take care of our Masjid and Allah SWT has blessed us with a great opportunity to fix our Gymnasium so that it may once again host the youth of our community and bring them closer to His house.
Fundraiser Link:
---
YM Lilburn
Sunday, July 4, 2021 7:12 pm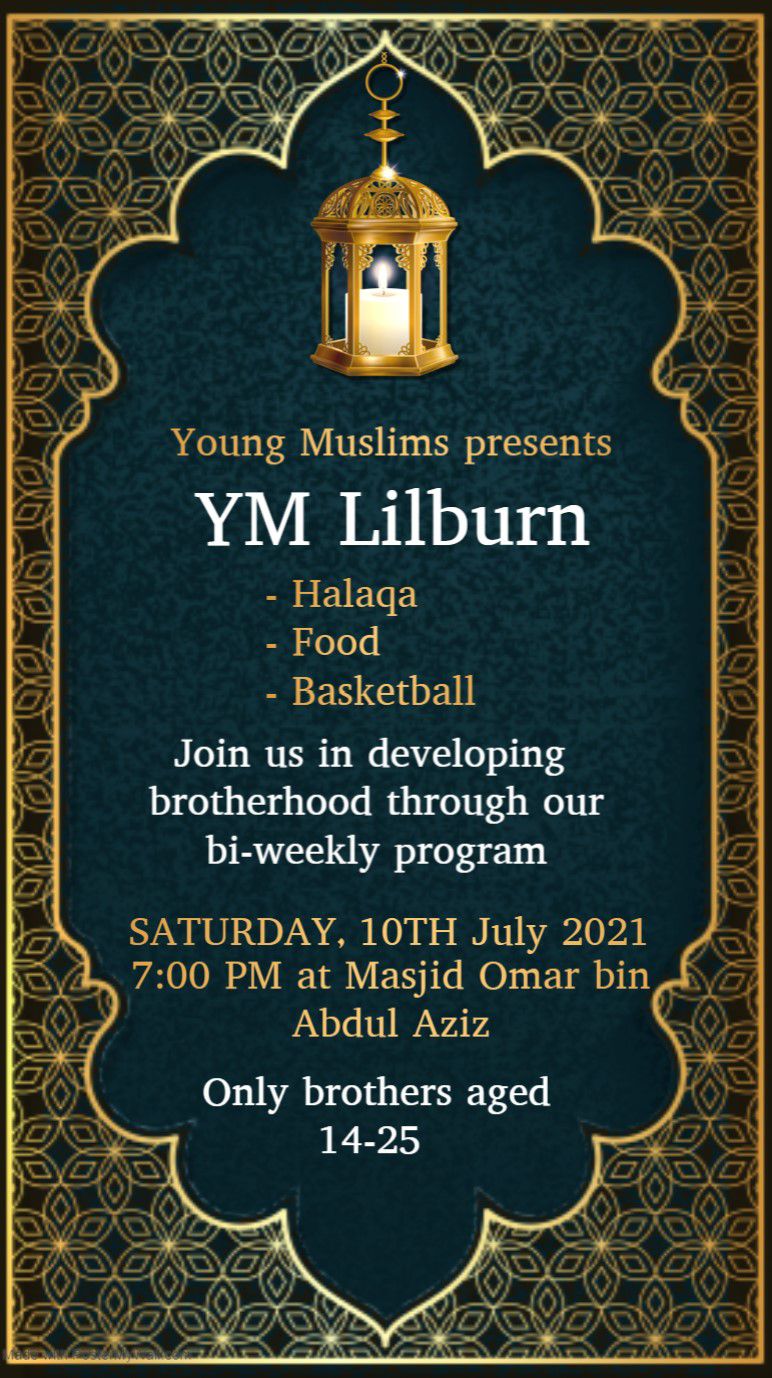 ---
Open House - Sirat
Tuesday, June 22, 2021 7:25 am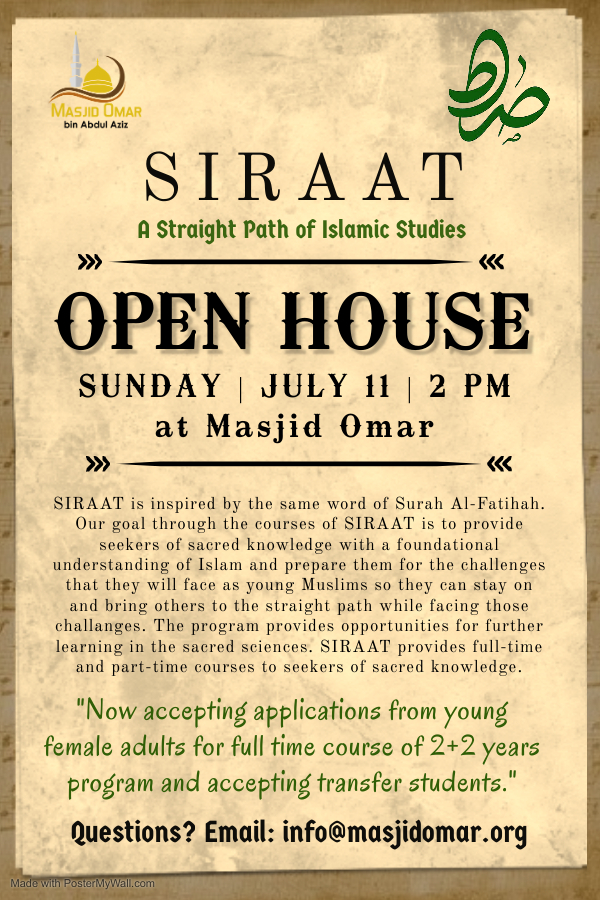 ---
Summer Camp 2021 - Online
Monday, May 24, 2021 7:35 pm
---
Eid Mubarak!
Tuesday, May 11, 2021 9:15 pm
---
29th Night of Ramadan (Live Stream)
Monday, May 10, 2021 9:38 pm
---
Masjid Omar's Fundraiser
Friday, April 23, 2021 7:24 am
---
Donation Links
Friday, April 23, 2021 6:27 am
---
Stay Connected on WhatsApp
Friday, April 23, 2021 6:26 am
Please join Masjid Omar's WhatsApp group via this link.
---
Online Programs:
* Prophet Seerah
Every Tuesday at 7:30 pm on Zoom.
Meeting ID: 863 5276 3696
Password: 786786

* Don't Despair of the Mercy of Allah

  Every Wednesday after Maghrib

Zoom Series for Sisters

Lives of the Prophets
MOHID is Masjid Omar Bin Abdul Aziz's preferred method of accepting donations/payments.
Please write a check to "Masjid Omar" and either put it within a donation box at the masjid or mail it to:
Masjid Omar Bin Abdul Aziz
955 Harbins Road
Lilburn, GA 30047
"
Narrated 'Umar bin Al-Khattab: I heard Allah's Messenger

saying, "The reward of deeds depends upon the intentions and every person will get the reward according to what he has intended. So whoever emigrated for worldly benefits or for a woman to marry, his emigration was for what he emigrated for.""
You may also listen previous tafseer here