Thursday, July 16, 2020
25 Dhu Al-Qi'dah 1441
| | Starts | Iqamah |
| --- | --- | --- |
| Fajr1 | 4:59 AM | 6:00 AM |
| Zuhr2 | 1:44 PM | 2:00 PM |
| Asr | 5:42 PM | 6:45 PM |
| Maghrib | 8:52 PM | |
| Isha | 10:22 PM | 10:35 PM |
Friday, July 17, 2020
26 Dhu Al-Qi'dah 1441
| | Starts | Iqamah |
| --- | --- | --- |
| Fajr1 | 5:00 AM | 6:00 AM |
| Zuhr2 | 1:44 PM | 2:00 PM |
| Asr | 5:41 PM | 6:45 PM |
| Maghrib | 8:51 PM | |
| Isha | 10:22 PM | 10:35 PM |
Masjid Omar Bin Abdul Aziz
955 Harbins Road
Lilburn, GA 30047
(770) 279-8606
Free Grocery Distribution
Wednesday, July 15, 2020 6:53 pm
---
Rediscover Dul-Hijjah
Wednesday, July 15, 2020 6:51 pm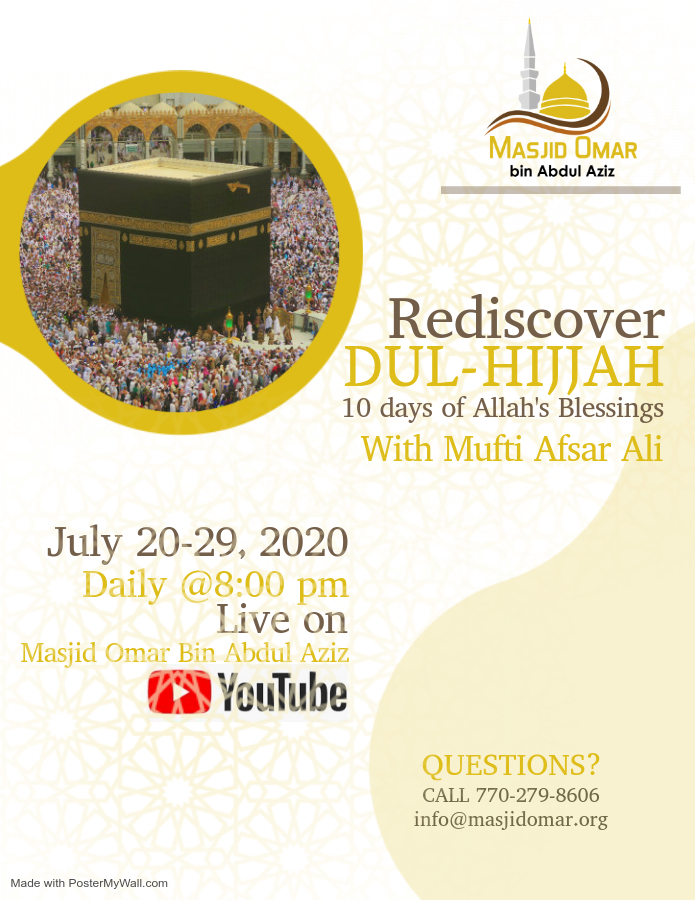 ---
Prophetic Seerah Series
Monday, July 13, 2020 4:00 pm
---
Juma Prayer Suspended until further notice
Saturday, July 11, 2020 12:21 pm
Assalamu Alaikum,
Juma Prayer Suspended until further notice.
Due to the rise in Covid-19 cases in Georgia, unfortunately, Juma Prayer at Masjid Omar Bin Abdul Aziz is temporarily being suspended until further notice. However, the Masjid will remain open for 5 daily prayers with guidelines and restrictions in full effect. We will keep you updated. We apologize for any inconvenience. May Allah (SWT) forgive and protect all of us! Ameen!
---
2nd Masjid Reopening Guidelines and Restrictions
Thursday, July 9, 2020 5:17 pm
---
Share the blessing of Qurbani
Thursday, July 9, 2020 5:11 pm
---
Summer Intensive for Teens
Friday, June 19, 2020 12:03 pm
---
Open House - Siraat
Thursday, June 18, 2020 2:22 pm
Assalamu Alaikum,
please join us to learn about our Islamic Studies programs and meet our instructors.
Topic: Open House for Siraat of Masjid Omar Date: July 11, 2020, Time: 2:00 PM to 3.00 PM (ET)
Organized by: Masjid Omar Bin Abdul Aziz
Hosted by: Mufti Afsar Ali & female SIRAAT instructors
Join Zoom Meeting https://us02web.zoom.us/j/83046987368?pwd=aXhFb1c2dzBTT2M0R213dkVPTVNWZz09
Meeting ID: 830 4698 7368
Password: siraat
Join by Phone Dial-in: +1312 626 6799
Meeting ID: 830 4698 7368
Password: 812121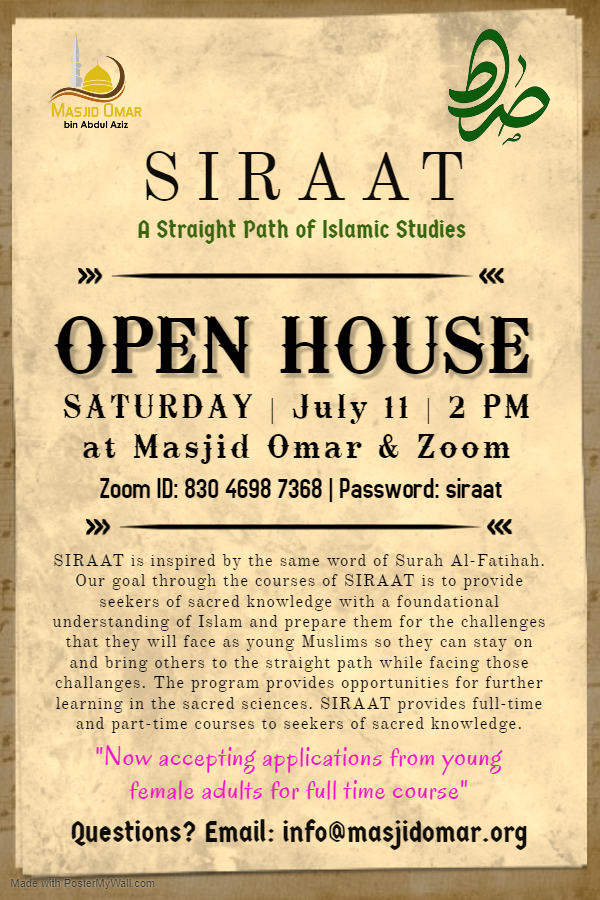 ---
Prevailing State of Turmoil
Tuesday, June 2, 2020 7:11 pm
---
Masjid Omar Re-opening guidelines
Monday, June 1, 2020 7:20 pm
---
Eid Mubarak!
Friday, May 22, 2020 11:34 pm
Based on confirmation of multiple sightings, Al-Farooq Masjid of Atlanta and Masjid Omar bin Abdul Aziz declare Eid-ul-Fitr for Saturday, May 23, 2020.
Due to COVID-19, we encourage all community members to pray home with the below guidance.
A Message from Our Imam's: 
Assalamu Alaikum & Eid Mubarak to all brothers and sisters.
We would like to clarify our position regarding sighting the new moon. It has been our practice to follow global moonsighting since decades. We consider it the most correct method. This is also the mainstream view by classical jurists from the Hanafi, Maliki and Hanbali jurisprudence. Our declaration of Eidul Fitr for today, Saturday, May 23, 2020, is based on our practice. We received the confirmation and the Shahadah of multiple sightings in Somalia, Ethiopia, Kenya, Gambia and Tanzania. Besides us, some other organizations and Masajid of North America have declared Eidul Fitr for today. We understand that other organizations were not able to verify the sightings and was not scientifically possible to sight the moon. We give preference to testimony (Shahadah) over astronomy. Please note that we have completed 29 days of fasting which completes the month according to the Hadith of Prophet of Allah (s). He (s) said: ""The month is of 29 days and if the sky is overcast, then complete thirty days." So, either we fast for 29 days and have Eid or complete 30 days, we are within the boundaries of Shariah. There is no need to debate about it. Masha Allah, our Deen is beautiful and has the solution for every problem.
Regardless of when one chooses to celebrate Eid, we must respect and love each other. May Allah (S) accept our fasting, Ibadaat and all the good deeds. Ameen!
Imam Muhammad Sajid and Imam Afsar Ali
Al-Farooq Masjid and Masjid Omar Bin Abdul Aziz
---
Method of Eid Salah and Eid Khutbahs
Friday, May 22, 2020 12:17 pm
---
You may also listen previous tafseer here
MOHID is Masjid Omar Bin Abdul Aziz's preferred method of accepting donations/payments.
Please write a check to "Masjid Omar" and either put it within a donation box at the masjid or mail it to:
Masjid Omar Bin Abdul Aziz
955 Harbins Road
Lilburn, GA 30047
"
And every human being's destiny have We tied to his neck; and on the Day of Resurrection We shall bring forth for him a record which he will find wide open;"