Friday, June 5, 2020
13 Shawwal 1441
| | Starts | Iqamah |
| --- | --- | --- |
| Fajr1 | 4:45 AM | 5:55 AM |
| Zuhr2 | 1:37 PM | 2:00 PM |
| Asr | 5:36 PM | 6:45 PM |
| Maghrib | 8:49 PM | |
| Isha | 10:21 PM | 10:35 PM |
Saturday, June 6, 2020
14 Shawwal 1441
| | Starts | Iqamah |
| --- | --- | --- |
| Fajr1 | 4:45 AM | 5:55 AM |
| Zuhr2 | 1:37 PM | 2:00 PM |
| Asr | 5:36 PM | 6:45 PM |
| Maghrib | 8:49 PM | |
| Isha | 10:22 PM | 10:35 PM |
Masjid Omar Bin Abdul Aziz
955 Harbins Road
Lilburn, GA 30047
(770) 279-8606
Prevailing State of Turmoil
Tuesday, June 2, 2020 7:11 pm
---
Masjid Omar Re-opening guidelines
Monday, June 1, 2020 7:20 pm
---
Eid Mubarak!
Friday, May 22, 2020 11:34 pm
Based on confirmation of multiple sightings, Al-Farooq Masjid of Atlanta and Masjid Omar bin Abdul Aziz declare Eid-ul-Fitr for Saturday, May 23, 2020.
Due to COVID-19, we encourage all community members to pray home with the below guidance.
A Message from Our Imam's: 
Assalamu Alaikum & Eid Mubarak to all brothers and sisters.
We would like to clarify our position regarding sighting the new moon. It has been our practice to follow global moonsighting since decades. We consider it the most correct method. This is also the mainstream view by classical jurists from the Hanafi, Maliki and Hanbali jurisprudence. Our declaration of Eidul Fitr for today, Saturday, May 23, 2020, is based on our practice. We received the confirmation and the Shahadah of multiple sightings in Somalia, Ethiopia, Kenya, Gambia and Tanzania. Besides us, some other organizations and Masajid of North America have declared Eidul Fitr for today. We understand that other organizations were not able to verify the sightings and was not scientifically possible to sight the moon. We give preference to testimony (Shahadah) over astronomy. Please note that we have completed 29 days of fasting which completes the month according to the Hadith of Prophet of Allah (s). He (s) said: ""The month is of 29 days and if the sky is overcast, then complete thirty days." So, either we fast for 29 days and have Eid or complete 30 days, we are within the boundaries of Shariah. There is no need to debate about it. Masha Allah, our Deen is beautiful and has the solution for every problem.
Regardless of when one chooses to celebrate Eid, we must respect and love each other. May Allah (S) accept our fasting, Ibadaat and all the good deeds. Ameen!
Imam Muhammad Sajid and Imam Afsar Ali
Al-Farooq Masjid and Masjid Omar Bin Abdul Aziz
---
Method of Eid Salah and Eid Khutbahs
Friday, May 22, 2020 12:17 pm
---
Fundraiser for Masjid Omar
Wednesday, May 20, 2020 9:50 am
---
Hifz Enrollment 20-21
Tuesday, May 19, 2020 9:47 am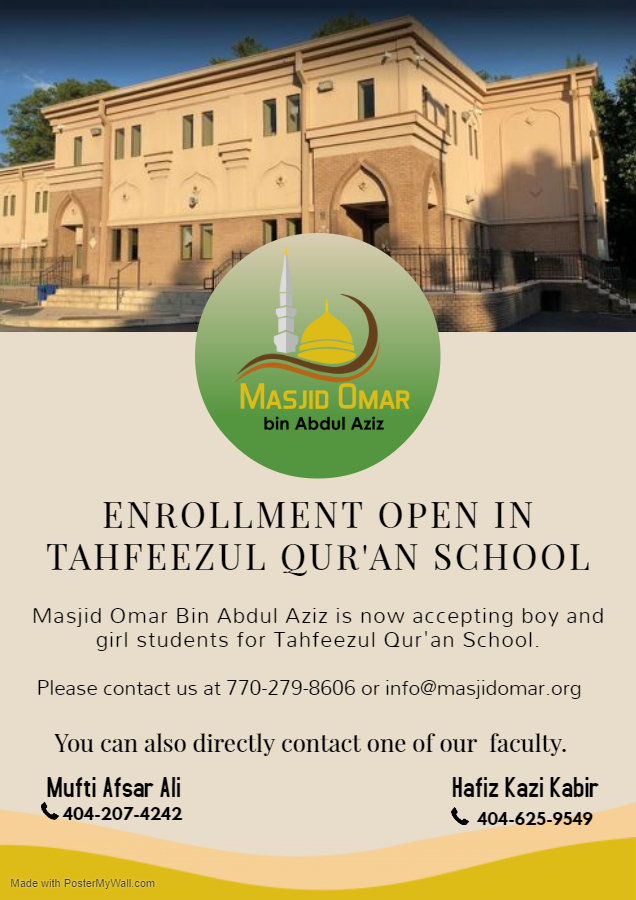 ---
Ramadan Donations & Zakat ul Fitr
Sunday, April 26, 2020 3:56 pm
Ramadan Mubarak!  Alhamdulilah Ramadan is not only about fasting, but also about giving.  Due to the Masjid closure and transition to virtual learning and programming, your donations and support are critical to our success.  If you have any questions, please do not hesitate to contact us, so that we may assist you as quickly as possible.  Jazakullah Khair!
Masjid Operation
Support the maintenance, staff, and general expenses of the Masjid
Hifz School
Support and sponsor students in their efforts to memorize the Qur'an.  Students are also Zakat eligible. 
Sadaqa 
General fund to support those in need and not Zakat eligible.
Zakat
Obligatory 2.5% charitable wealth donation.
Ramadan Hot Meal
Sponsor a cooked meal for anyone that needs one for Iftar.

Ramadan Food Drive
Sponsor a food kit of non-perishable items for a family in need.  Each kit is $200 to prepare but any amount is acceptable.
Zakat ul Fitr - $8 per person** 
Obligatory for any Muslim who possesses food in excess of their need.  Head of the household can pay on behalf of their dependents.  This can be paid throughout the month of Ramadan but prior to Eid ul Fitr Salah.  Debit card only.

**An additional $.50 charge will be applied to compensate for transaction fees for Zatkt ul Fitr.  You can also give with Venmo or CashApp to prevent this fee. 
Cash App ($masjidomar)
Cash App can be used for any of the above categories including Zakat ul Fitr.  Please drop us a note as to where you would like the funds to go.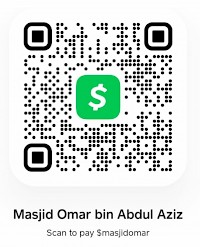 ---
Ramadan Kareem
Thursday, April 23, 2020 8:35 pm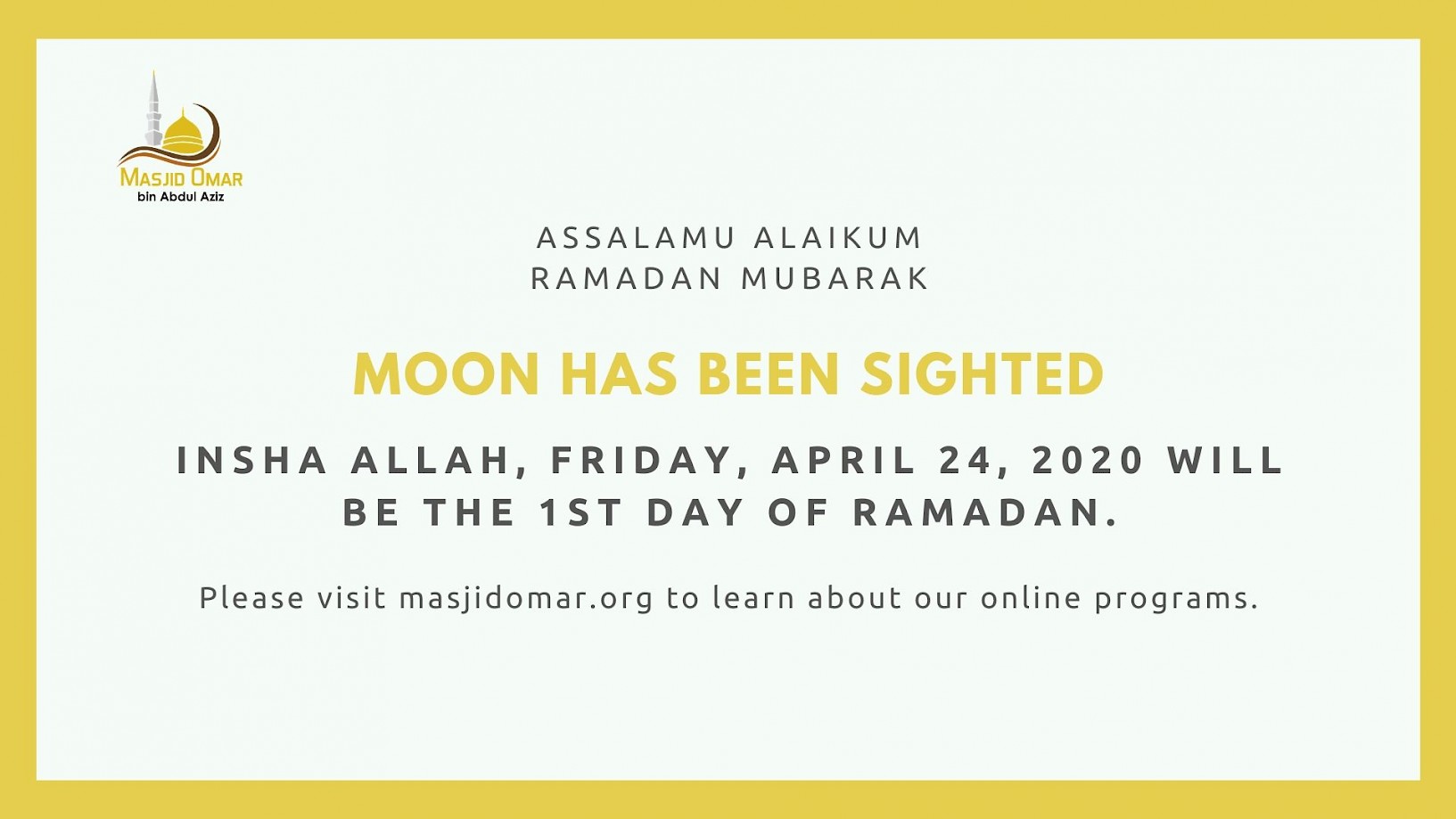 ---
Ramadan Schedule 2020
Thursday, April 23, 2020 1:24 pm
---
Iftar/Taraweeh Announcement/Ramadan Schedule/Daily Online Programs
Tuesday, April 21, 2020 1:22 pm
Assalamu Alaikum,
In order to comply with social distancing guidelines and to help combat the spread of coronavirus, there will be no community iftar or Taraweeh Salah during Ramadan this year and the Masjid will remain closed. We encourage you to plan for iftar with your family at your home. We pray that Allah keeps everyone in His Protection and May He enable us to use this time to increase His remembrance at our houses inshaAllah.
To stay current with all of our activities, please join Masjid Omar WhatsApp Groups by clicking one of the links below:
InshaAllah daily Youtube Live /Zoom Online classes will be available. Below is the flyer of the online program details with Zoom Meeting IDs and Passwords.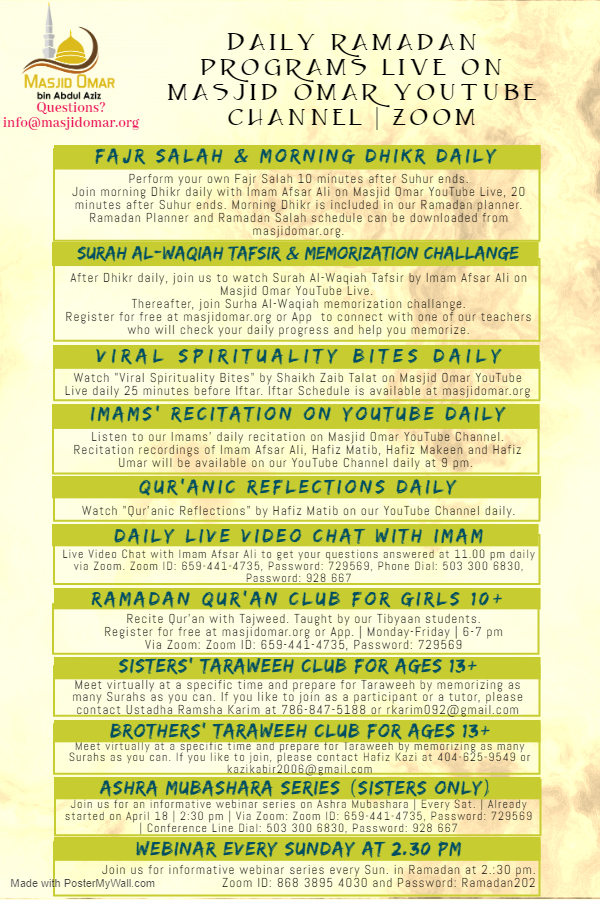 ---
Ramadan Planner
Tuesday, April 21, 2020 8:00 am
---
Ramadan Food Drive and HOT Iftaar Meal
Monday, April 20, 2020 1:35 pm
---
You may also listen previous tafseer here
MOHID is Masjid Omar Bin Abdul Aziz's preferred method of accepting donations/payments.
Please write a check to "Masjid Omar" and either put it within a donation box at the masjid or mail it to:
Masjid Omar Bin Abdul Aziz
955 Harbins Road
Lilburn, GA 30047
"
Surely those who guard (against evil) are in a secure place, In gardens and springs;"