Tuesday, November 30, 2021
25 Rabi' Al-Thani 1443
| | Starts | Iqamah |
| --- | --- | --- |
| Fajr1 | 5:56 AM | 6:30 AM |
| Zuhr2 | 12:26 PM | 2:00 PM |
| Asr | 3:11 PM | 4:15 PM |
| Maghrib | 5:33 PM | |
| Isha | 6:52 PM | 7:30 PM |
Wednesday, December 1, 2021
26 Rabi' Al-Thani 1443
| | Starts | Iqamah |
| --- | --- | --- |
| Fajr1 | 5:56 | 6:30 |
| Zuhr2 | 12:26 | 2:00 PM |
| Asr | 3:09 PM | 4:15 PM |
| Maghrib | 5:32 PM | |
| Isha | 6:51 PM | 7:30 PM |
Masjid Omar Bin Abdul Aziz
955 Harbins Road
Lilburn, GA 30047
(770) 279-8606
info@masjidomar.org
Free Grocery Distribution
Monday, November 29, 2021 6:30 pm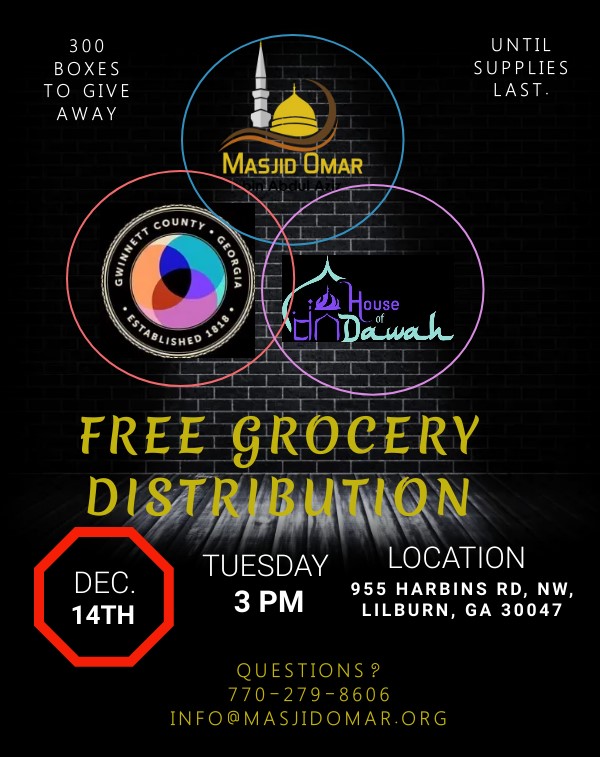 ---
Program for Young Girl 13+
Monday, November 29, 2021 6:27 pm
---
Part-Time Arabic and Islamic Studies
Tuesday, November 2, 2021 5:17 pm
---
New Jumah schedule
Tuesday, November 2, 2021 11:00 am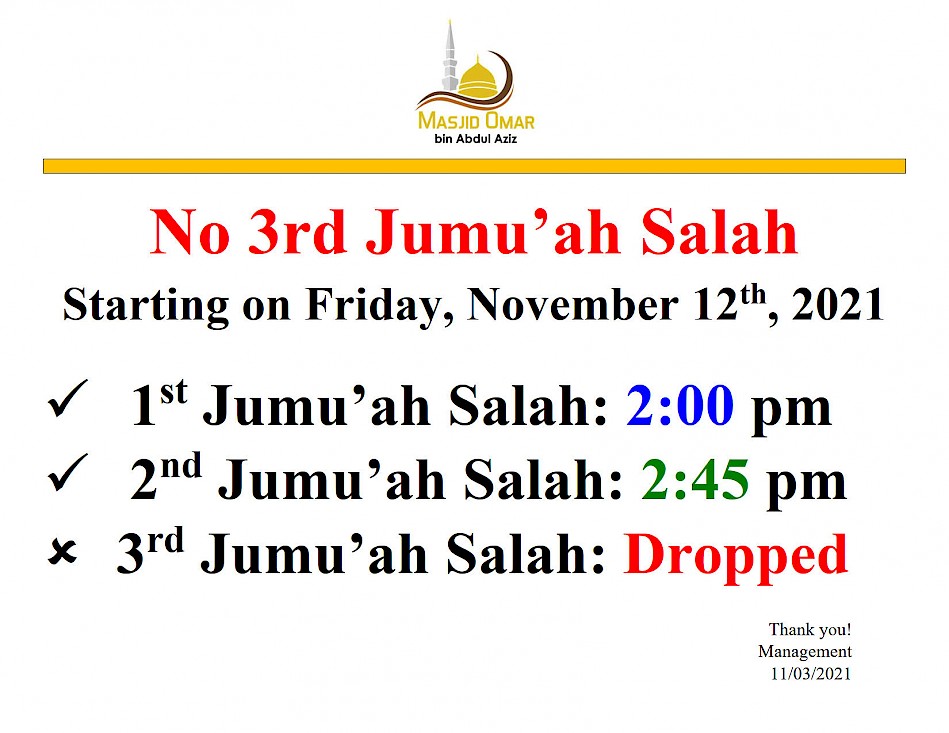 ---
Youth Camp Fire
Friday, October 15, 2021 12:55 pm
---
Sunday Islamic School and Evening School 2021-22
Tuesday, August 24, 2021 1:09 pm
Sunday Islamic School Registration link: https://us.mohid.co/ga/atlanta/masjidomar/masjid/online/registration/index/a1VLTGcrRUptdVFvQmVYL0RwZldHZz09
Evening School Registration link: https://us.mohid.co/ga/atlanta/masjidomar/masjid/online/registration/index/RlZveDdSNjlkTFRYUUtGQXZCZ0lqZz09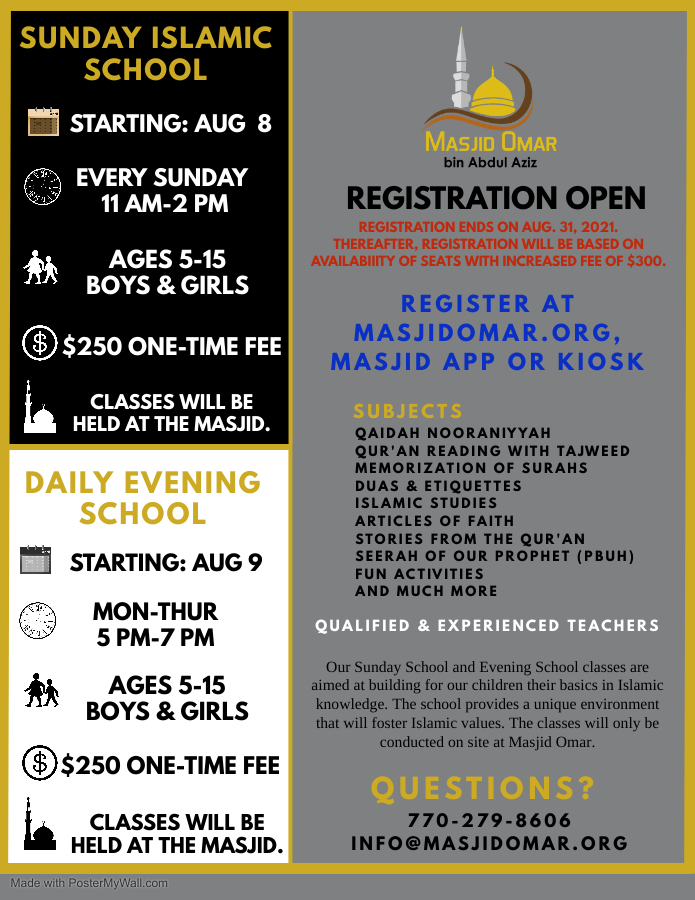 ---
Important Jumua Announcement
Friday, August 13, 2021 11:21 am
Upstairs Area will be used for brothers during 1st Juma Prayer.
Due to the rise in covid cases again, sisters' prayer area upstairs will be used for brothers during the 1st Juma prayer. However, sisters are most welcome for 2nd and 3rd Juma prayers. Our apologies for any inconvenience. Thank you!
---
Donation Links
Friday, April 23, 2021 6:27 am
---
Miracles Of the Prophet Muhammad SAW
Tuesday, October 20, 2020 1:48 pm
---
Prophetic Seerah Series
Wednesday, October 14, 2020 4:00 pm
---
Masjid Guidelines and Restrictions
Monday, July 27, 2020 5:17 pm
---
Method of Eid Salah and Eid Khutbahs
Friday, May 22, 2020 12:17 pm
---
Online Programs:
* Prophet Seerah
Every Tuesday at 7:30 pm on Zoom.
Meeting ID: 863 5276 3696
Password: 786786

* Don't Despair of the Mercy of Allah

  Every Wednesday after Maghrib

Zoom Series for Sisters

Lives of the Prophets
MOHID is Masjid Omar Bin Abdul Aziz's preferred method of accepting donations/payments.
Please write a check to "Masjid Omar" and either put it within a donation box at the masjid or mail it to:
Masjid Omar Bin Abdul Aziz
955 Harbins Road
Lilburn, GA 30047
"
Surely those who guard (against evil) are in a secure place, In gardens and springs;"
You may also listen previous tafseer here