Friday, May 14, 2021
2 Shawwal 1442
| | Starts | Iqamah |
| --- | --- | --- |
| Fajr1 | 5:01 | 6:00 |
| Zuhr2 | 1:34 PM | 2:00 PM |
| Asr | 5:28 PM | 6:45 PM |
| Maghrib | 8:34 PM | |
| Isha | 10:01 PM | 10:20 PM |
Saturday, May 15, 2021
3 Shawwal 1442
| | Starts | Iqamah |
| --- | --- | --- |
| Fajr1 | 5:00 | 6:00 |
| Zuhr2 | 1:34 PM | 2:00 PM |
| Asr | 5:28 PM | 6:45 PM |
| Maghrib | 8:35 PM | |
| Isha | 10:03 PM | 10:20 PM |
Masjid Omar Bin Abdul Aziz
955 Harbins Road
Lilburn, GA 30047
(770) 279-8606
info@masjidomar.org
Quranic Arabic
Sunday, September 29, 2019 11:50 pm
You've asked and we've listened. Learning #Arabic has been on top of most of our minds- so why wait? Starting Oct 9th, our uniquely designed course will immerse the learner in #Quranic Arabic. This is your chance to strengthen your relationship with Allah!
Register now: https://bit.ly/2mUWpZu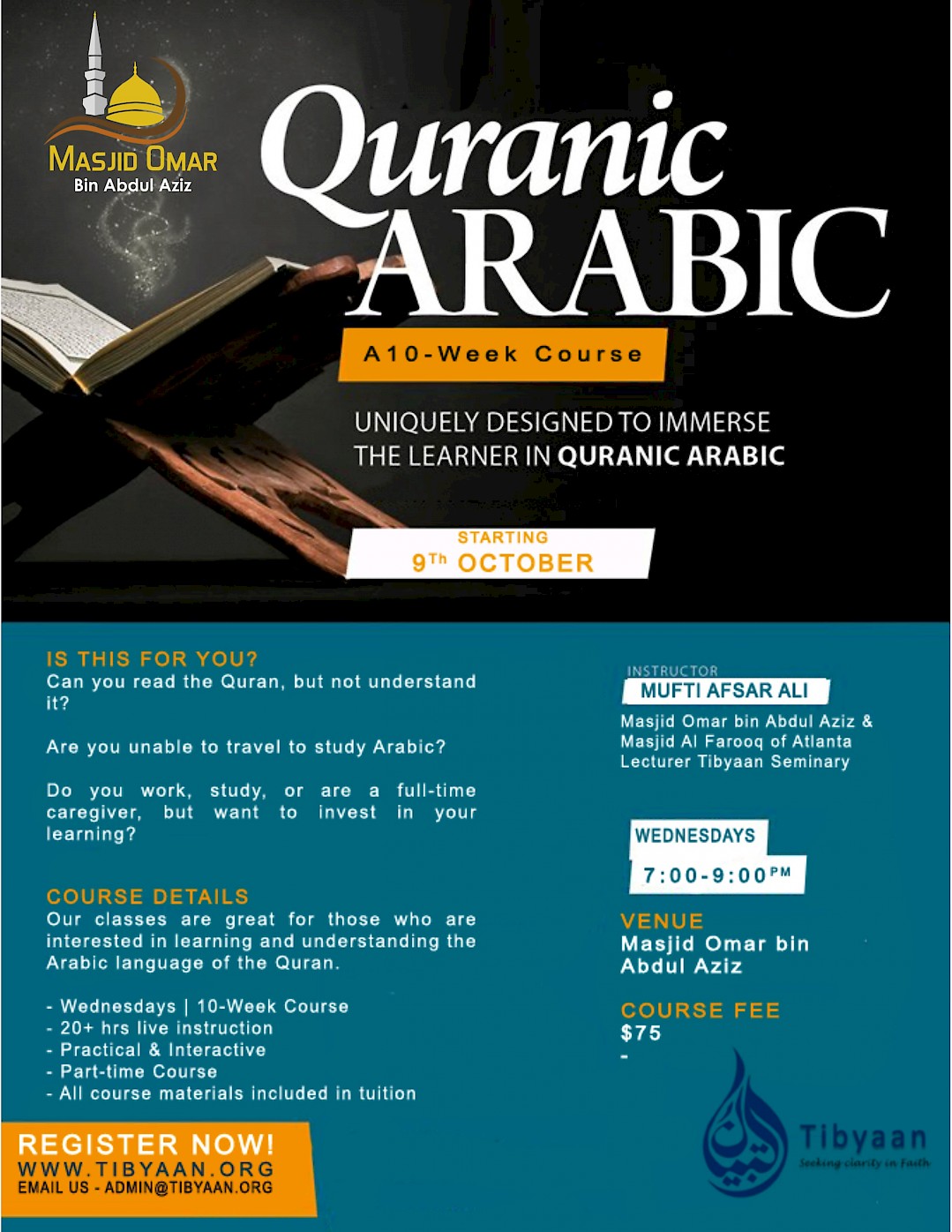 Online Programs:
* Prophet Seerah
Every Tuesday at 7:30 pm on Zoom.
Meeting ID: 863 5276 3696
Password: 786786

* Don't Despair of the Mercy of Allah

  Every Wednesday after Maghrib

Zoom Series for Sisters

Lives of the Prophets
MOHID is Masjid Omar Bin Abdul Aziz's preferred method of accepting donations/payments.
Please write a check to "Masjid Omar" and either put it within a donation box at the masjid or mail it to:
Masjid Omar Bin Abdul Aziz
955 Harbins Road
Lilburn, GA 30047
"
Surely those who guard (against evil) are in a secure place, In gardens and springs;"
You may also listen previous tafseer here