Wednesday, August 5, 2020
15 Dhu Al-Hijjah 1441
| | Starts | Iqamah |
| --- | --- | --- |
| Fajr1 | 5:19 AM | 6:15 AM |
| Zuhr2 | 1:44 PM | 2:00 PM |
| Asr | 5:27 PM | 6:45 PM |
| Maghrib | 8:38 PM | |
| Isha | 10:03 PM | 10:15 PM |
Thursday, August 6, 2020
16 Dhu Al-Hijjah 1441
| | Starts | Iqamah |
| --- | --- | --- |
| Fajr1 | 5:21 AM | 6:15 AM |
| Zuhr2 | 1:44 PM | 2:00 PM |
| Asr | 5:27 PM | 6:45 PM |
| Maghrib | 8:37 PM | |
| Isha | 10:02 PM | 10:15 PM |
Masjid Omar Bin Abdul Aziz
955 Harbins Road
Lilburn, GA 30047
(770) 279-8606
Deen Driven Car Show
Thursday, August 22, 2019 9:42 am
Love cars and BBQ? Join our Youth Committee for the #DeenDriven car show inshaAllah! Come and get to know our committee and find out more about their planned activities on August 24th!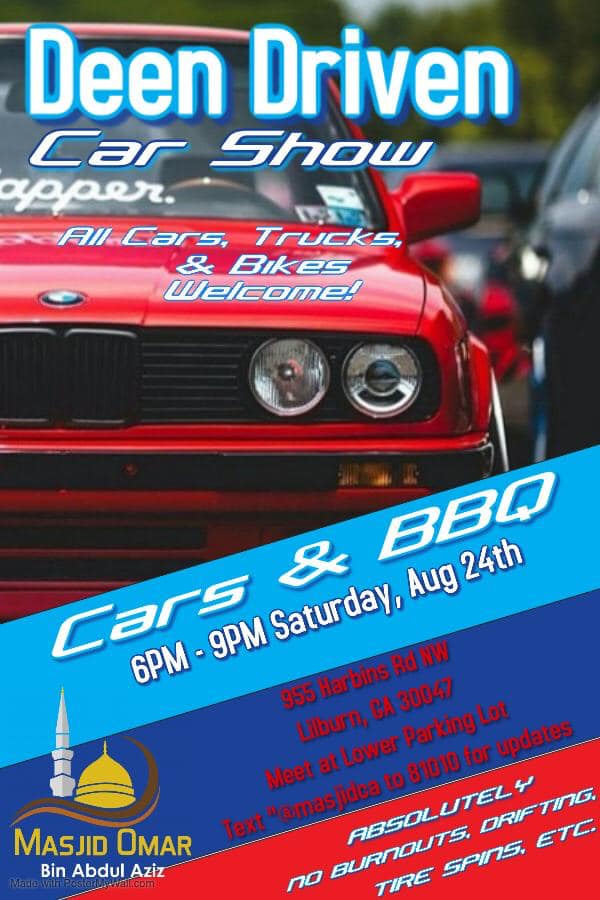 You may also listen previous tafseer here
MOHID is Masjid Omar Bin Abdul Aziz's preferred method of accepting donations/payments.
Please write a check to "Masjid Omar" and either put it within a donation box at the masjid or mail it to:
Masjid Omar Bin Abdul Aziz
955 Harbins Road
Lilburn, GA 30047
"
O ye who believe! Fear Allah as He should be feared, and die not except in a state of Islam."