Wednesday, August 5, 2020
15 Dhu Al-Hijjah 1441
| | Starts | Iqamah |
| --- | --- | --- |
| Fajr1 | 5:19 AM | 6:15 AM |
| Zuhr2 | 1:44 PM | 2:00 PM |
| Asr | 5:27 PM | 6:45 PM |
| Maghrib | 8:38 PM | |
| Isha | 10:03 PM | 10:15 PM |
Thursday, August 6, 2020
16 Dhu Al-Hijjah 1441
| | Starts | Iqamah |
| --- | --- | --- |
| Fajr1 | 5:21 AM | 6:15 AM |
| Zuhr2 | 1:44 PM | 2:00 PM |
| Asr | 5:27 PM | 6:45 PM |
| Maghrib | 8:37 PM | |
| Isha | 10:02 PM | 10:15 PM |
Masjid Omar Bin Abdul Aziz
955 Harbins Road
Lilburn, GA 30047
(770) 279-8606
99 Names of Allah
Sunday, September 29, 2019 11:48 pm
Starting on Oct 8th, we're rolling out a special course on #99NamesOfAllah. In this moving course, you will study the perfect and beautiful Names of Allah (the Almighty). Learn, connect, and experience the spiritual benefits of the Names of your Creator and Master inshaAllah.
Register now: https://bit.ly/2mMyOKK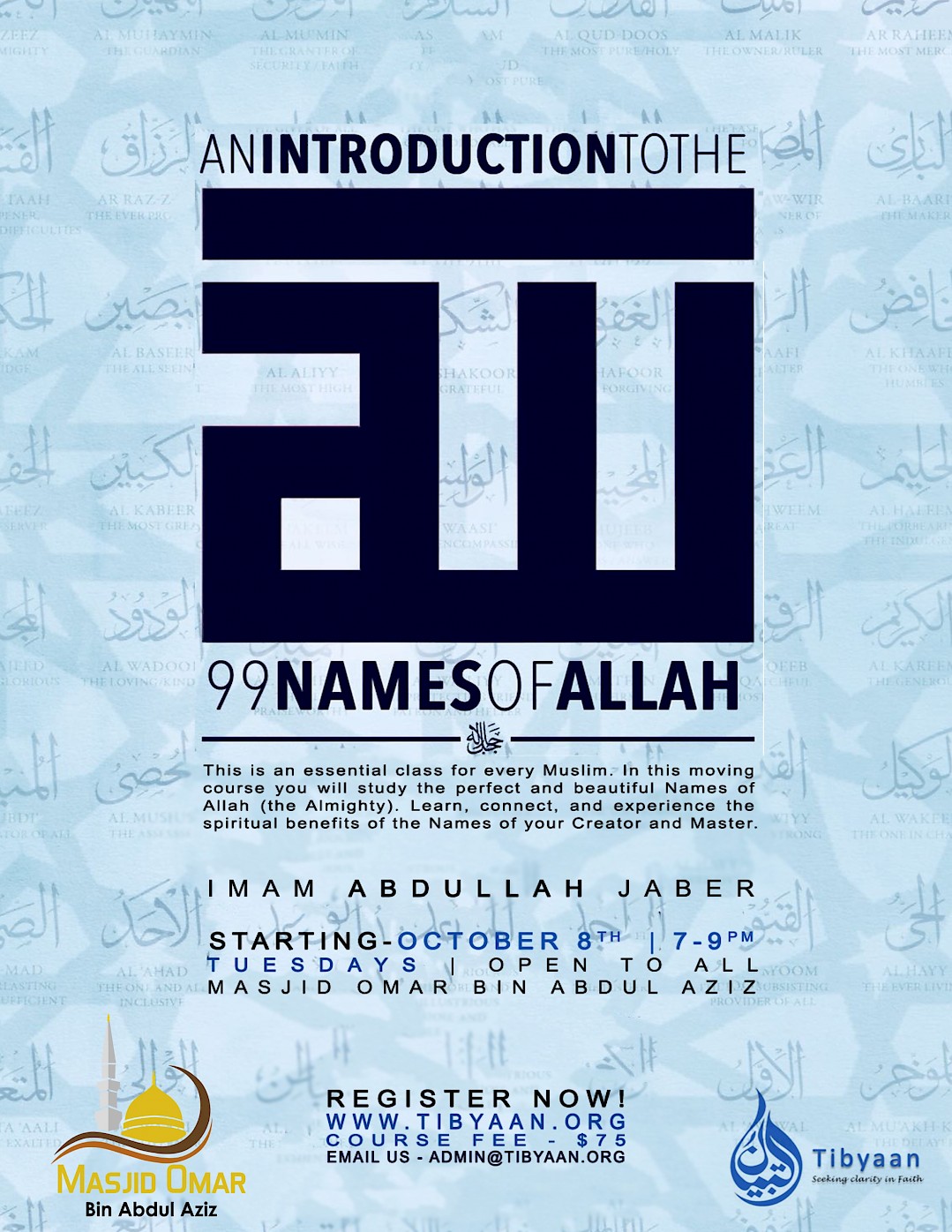 You may also listen previous tafseer here
MOHID is Masjid Omar Bin Abdul Aziz's preferred method of accepting donations/payments.
Please write a check to "Masjid Omar" and either put it within a donation box at the masjid or mail it to:
Masjid Omar Bin Abdul Aziz
955 Harbins Road
Lilburn, GA 30047
"
Say: He is Allah, the One and Only; Allah, the Eternal, Absolute; He begetteth not, nor is He begotten; And there is none like unto Him."