Friday, March 24, 2023
Hijri Calculator is not avaialble until fixed

| | Starts | Iqamah |
| --- | --- | --- |
| Fajr1 | 6:13 | 6:45 |
| Zuhr | 1:44 | 2:00 |
| Asr | 5:13 | 6:30 |
| Maghrib | 7:57 | |
| Isha | 9:10 | 9:30 |
Saturday, March 25, 2023
Hijri Calculator is not avaialble until fixed

| | Starts | Iqamah |
| --- | --- | --- |
| Fajr1 | 6:11 | 6:45 |
| Zuhr | 1:44 | 2:00 |
| Asr | 5:13 | 6:30 |
| Maghrib | 7:58 | |
| Isha | 9:11 | 9:30 |
Masjid Omar Bin Abdul Aziz
955 Harbins Road
Lilburn, GA 30047
(770) 279-8606
info@masjidomar.org
Masjid Omar Fundraiser 2023
Friday, March 24, 2023 12:31 pm
Assalamu Alaikum dear Masjid Omar Bin Abdul Aziz Community,

Ramadan Mubarak! We would like to thank you for always supporting Masjid Omar Bin Abdul Aziz and its programs. Ramadan is the month of Giving. Therefore, we kindly request you to support Masjid Omar Bin Abdul Aziz with your valuable donations and/or a pledge toward the operational expenses. May Allah reward you and your family abundantly! Jazakallahu Ahsan-aljaza! Please donate or pledge here: https://mohid.co/go/lQVD45o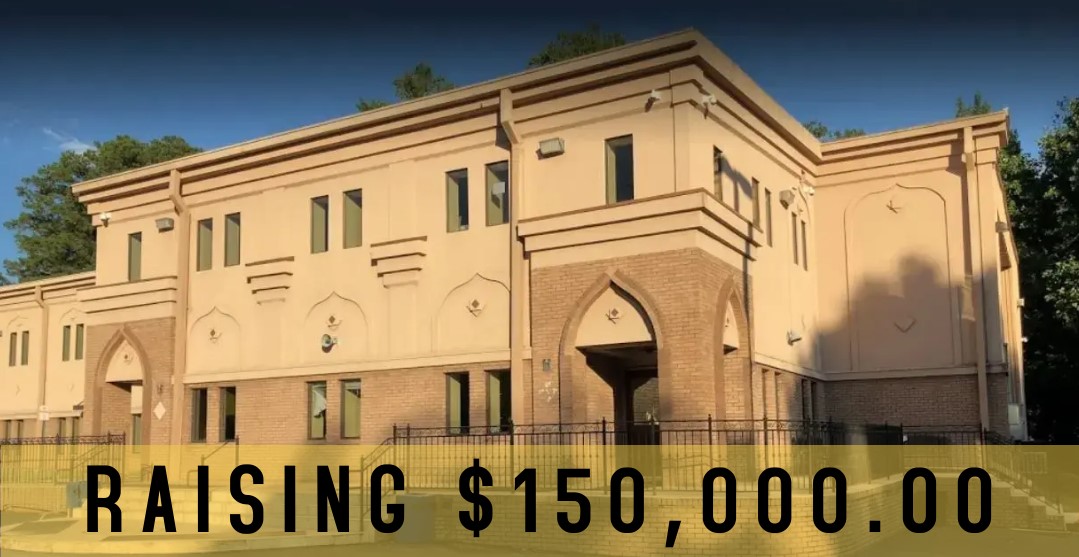 ---
Ramadan At Masjid
Wednesday, March 22, 2023 6:26 pm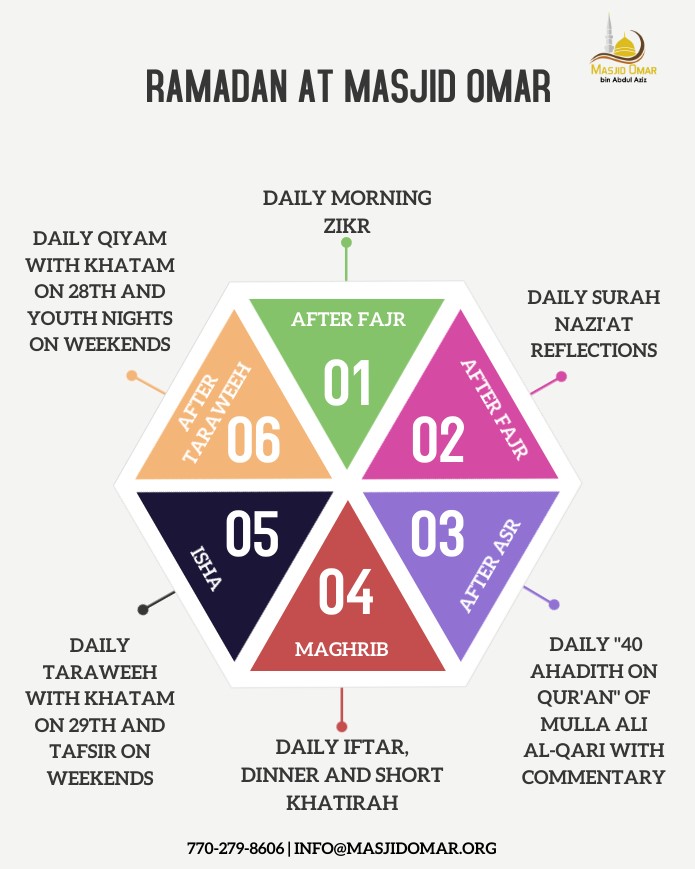 ---
Brothers Qiyam and Bonefire
Wednesday, March 22, 2023 6:22 pm
RSVP Link: https://forms.gle/f9gzRyLKRmirE4ZR7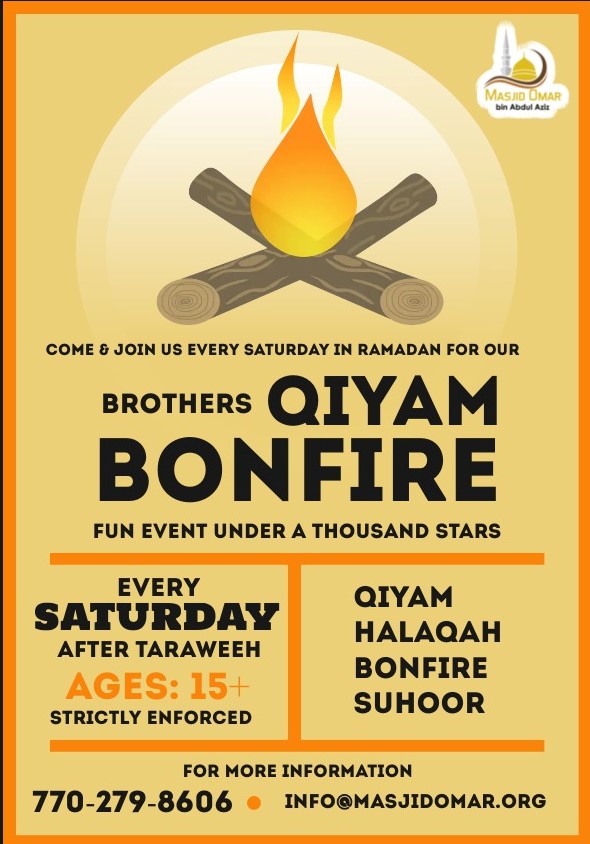 ---
Sisters Qiyam Night
Wednesday, March 22, 2023 6:19 pm
RSVP Link: http://tiny.cc/SisQiyam1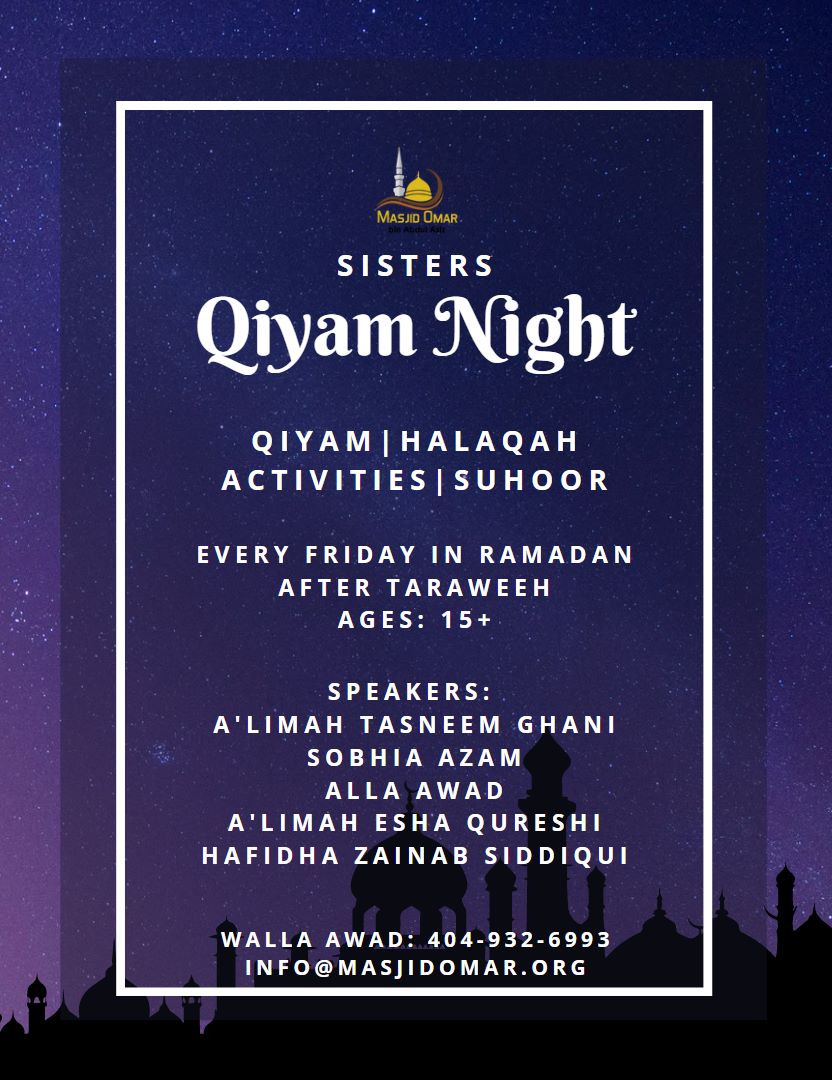 ---
Morning Dhikr and Surah An-Naziat
Wednesday, March 22, 2023 6:10 pm
Zoom Link: https://tinyurl.com/omarmasjid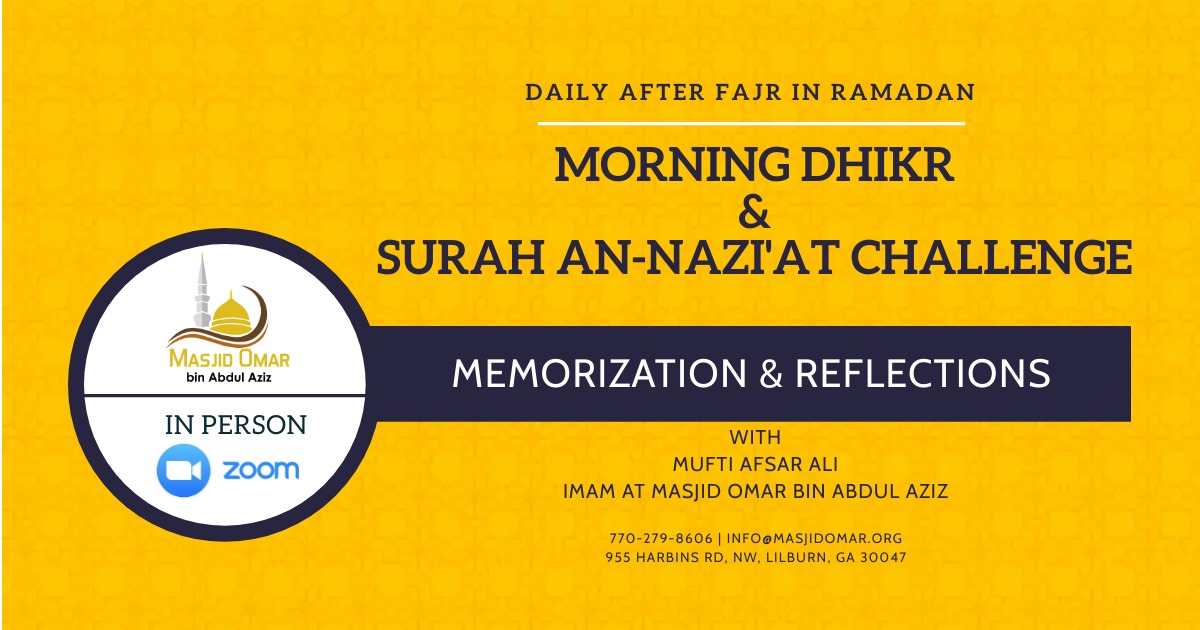 ---
The Four Great Imams
Wednesday, March 22, 2023 6:04 pm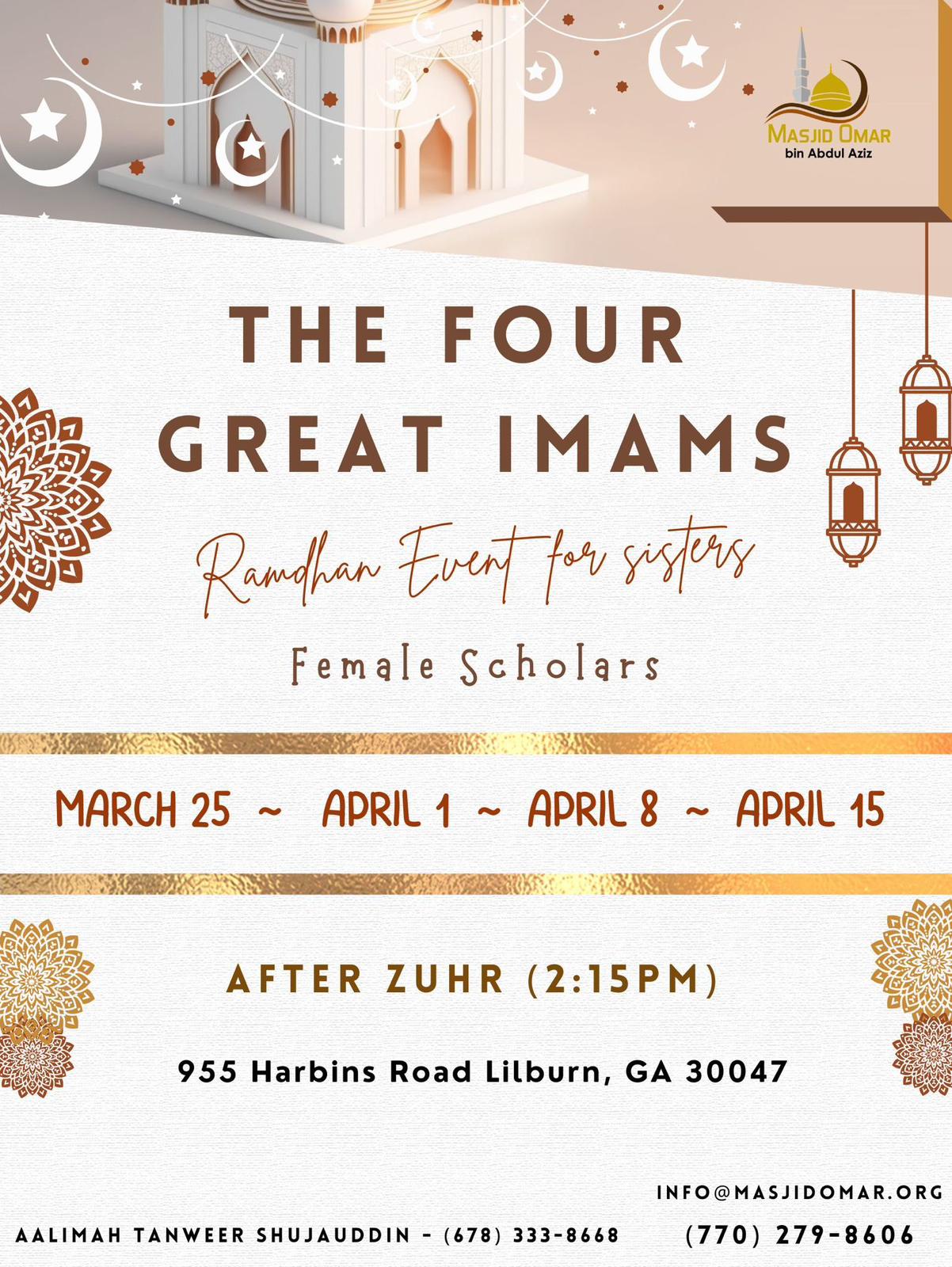 ---
Ramadan 2023 Announcement
Tuesday, March 21, 2023 8:15 pm
Assalamu Alaikum dear Masjid Omar Community,
Ramadan Mubarak! Insha'Allah, Thursday is the first day of fasting. We will commence the 1st Taraweeh tomorrow (Wednesday). Isha Iqamah tomorrow night will be at 9:20 PM. Fajr Iqamah on Thursday is at 6:34 AM.
Please download Masjid Omar's Ramadan Prayer Schedule from https://masjidomar.org/ Please install Masjid Omar's App here: https://link.minbr.app/masjidomar
May Allah SWT accept all your good deeds during this holy month of Ramadan and grant you His Mercy, Blessings and Forgiveness! Ameen!
---
Ramadan Preparation and Time Table
Sunday, March 12, 2023 4:42 pm
---
Emergency Appeal
Friday, March 3, 2023 11:40 am
---
New Masjid Omar App
Thursday, March 2, 2023 12:49 pm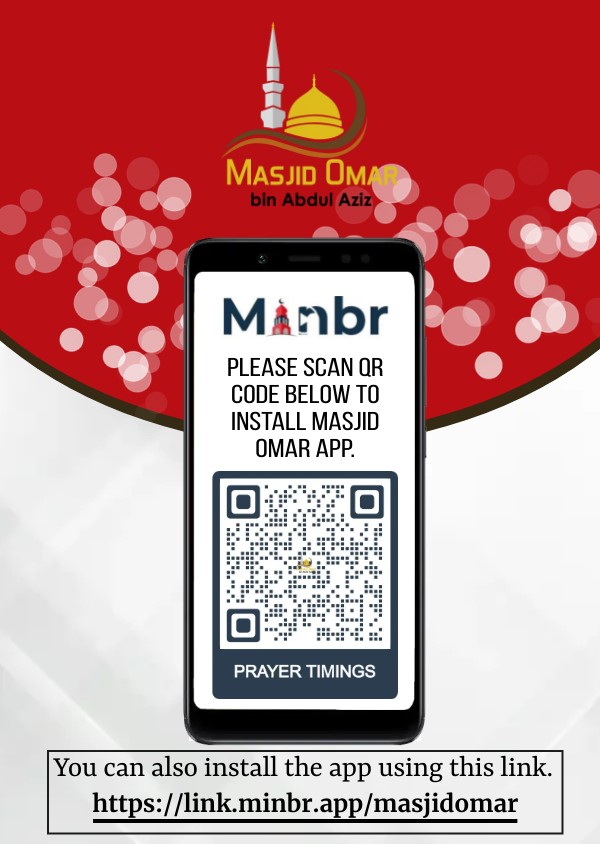 ---
Monthly Quran Recitation
Monday, August 22, 2022 8:37 am
Registration Link: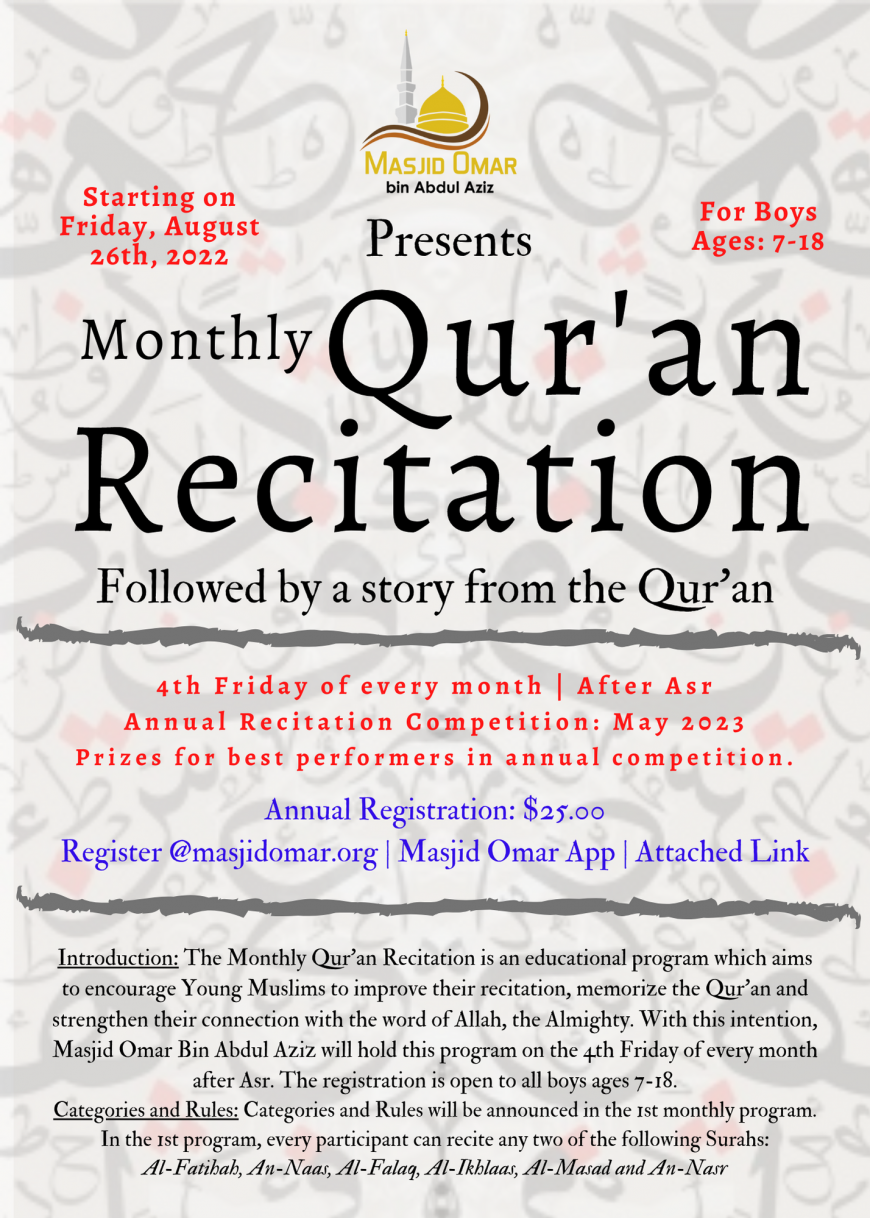 ---
Spiritual Reconnect For Sisters
Sunday, August 21, 2022 9:46 pm
---
Sunday Islamic School and Evening Islamic School
Saturday, August 13, 2022 8:04 pm

Sunday Islamic School Registration Link:
Evening School Registration Link: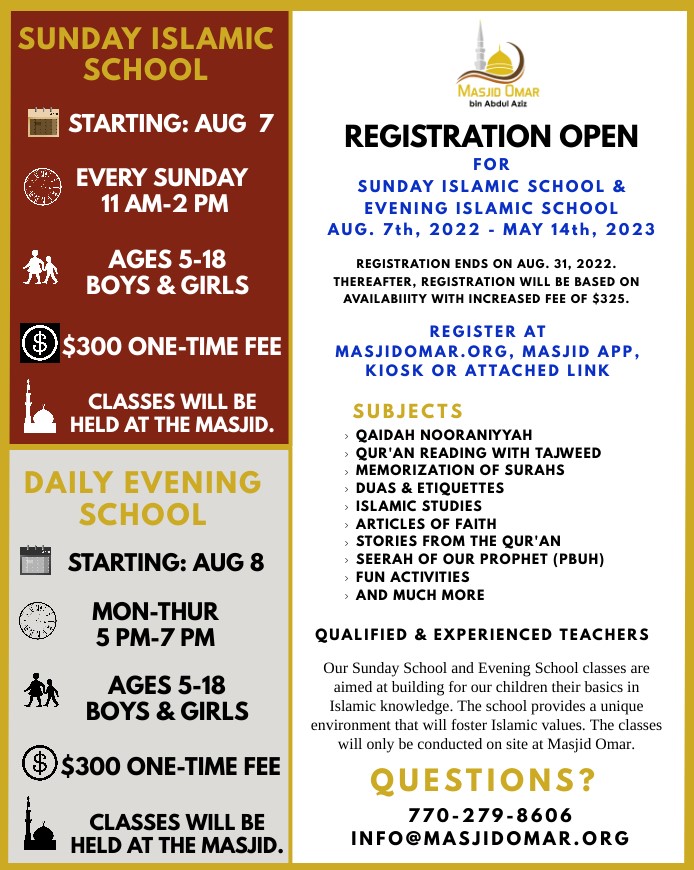 ---
PART-TIME ARABIC & ISLAMIC STUDIES
Wednesday, August 3, 2022 9:43 pm
Registration Link: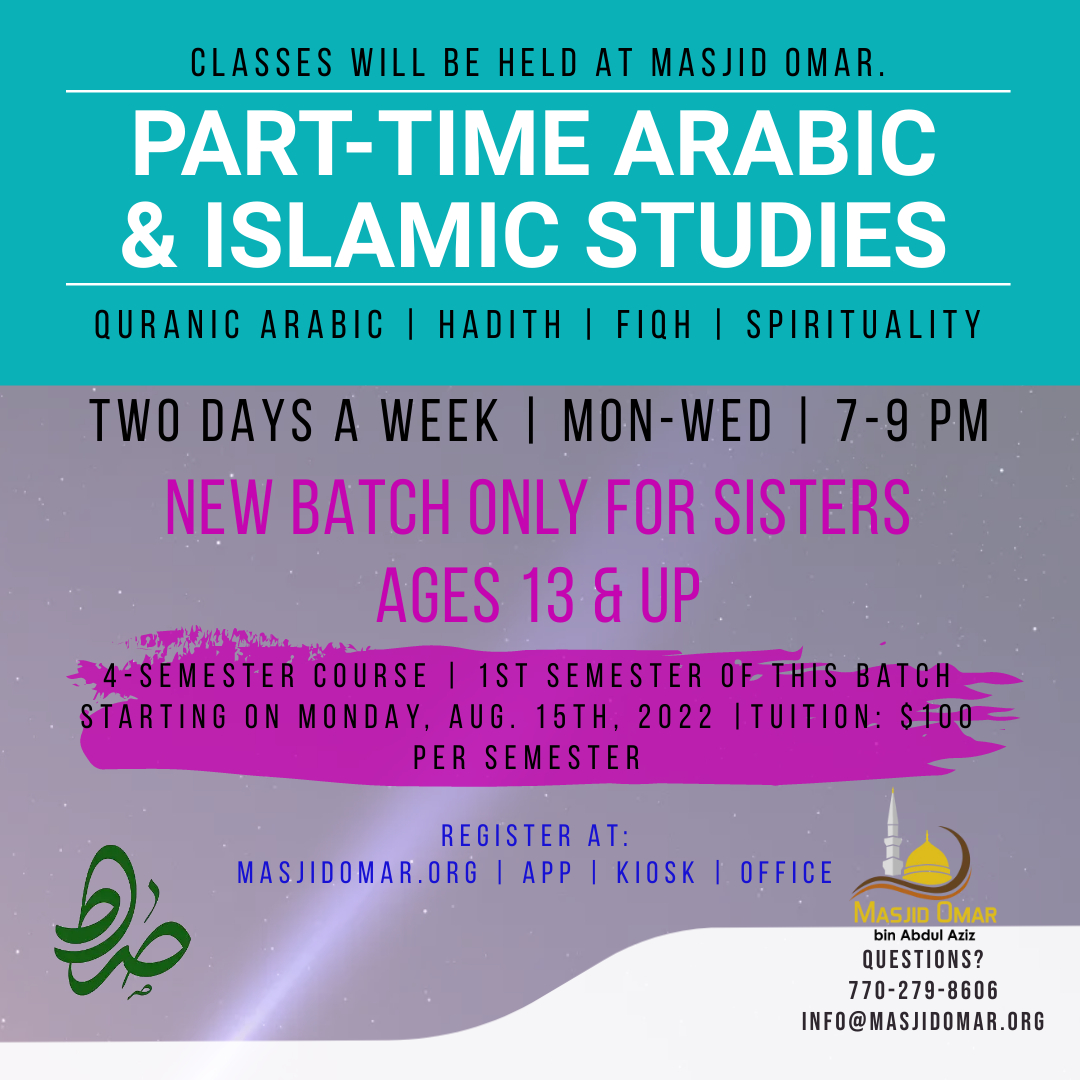 ---
Arabic & Islamic Studies Courses
Friday, July 29, 2022 11:46 am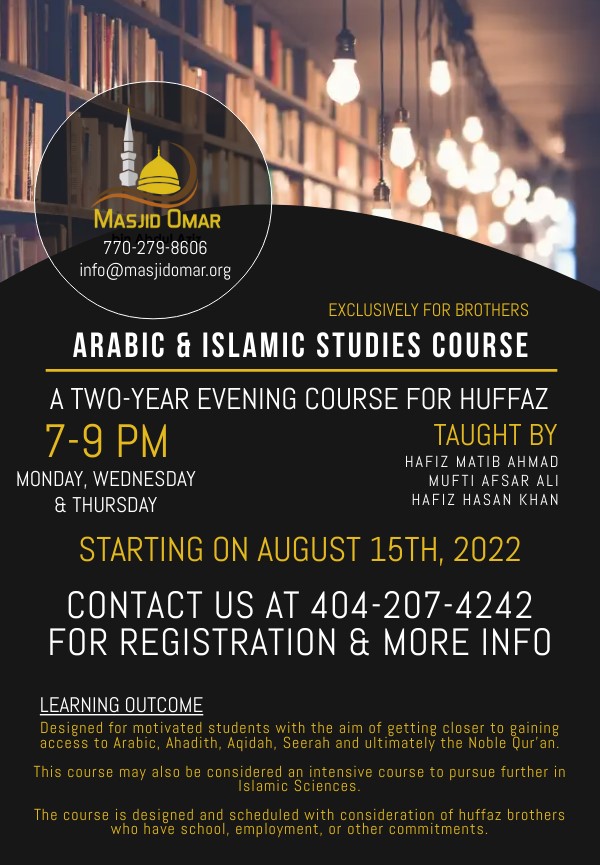 ---
Islamic Essentials Courses - Open House
Friday, July 29, 2022 11:39 am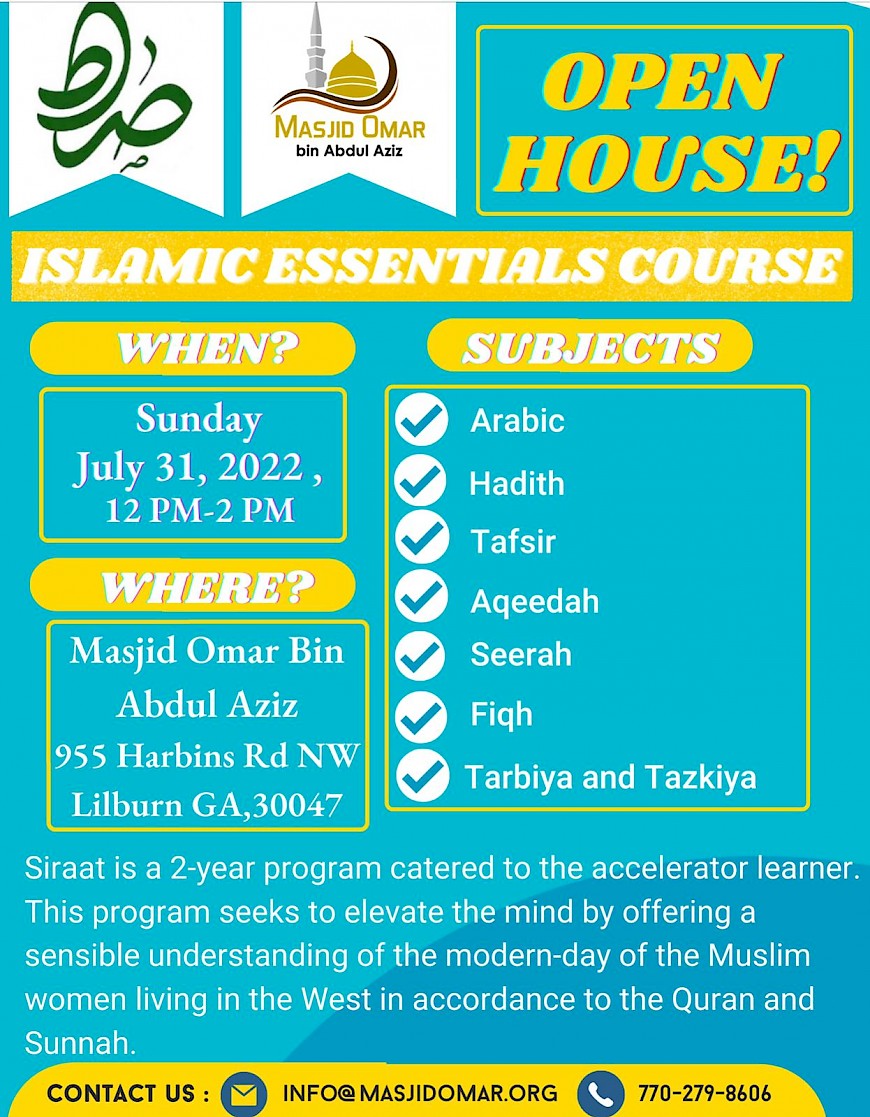 ---
Part Time Hifz Class Ages 10 & Above
Tuesday, July 19, 2022 8:07 pm
---
Please write a check to "Masjid Omar" and either put it within a donation box at the masjid or mail it to:
Masjid Omar Bin Abdul Aziz
955 Harbins Road
Lilburn, GA 30047
"
Say: He is Allah, the One and Only; Allah, the Eternal, Absolute; He begetteth not, nor is He begotten; And there is none like unto Him."
You may also listen previous tafseer here