Wednesday, February 19, 2020
25 Jumada Al-Thani 1441
| | Starts | Iqamah |
| --- | --- | --- |
| Fajr1 | 5:54 | 6:30 |
| Zuhr2 | 12:52 | 2:00 PM |
| Asr | 4:01 PM | 5:15 PM |
| Maghrib | 6:29 PM | |
| Isha | 7:45 PM | 8:00 PM |
Thursday, February 20, 2020
26 Jumada Al-Thani 1441
| | Starts | Iqamah |
| --- | --- | --- |
| Fajr1 | 5:53 | 6:30 |
| Zuhr2 | 12:52 | 2:00 PM |
| Asr | 4:01 PM | 5:15 PM |
| Maghrib | 6:30 PM | |
| Isha | 7:45 PM | 8:00 PM |
Masjid Omar Bin Abdul Aziz
955 Harbins Road
Lilburn, GA 30047
(770) 279-8606
A Message from the Masjid Management
Thursday, February 13, 2020 7:38 pm
The meeting being advertised as occurring on February 15, 2020, at noon, at Murray's In a Hurry is not a meeting called by The Atlanta Mosque, Inc.  If anyone has any questions concerns about the governance of The Atlanta Mosque, Inc. they should send written correspondence to Masjid Management at the address of 442 14th Street NW, Atlanta, Georgia 30318 or send an email to our management at the email address of info@alfarooqmasjid.org.
---
Bonfire for youth girls
Wednesday, February 12, 2020 9:32 am
---
Monthly Qur'an Recitation - Followed by story from the Qur'an
Friday, February 7, 2020 12:56 pm
---
Trivia Days
Thursday, February 6, 2020 11:18 pm
---
A Message from the Founding Members of The Atlanta Mosque, Inc.
Friday, January 24, 2020 3:41 pm
A message from the founding members of The Atlanta Mosque, Inc.
---
Join Book Club
Saturday, January 18, 2020 4:58 pm
---
Girls on the run
Friday, January 10, 2020 8:45 am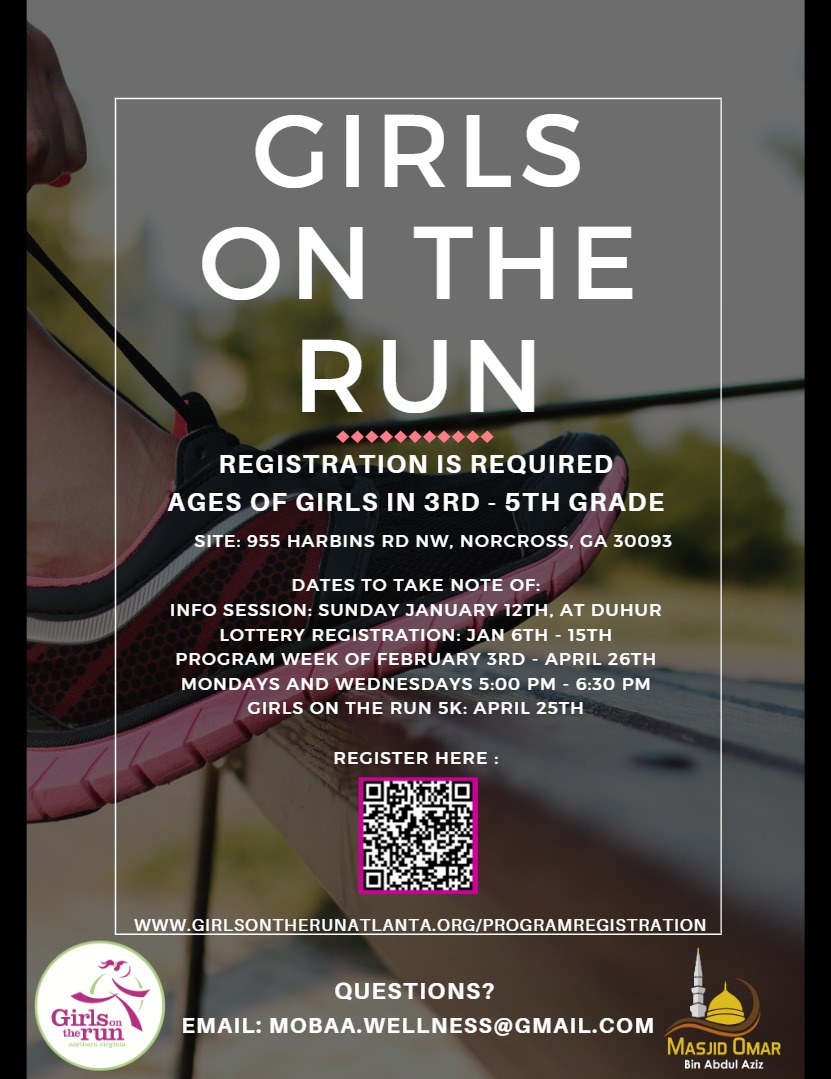 ---
You may also listen previous tafseer here
MOHID is Masjid Omar Bin Abdul Aziz's preferred method of accepting donations/payments.
Please write a check to "Masjid Omar" and either put it within a donation box at the masjid or mail it to:
Masjid Omar Bin Abdul Aziz
955 Harbins Road
Lilburn, GA 30047
"
Surely those who guard (against evil) are in a secure place, In gardens and springs;"