Saturday, December 2, 2023

| | Starts | Iqamah |
| --- | --- | --- |
| Fajr1 | 5:57 | 6:30 |
| Zuhr | 12:26 | 2:00 |
| Asr | 3:09 | 4:15 |
| Maghrib | 5:32 | |
| Isha | 6:51 | 7:30 |
Sunday, December 3, 2023

| | Starts | Iqamah |
| --- | --- | --- |
| Fajr1 | 5:58 | 6:30 |
| Zuhr | 12:27 | 2:00 |
| Asr | 3:09 | 4:15 |
| Maghrib | 5:32 | |
| Isha | 6:51 | 7:30 |
Masjid Omar Bin Abdul Aziz
955 Harbins Road
Lilburn, GA 30047
(770) 279-8606
info@masjidomar.org
Bake Sale and Halaqah
Thursday, November 30, 2023 7:34 am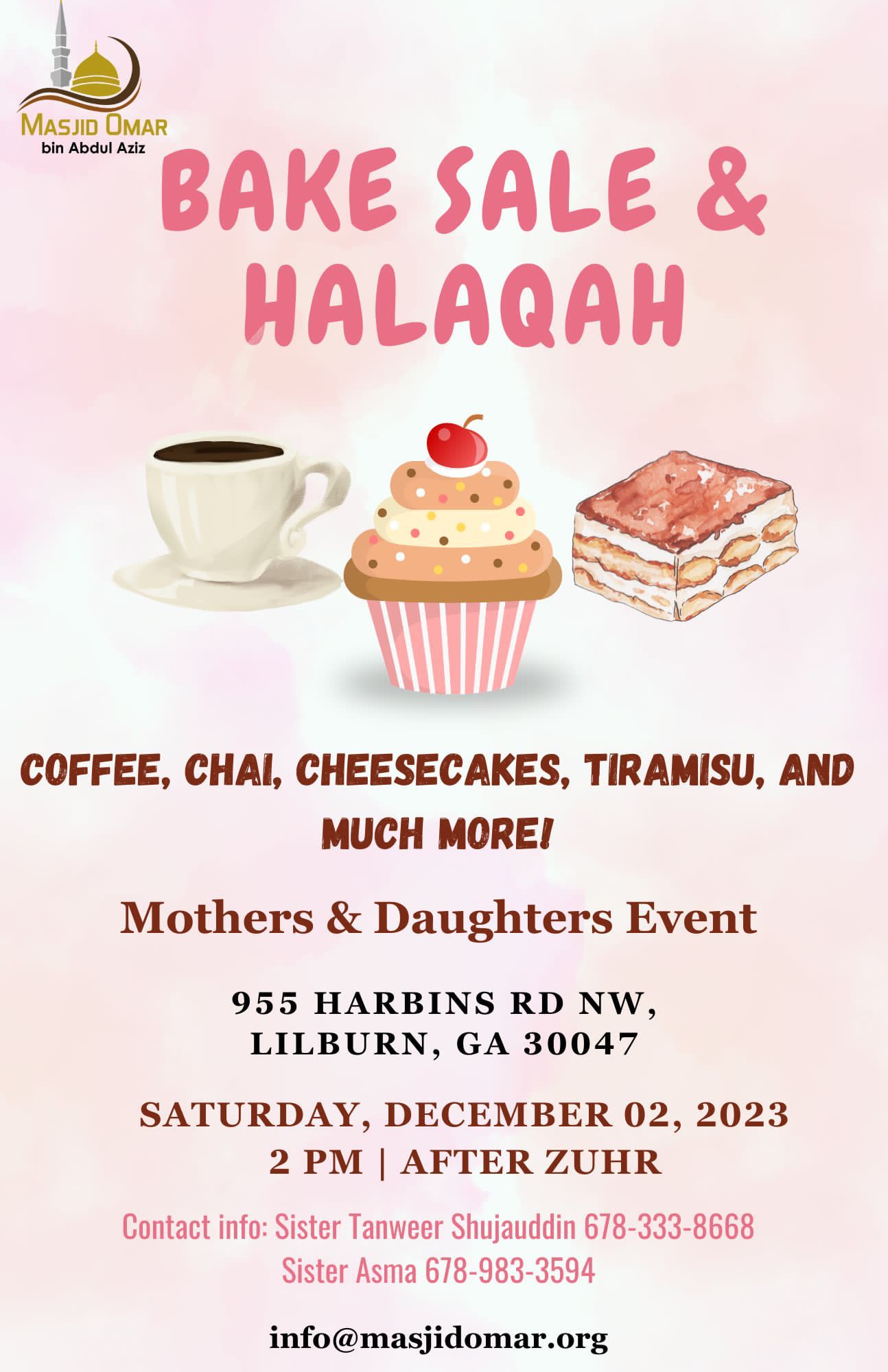 ---
Atlanta Quran Competition 2023 award ceremony photos and videos
Thursday, November 30, 2023 7:23 am
---
Strength through Hardship - A revert special
Thursday, November 30, 2023 7:21 am
Asalamu Alaikum!
To all our revert brothers and sisters, this one is for you! Join us for an opportunity to learn and grow from fellow revert peers with the aid of an Islamic Scholar present! Lunch and childcare (for ages 4-12) provided inshaAllah!

RSVP by 12/7: tinyurl.com/StrengthHardship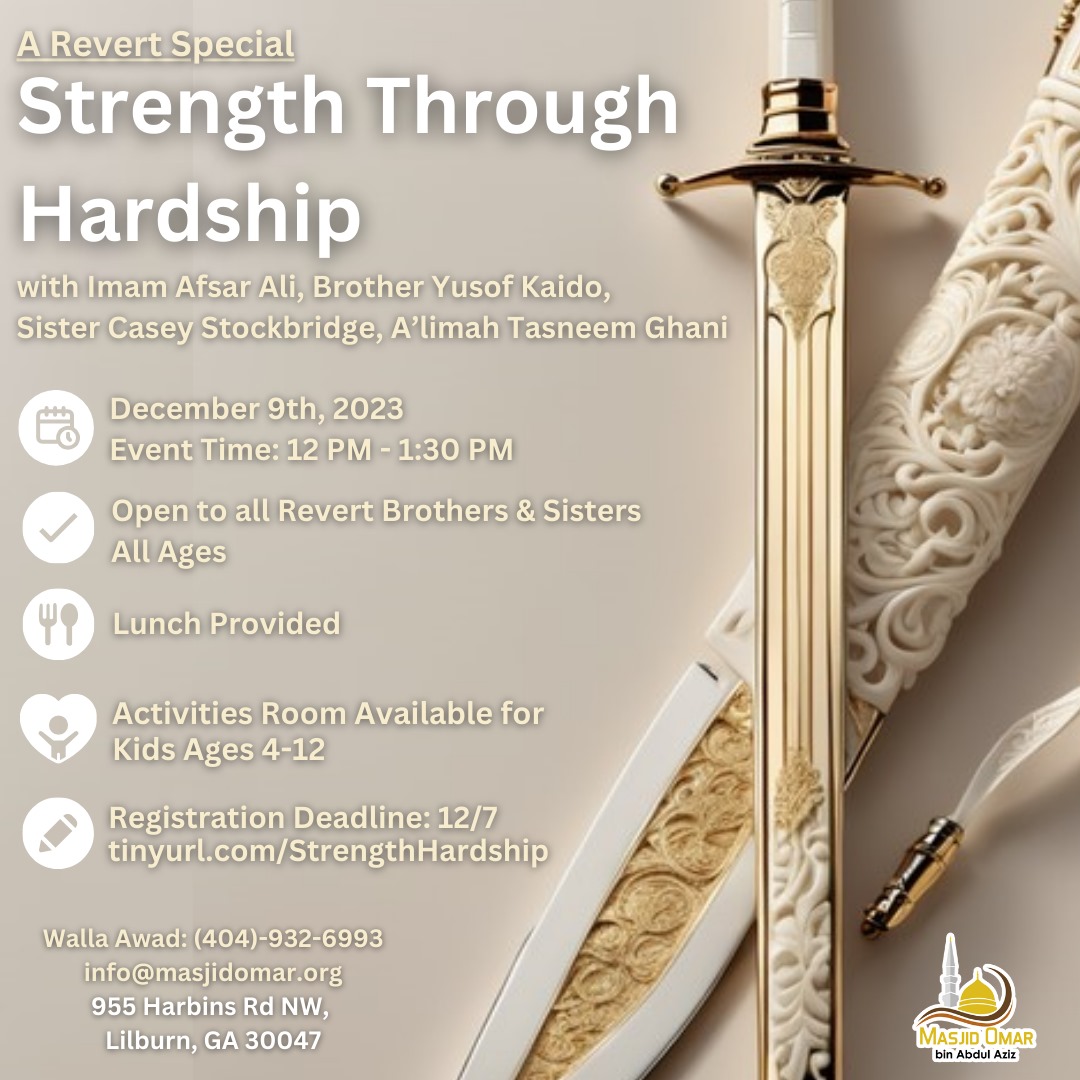 ---
Urgent Alert about scammer calls
Thursday, November 23, 2023 5:13 pm
As salaamu alai kum,
We want to alert everyone of a scam that is going around and has been reported by many brothers and sisters.
The scammer calls and informs about a meeting or a fund raiser for Gaza etc. or special program at the Masjid (sometimes even saying Masjid Omar or any local masjid) and asks you to open a program and send them the code.
Our request is to please ignore the message and DO NOT open or send the code or even entertain talking. Please hang up. The scammers are using local area codes and will appear as if the call is coming from someone you know.
May Allah swt save and protect us from all their harm! Ameen!
---
New Sunday School Class Opened for Sisters @ Masjid Omar
Friday, October 27, 2023 9:06 am
Registration Link: https://mohid.co/go/GgMdbRo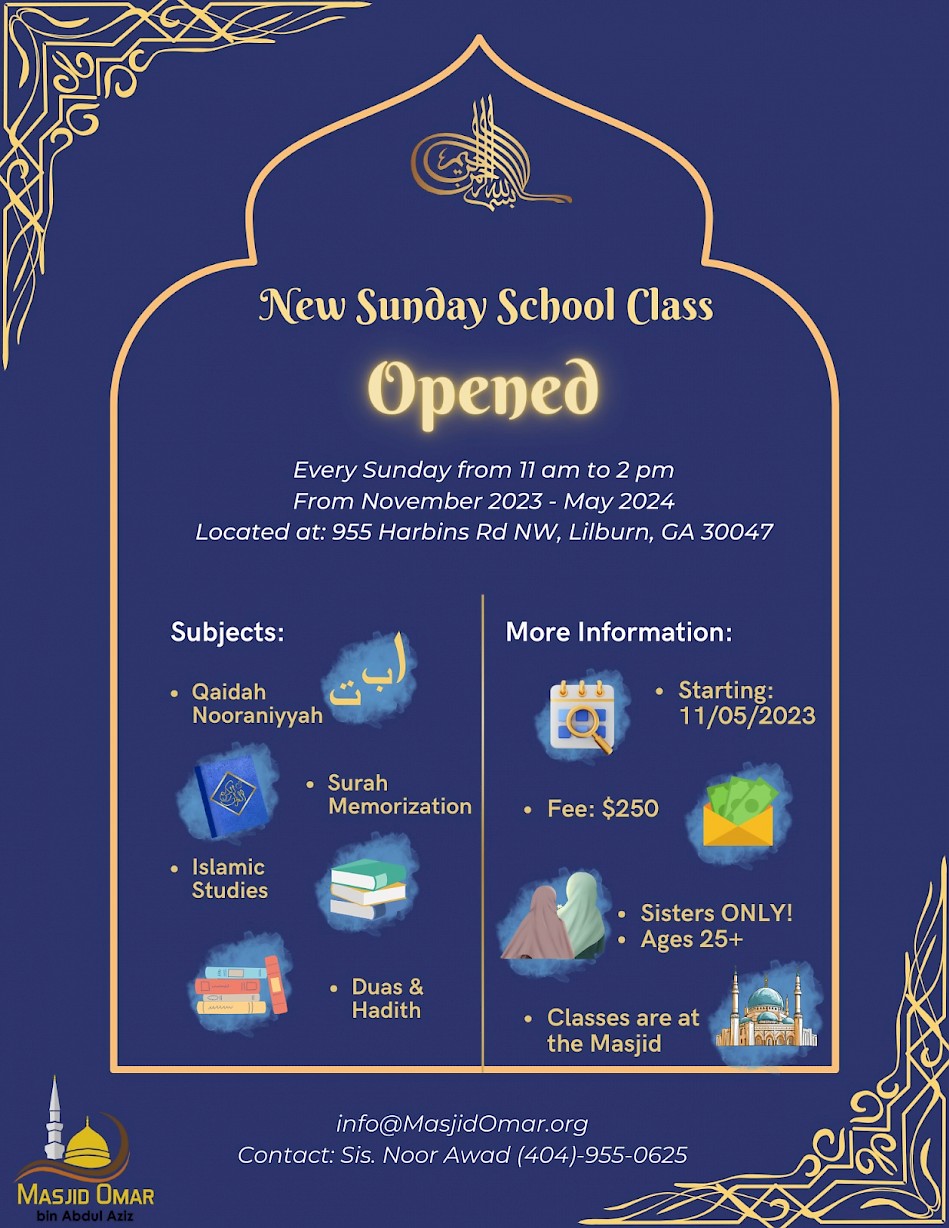 ---
Sister's Fall Fest & Mela
Wednesday, October 18, 2023 8:18 pm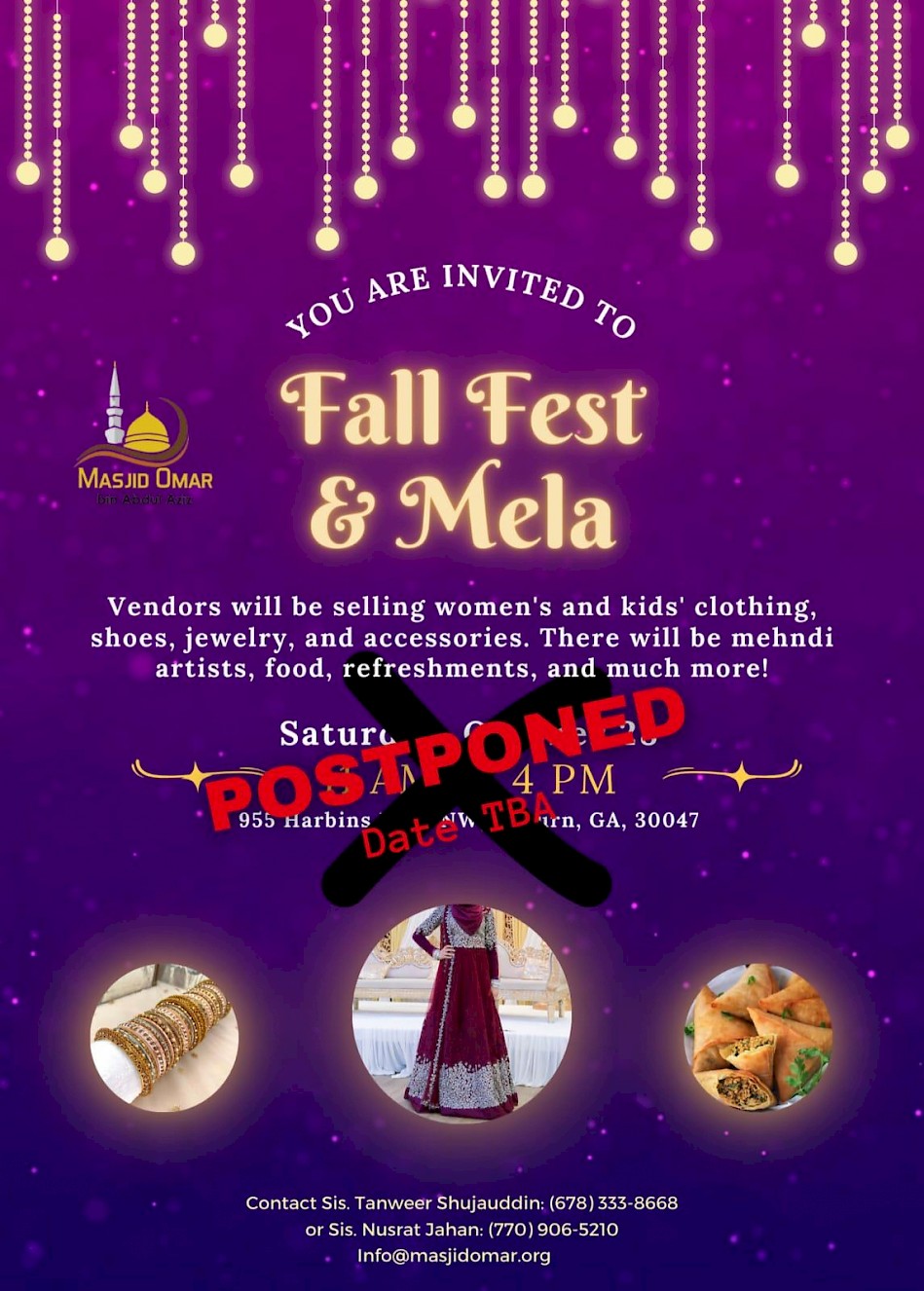 ---
Registration Open
Monday, August 14, 2023 1:22 pm
Assalamu Alaikum,
Registration is open for Masjid Omar's Sunday School and Evening School. Please register using the links below:
Sunday School Registration Link:
Evening School Registration Link: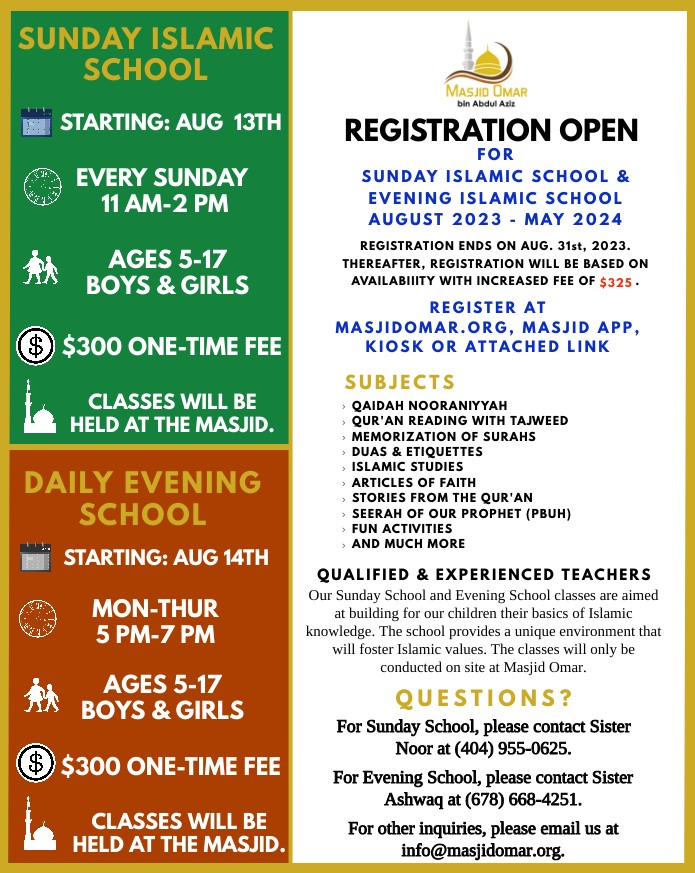 ---
Evening Islamic Studies for Sisters
Friday, August 11, 2023 11:48 am
---
Part Time Hifzul Quran
Saturday, July 29, 2023 2:30 pm
---
Volunteer Opportunities
Thursday, July 20, 2023 12:11 pm
Asalaamu Alaikum!
Our Masjid is seeking dedicated individuals to join our team and make a positive impact in the community as we value your skills and passion.  This submission is for consideration to become a viable volunteer or hold a temporary Director position for a 1-year term. 
All appointments will be approved by the Board of Trustees. 
For questions, please email muhammad.varachhia@alfarooqmasjid.org.
---
New Masjid Omar App
Thursday, March 2, 2023 12:49 pm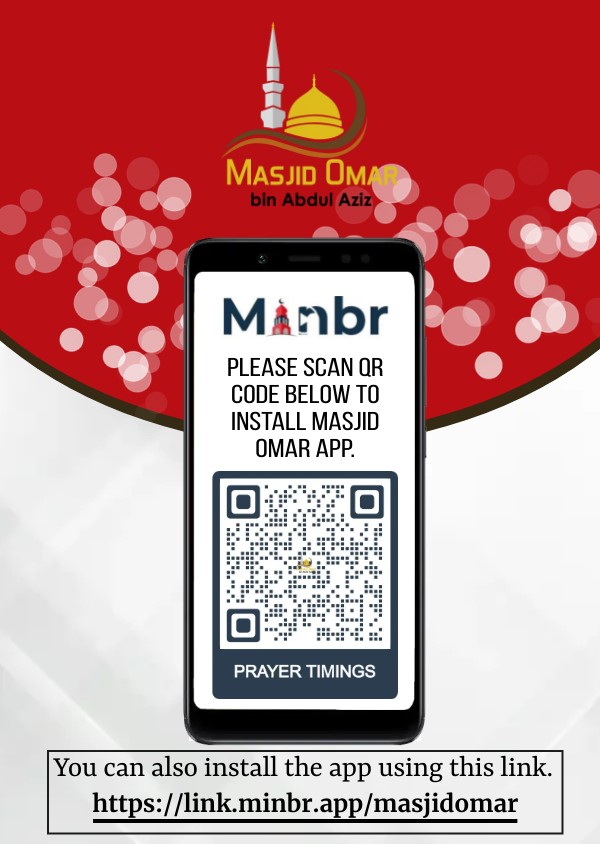 ---
Please write a check to "Masjid Omar" and either put it within a donation box at the masjid or mail it to:
Masjid Omar Bin Abdul Aziz
955 Harbins Road
Lilburn, GA 30047
"
Surely those who guard (against evil) are in a secure place, In gardens and springs;"
You may also listen previous tafseer here