Tuesday, October 22, 2019
23 Safar 1441
| | Starts | Iqamah |
| --- | --- | --- |
| Fajr1 | 6:26 AM | 6:50 AM |
| Zuhr2 | 1:23 PM | 2:00 PM |
| Asr | 4:31 PM | 5:30 PM |
| Maghrib | 6:59 PM | |
| Isha | 8:15 PM | 8:30 PM |
Wednesday, October 23, 2019
24 Safar 1441
| | Starts | Iqamah |
| --- | --- | --- |
| Fajr1 | 6:26 AM | 6:50 AM |
| Zuhr2 | 1:22 PM | 2:00 PM |
| Asr | 4:30 PM | 5:30 PM |
| Maghrib | 6:58 PM | |
| Isha | 8:14 PM | 8:30 PM |
Masjid Omar Bin Abdul Aziz
955 Harbins Road
Lilburn, GA 30047
(770) 279-8606
2019 Basketball Season
Friday, October 11, 2019 4:03 pm
Whether you've trained at our Summer BBall camp or elsewhere, it's time to showcase what you've learned! Come out for the tryouts and spend the season with us! #786ers #GameOn #InshaAllah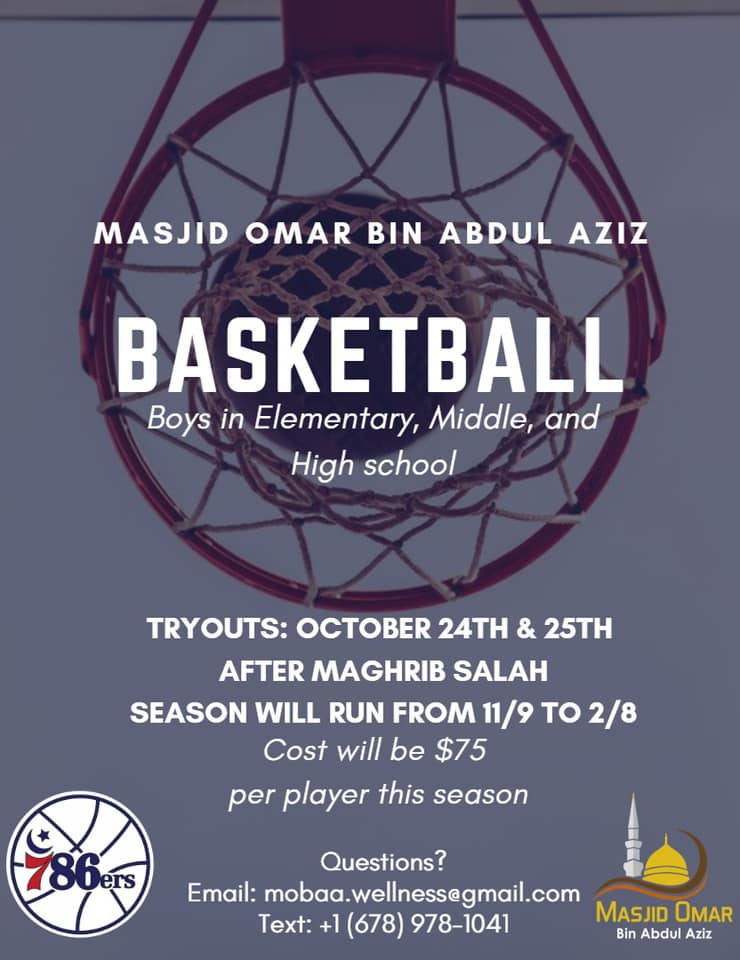 ---
Quranic Arabic
Sunday, September 29, 2019 11:50 pm
You've asked and we've listened. Learning #Arabic has been on top of most of our minds- so why wait? Starting Oct 9th, our uniquely designed course will immerse the learner in #Quranic Arabic. This is your chance to strengthen your relationship with Allah!
Register now: https://bit.ly/2mUWpZu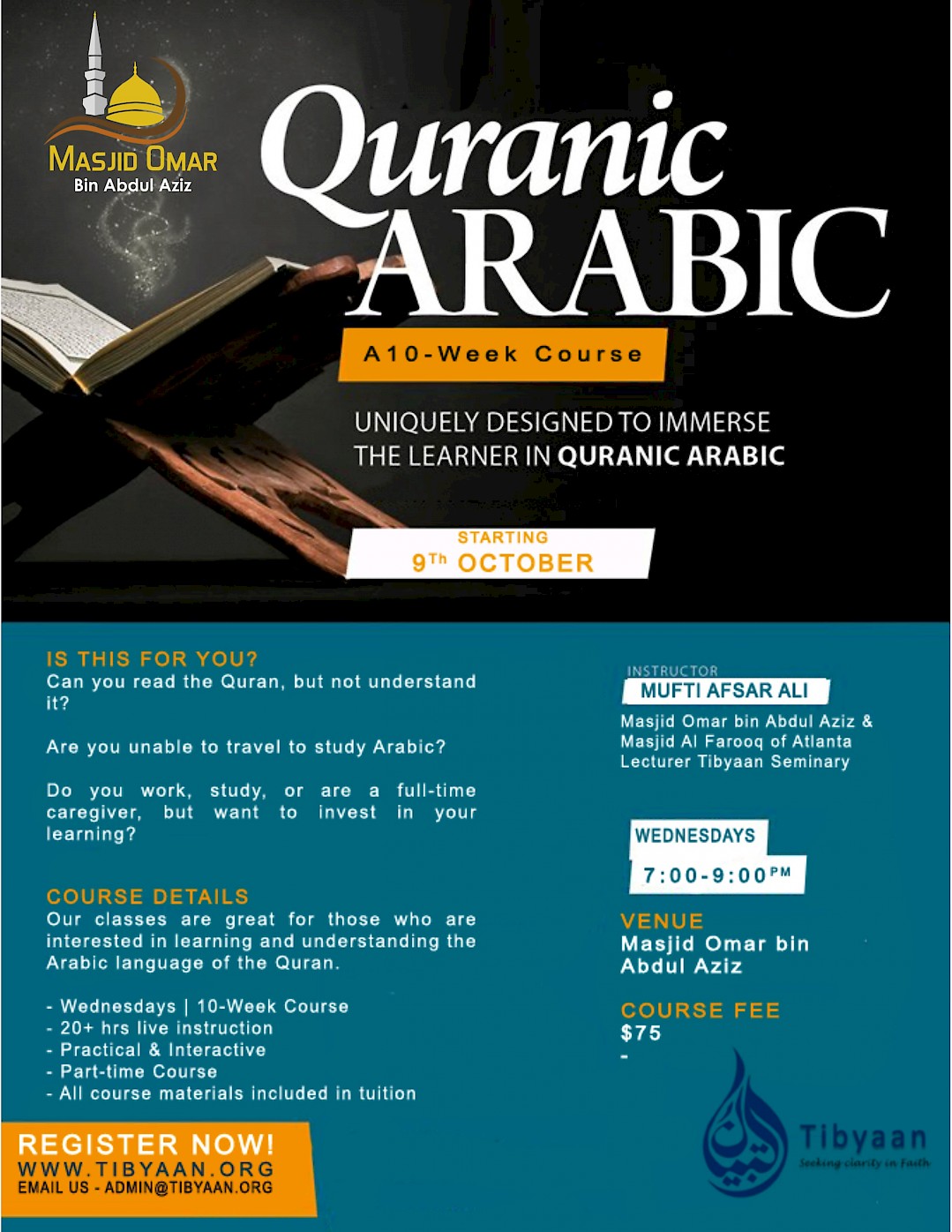 ---
Purification of Heart
Sunday, September 29, 2019 11:50 pm
How is your heart? When was the last time you asked yourself this question? Often we neglect to nourish our heart and soul in the busy life we live. This course will teach us how to start this process of detachment and purify the heart from the disease that keeps us away from Allah.#PurificationOfHeart
Register now: https://bit.ly/2mMG1uj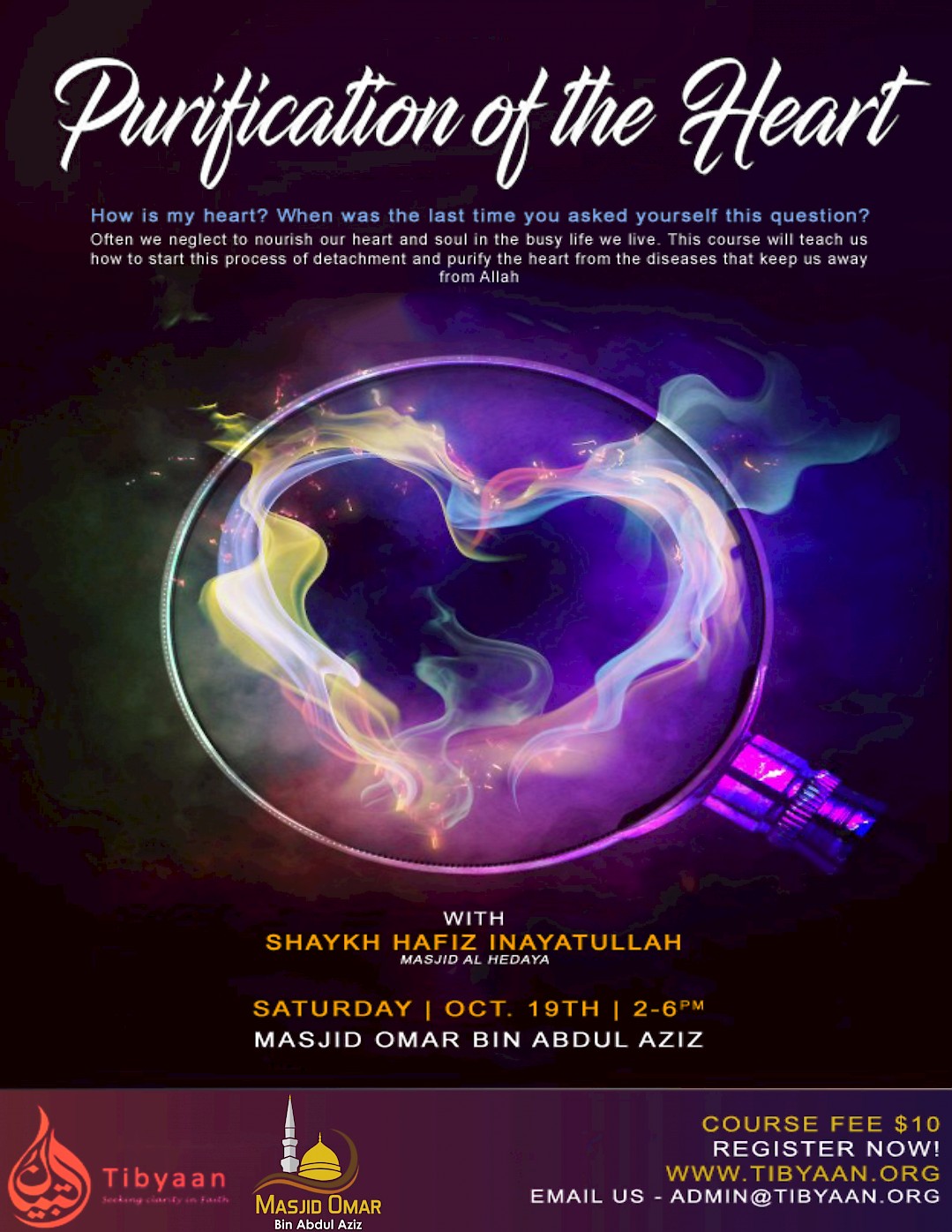 ---
99 Names of Allah
Sunday, September 29, 2019 11:48 pm
Starting on Oct 8th, we're rolling out a special course on #99NamesOfAllah. In this moving course, you will study the perfect and beautiful Names of Allah (the Almighty). Learn, connect, and experience the spiritual benefits of the Names of your Creator and Master inshaAllah.
Register now: https://bit.ly/2mMyOKK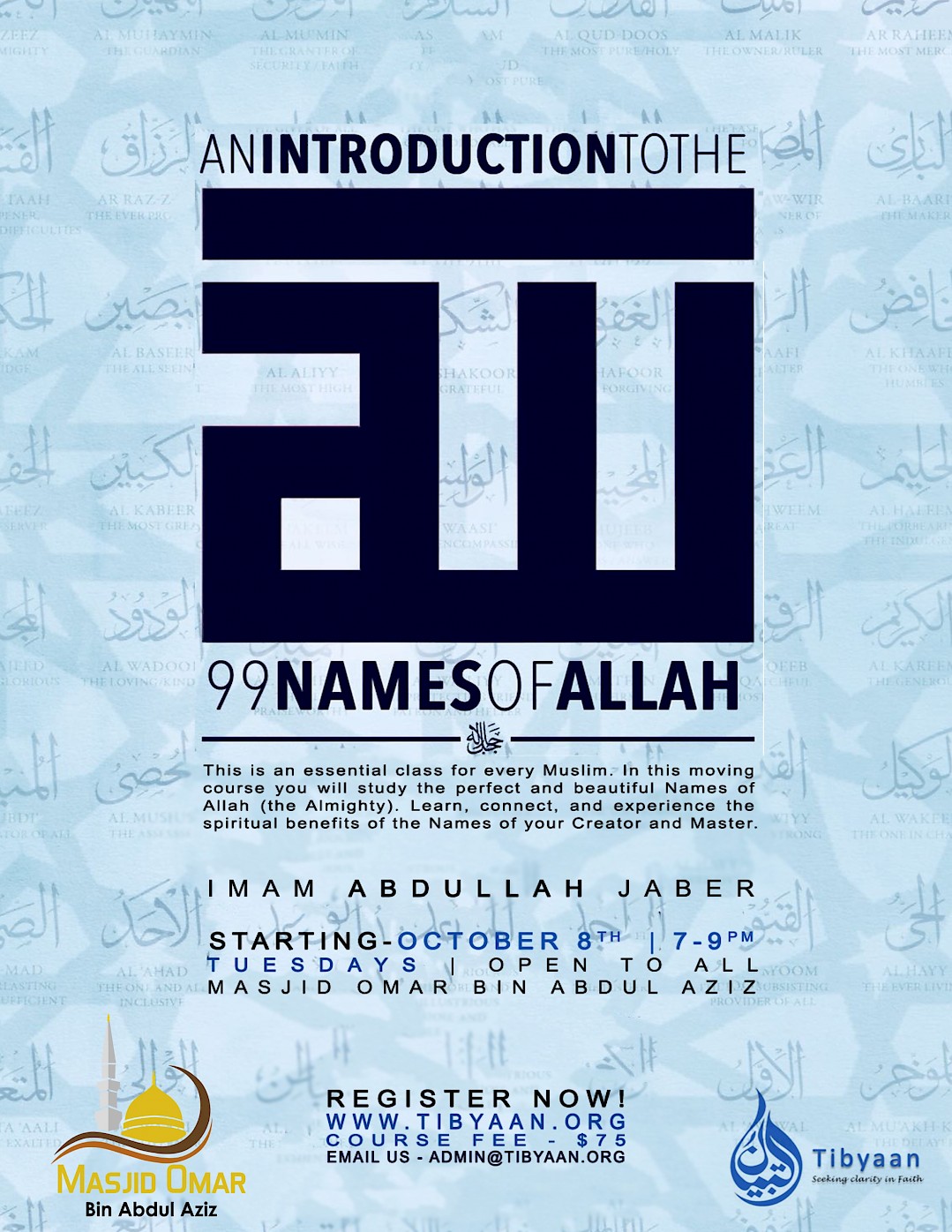 ---
Sunday & Evening School Registration
Friday, September 20, 2019 11:10 am
---
Feed the Hungry Program
Thursday, September 19, 2019 11:03 pm
Come join us to give back to our community every 1st Sunday of the month by serving the less fortunate ones among us! Share in the joy of serving hot meals by donating or volunteering. #FeedTheHungry #OneCommunity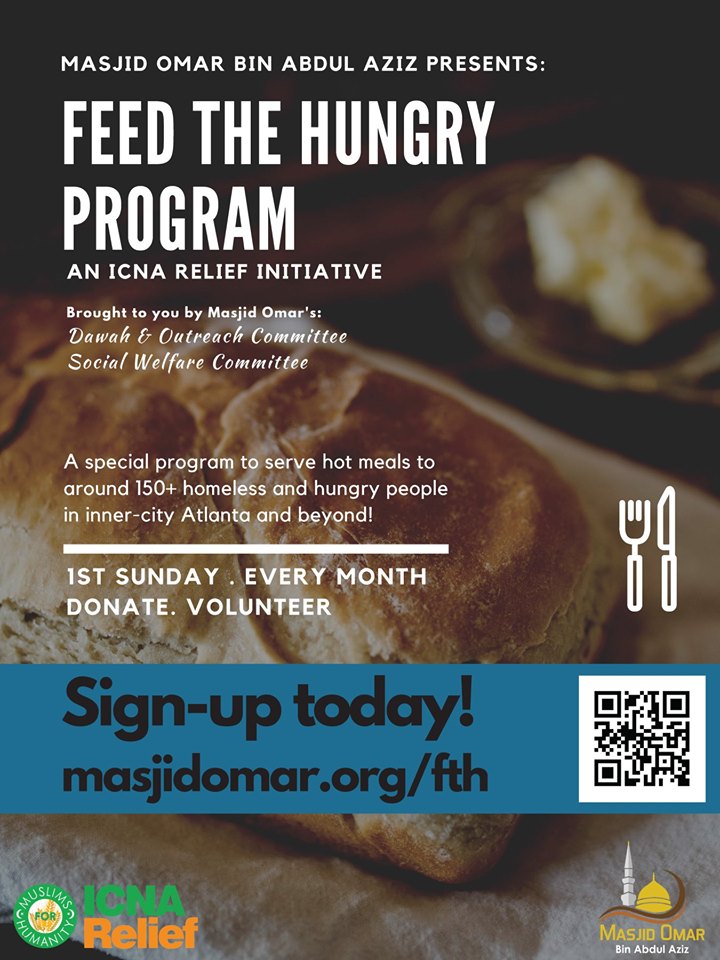 ---
Sister's Gym Timings
Friday, July 19, 2019 5:26 pm
---
Annual Audit Results
Tuesday, July 16, 2019 12:15 pm
Alhamdulilah the Board of Trustees completed an annual audit of the organizations finances, including Masjid Omar bin Abdul Aziz, through a third party independent accounting firm.  The results of the audit can be viewed here.  JazakumAllahu Khairan!
---
Donations to Masjid Omar
Monday, October 8, 2018 3:09 pm
Asalaamu Alaikum Respected Community Members:
We would like to take this opportunity to welcome the new Director of Masjid Omar bin Abdul Aziz, Br. Naqi Ahmed.  Br. Naqi is a member of the Board of Trustees of Al-Farooq Masjid of Atlanta and has served as the Assistant Director of Masjid Omar bin Abdul Aziz for several years.  It is with great pleasure that we announce Br. Naqi Ahmed as the Director of Masjid Omar bin Abdul Aziz.
Alhamdulilah, it is only with the support of the community that Masjid Omar continues to strive.  We encourage you to continue supporting our programs and the Masjid building by donating to our Masjid Operation fund, which goes directly to the the operations of Masjid Omar bin Abdul Aziz and its school.  We also encourge you to help support the local community by giving your Sadaqah and Zakat.  Both Sadaqa and Zakat is distributed to those in need in the Lilburn area and Clarkston. 
(Please note, Masjid Omar funds are complete separate from Al-Farooq Masjid funds)
Should you have any questions regarding the Masjid or its operations, please feel free to speak with Br. Naqi or the Masjid Administration.
Jazakullah Khair!
---
You may also listen previous tafseer here
MOHID is Masjid Omar Bin Abdul Aziz's preferred method of accepting donations/payments.
Please write a check to "Masjid Omar" and either put it within a donation box at the masjid or mail it to:
Masjid Omar Bin Abdul Aziz
955 Harbins Road
Lilburn, GA 30047
"
O ye who believe! Fear Allah as He should be feared, and die not except in a state of Islam."