Tuesday, November 30, 2021
25 Rabi' Al-Thani 1443
| | Starts | Iqamah |
| --- | --- | --- |
| Fajr1 | 5:56 AM | 6:30 AM |
| Zuhr2 | 12:26 PM | 2:00 PM |
| Asr | 3:11 PM | 4:15 PM |
| Maghrib | 5:33 PM | |
| Isha | 6:52 PM | 7:30 PM |
Wednesday, December 1, 2021
26 Rabi' Al-Thani 1443
| | Starts | Iqamah |
| --- | --- | --- |
| Fajr1 | 5:56 | 6:30 |
| Zuhr2 | 12:26 | 2:00 PM |
| Asr | 3:09 PM | 4:15 PM |
| Maghrib | 5:32 PM | |
| Isha | 6:51 PM | 7:30 PM |
Masjid Omar Bin Abdul Aziz
955 Harbins Road
Lilburn, GA 30047
(770) 279-8606
info@masjidomar.org
Free Grocery Distribution
Monday, November 29, 2021 6:30 pm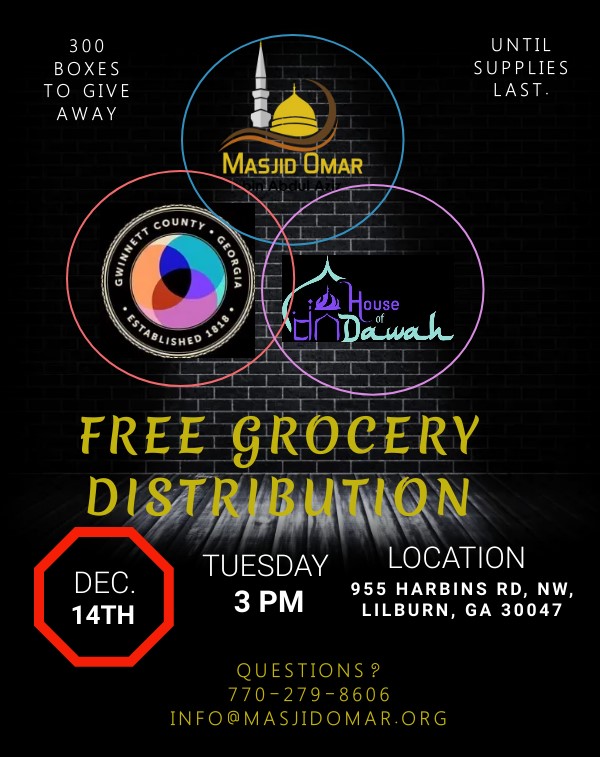 ---
Program for Young Girl 13+
Monday, November 29, 2021 6:27 pm
---
Part-Time Arabic and Islamic Studies
Tuesday, November 2, 2021 5:17 pm
---
New Jumah schedule
Tuesday, November 2, 2021 11:00 am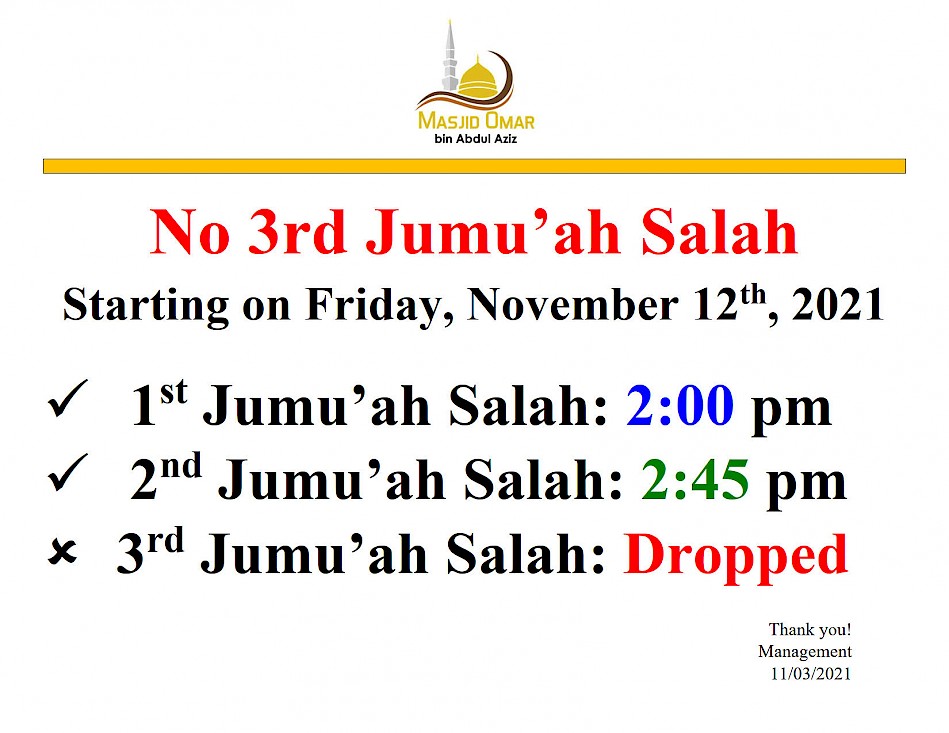 ---
Youth Camp Fire
Friday, October 15, 2021 12:55 pm
---
Sunday Islamic School and Evening School 2021-22
Tuesday, August 24, 2021 1:09 pm
Sunday Islamic School Registration link: https://us.mohid.co/ga/atlanta/masjidomar/masjid/online/registration/index/a1VLTGcrRUptdVFvQmVYL0RwZldHZz09
Evening School Registration link: https://us.mohid.co/ga/atlanta/masjidomar/masjid/online/registration/index/RlZveDdSNjlkTFRYUUtGQXZCZ0lqZz09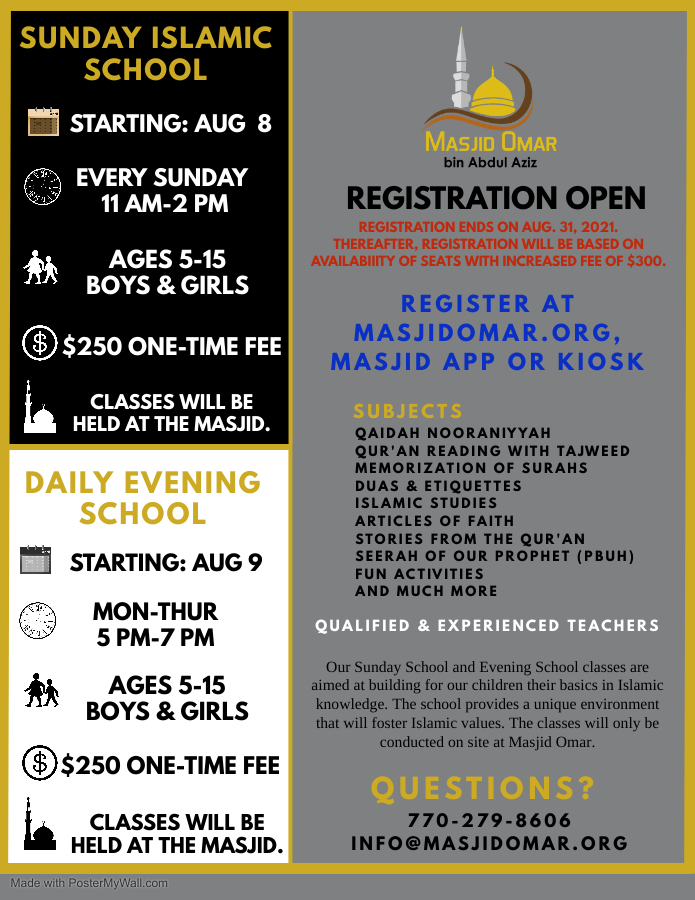 ---
Important Jumua Announcement
Friday, August 13, 2021 11:21 am
Upstairs Area will be used for brothers during 1st Juma Prayer.
Due to the rise in covid cases again, sisters' prayer area upstairs will be used for brothers during the 1st Juma prayer. However, sisters are most welcome for 2nd and 3rd Juma prayers. Our apologies for any inconvenience. Thank you!
---
Donation Links
Friday, April 23, 2021 6:27 am
---
Miracles Of the Prophet Muhammad SAW
Tuesday, October 20, 2020 1:48 pm
---
Prophetic Seerah Series
Wednesday, October 14, 2020 4:00 pm
---
Masjid Guidelines and Restrictions
Monday, July 27, 2020 5:17 pm
---
Method of Eid Salah and Eid Khutbahs
Friday, May 22, 2020 12:17 pm
---
How to Lead Jumu'ah Salah
Thursday, March 19, 2020 9:06 pm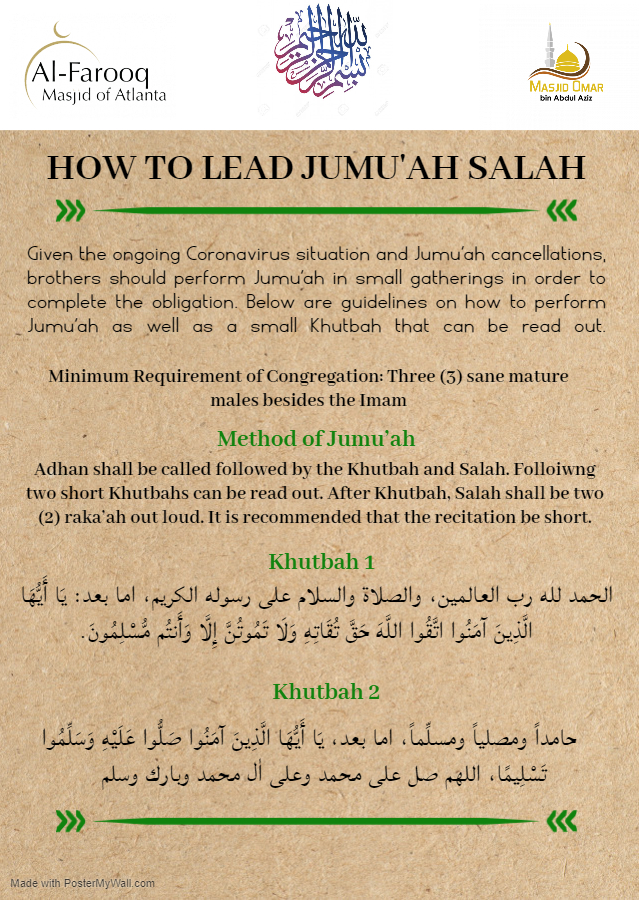 ---
Duas for Sicknesses Viruses and Diseases
Wednesday, March 18, 2020 3:35 pm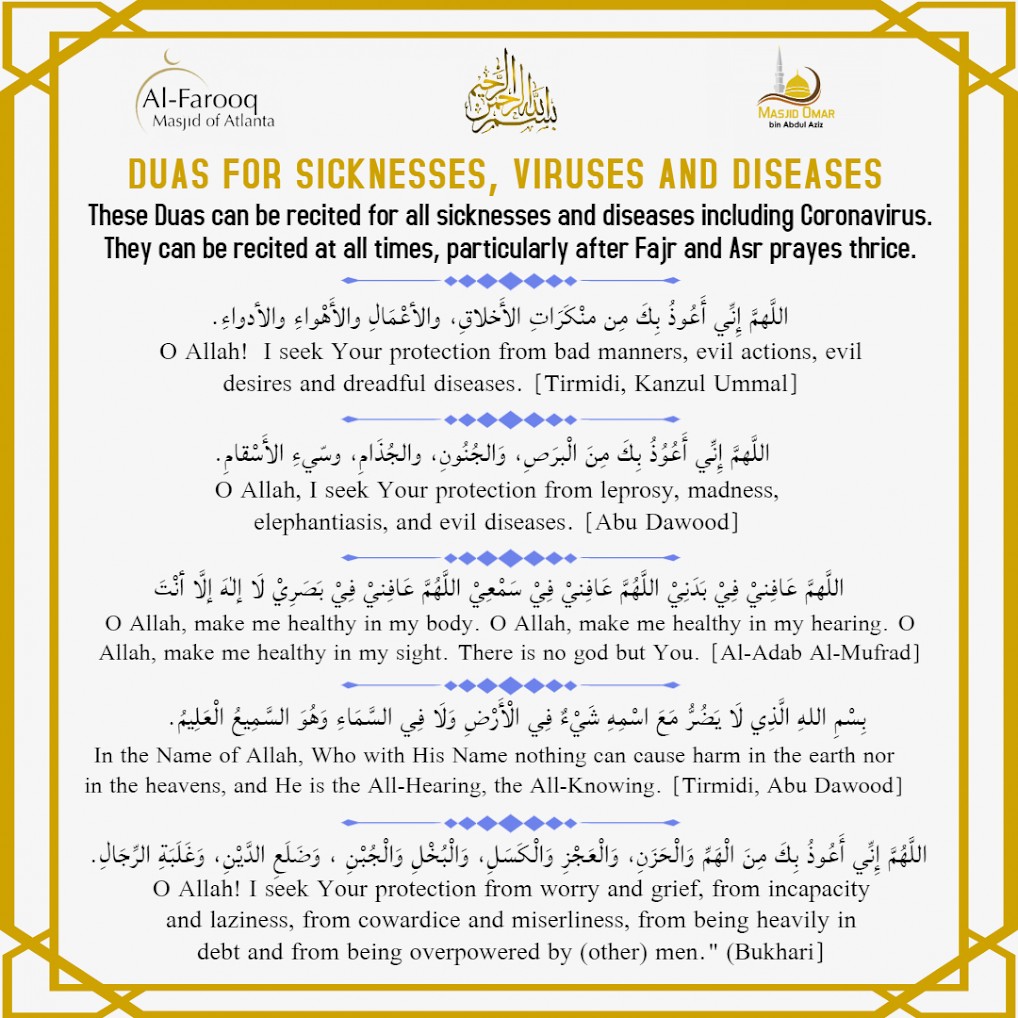 ---
Announcement Regarding Jumu'ah and Daily Salahs
Friday, March 13, 2020 12:31 pm
Assalamu Alaikum dear community members,
Due to the Novel Corona Virus outbreak and in the interest of everyone's health and well-being, Masjid Omar bin Abdul Aziz management has decided the following until further notice:
Masjid will be open for daily prayers for those who are willing to perform Salah at the Masjid. However, the daily Salah schedule will not be followed until further notice. Everyone is advised to perform their own Salah or in a small group and leave.
Everyone must bring their own prayer rug if they are willing to come to the Masjid.
Everyone must wash their hands when they come to the Masjid and again before they leave.
Elderly and those with chronic illness or with weak immune systems should not come to Masjid for any Salah including Jumu'ah Salah.
We encourage everyone to limit their appearance in public places such as Masjid.
We will perform the 1st Jumu'ah today (03/13/2020) at 2 pm. Please visit www.masjidomar.org for the following Jumu'ah prayers later this week.
We will not have 2nd Jumu'ah until further notice.
We encourage everyone to perform their daily Salahs and Jumu'ah Salah in following few weeks at home, workplaces and businesses. The minimum number to perform Jumu'ah Salah is three people and one Imam/Khateeb.
We advise everyone to read the following two Declarations for more clarity on the issue.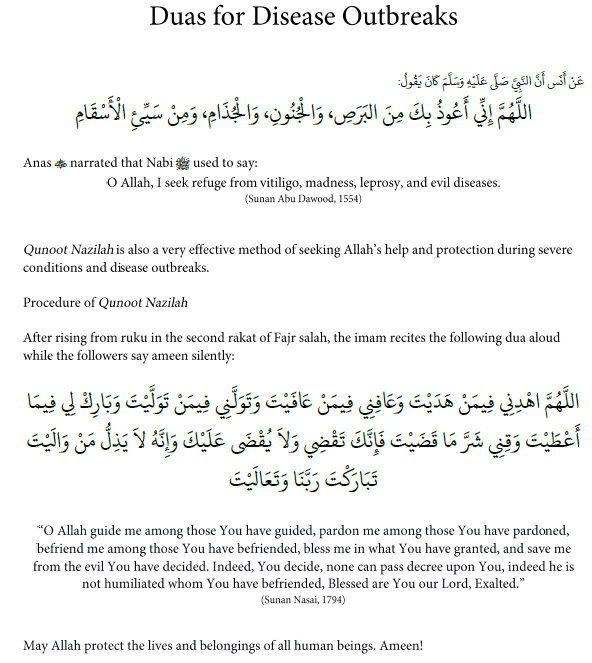 ---
Monthly Qur'an Recitation - Followed by story from the Qur'an
Friday, February 7, 2020 12:56 pm
---
A Message from the Founding Members of The Atlanta Mosque, Inc.
Friday, January 24, 2020 3:41 pm
A message from the founding members of The Atlanta Mosque, Inc.
---
Online Programs:
* Prophet Seerah
Every Tuesday at 7:30 pm on Zoom.
Meeting ID: 863 5276 3696
Password: 786786

* Don't Despair of the Mercy of Allah

  Every Wednesday after Maghrib

Zoom Series for Sisters

Lives of the Prophets
MOHID is Masjid Omar Bin Abdul Aziz's preferred method of accepting donations/payments.
Please write a check to "Masjid Omar" and either put it within a donation box at the masjid or mail it to:
Masjid Omar Bin Abdul Aziz
955 Harbins Road
Lilburn, GA 30047
"
And the servants of (Allah) Most Gracious are those who walk on the earth in humility, and when the ignorant address them, they say, "Peace!";"
You may also listen previous tafseer here