Thursday, September 19, 2019
9 Muharram 1440
| | Starts | Iqamah |
| --- | --- | --- |
| Fajr1 | 6:01 AM | 6:30 AM |
| Zuhr2 | 1:32 PM | 2:00 PM |
| Asr | 5:01 PM | 6:15 PM |
| Maghrib | 7:42 PM | |
| Isha | 8:58 PM | 9:25 PM |
Friday, September 20, 2019
10 Muharram 1440
| | Starts | Iqamah |
| --- | --- | --- |
| Fajr1 | 6:02 AM | 6:30 AM |
| Zuhr2 | 1:32 PM | 2:00 PM |
| Asr | 5:00 PM | 6:15 PM |
| Maghrib | 7:41 PM | |
| Isha | 8:56 PM | 9:25 PM |
Masjid Omar Bin Abdul Aziz
955 Harbins Road
Lilburn, GA 30047
(770) 279-8606
Mental Health Forum
Monday, September 16, 2019 10:23 pm
A life comes to an end every 40 seconds due to suicide (WHO). Suicide affects people of all ages in all communities and it is certainly preventable. Are you aware of the signs? Do you know what resources are available for help? What can you do? Join our upcoming forum to find out more inshaAllah!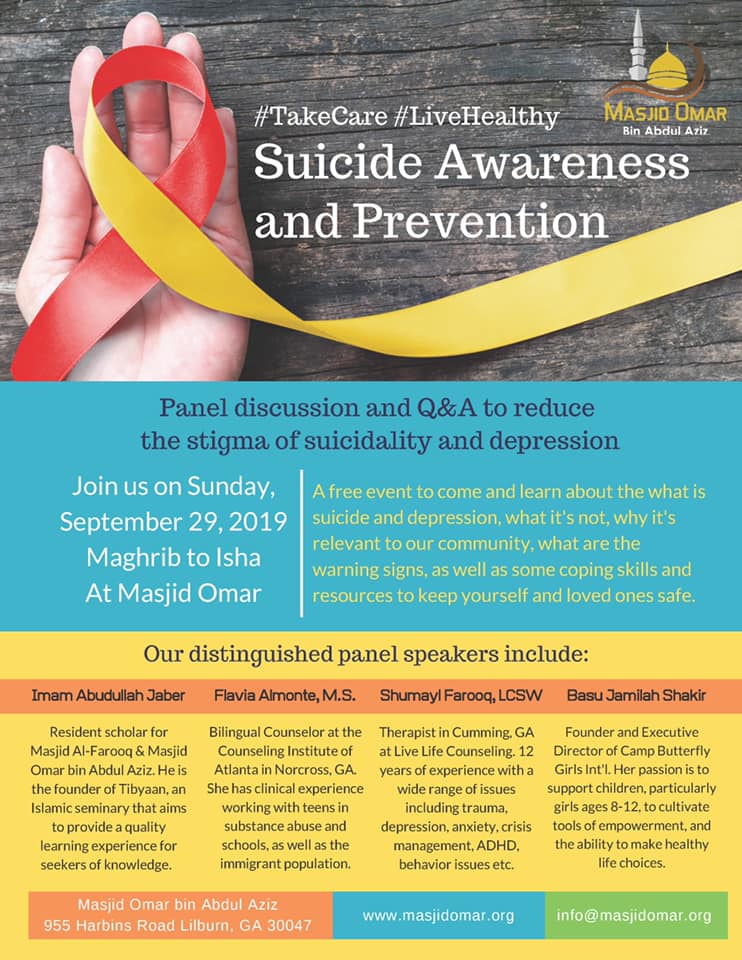 ---
Eid Field Day 2019
Saturday, September 7, 2019 11:55 pm
Let's end this summer heat with a bang! Families, friends, and neighbors all are welcome! Let us come together and celebrate the blessings that was brought upon Eid-ul Adha and give a special, warm welcome to our Hujjaj that completed a pillar of their faith!
RSVP Now: https://forms.gle/ZNdHfB5UXAnhTVfe7
 #CelebrateCommunity #WelcomeHujjaj
---
Blessed Interaction
Saturday, September 7, 2019 11:50 pm
Come join us for a special lecture by Imam Asif Hirani on September 20th inshaAllah! Please save the date and share with your friends & family! #BlessedInteraction #Sep20thMaghrib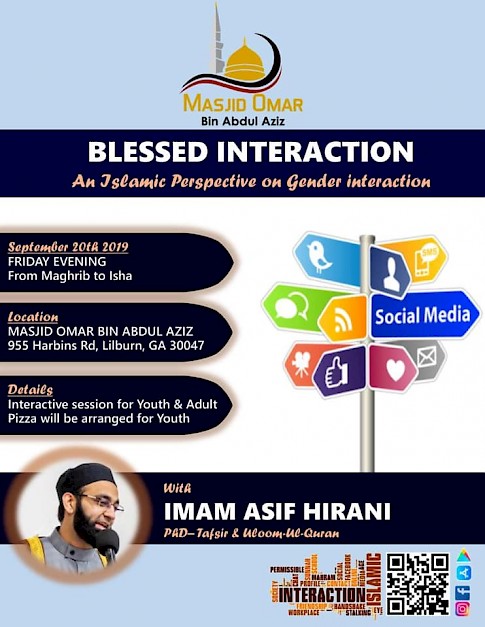 ---
Deen Driven Car Show
Thursday, August 22, 2019 9:42 am
Love cars and BBQ? Join our Youth Committee for the #DeenDriven car show inshaAllah! Come and get to know our committee and find out more about their planned activities on August 24th!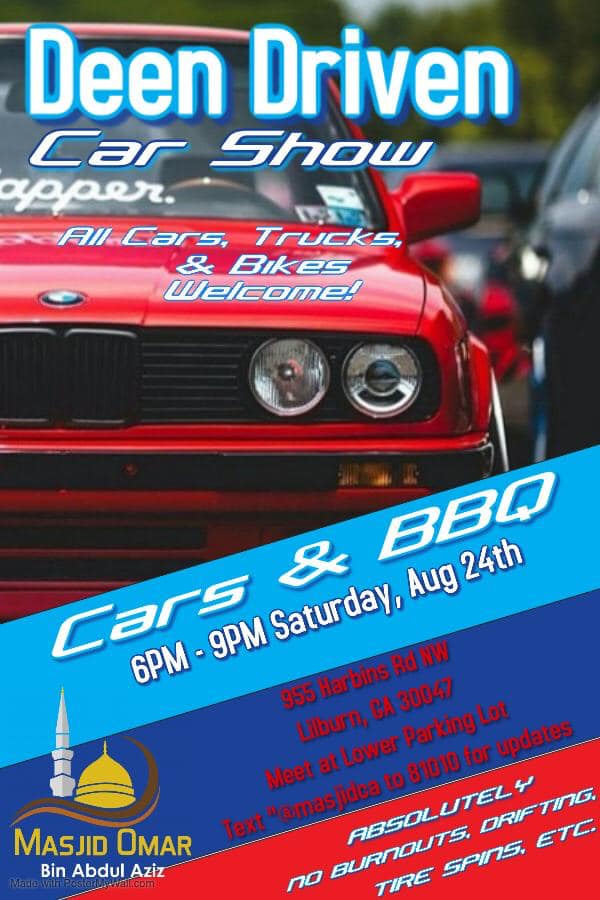 ---
Sunday & Evening School Registration
Monday, August 12, 2019 4:10 pm
---
Sister's Gym Timings
Friday, July 19, 2019 5:26 pm
---
Annual Audit Results
Tuesday, July 16, 2019 12:15 pm
Alhamdulilah the Board of Trustees completed an annual audit of the organizations finances, including Masjid Omar bin Abdul Aziz, through a third party independent accounting firm.  The results of the audit can be viewed here.  JazakumAllahu Khairan!
---
Health Fair & Back 2 School Giveaway!
Sunday, July 14, 2019 12:16 am
Save the date for the Free Community Health Fair and Back2School Giveaway! InshaAllah on August 4th (Sunday) 10AM-1PM at Masjid Omar Bin Abdul Aziz.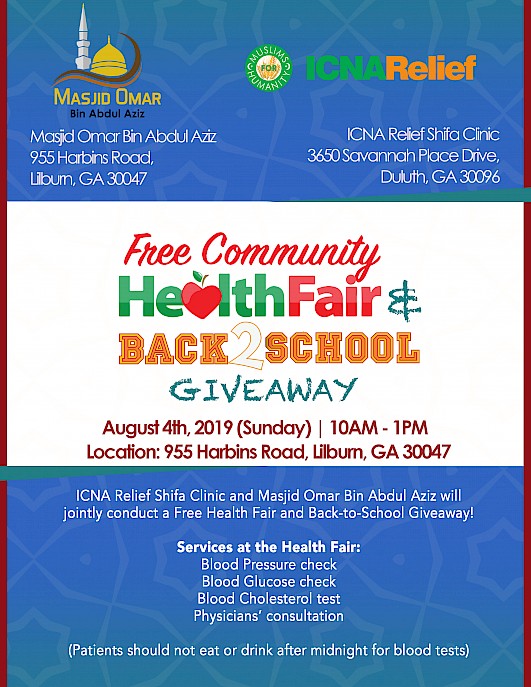 ---
Donations to Masjid Omar
Monday, October 8, 2018 3:09 pm
Asalaamu Alaikum Respected Community Members:
We would like to take this opportunity to welcome the new Director of Masjid Omar bin Abdul Aziz, Br. Naqi Ahmed.  Br. Naqi is a member of the Board of Trustees of Al-Farooq Masjid of Atlanta and has served as the Assistant Director of Masjid Omar bin Abdul Aziz for several years.  It is with great pleasure that we announce Br. Naqi Ahmed as the Director of Masjid Omar bin Abdul Aziz.
Alhamdulilah, it is only with the support of the community that Masjid Omar continues to strive.  We encourage you to continue supporting our programs and the Masjid building by donating to our Masjid Operation fund, which goes directly to the the operations of Masjid Omar bin Abdul Aziz and its school.  We also encourge you to help support the local community by giving your Sadaqah and Zakat.  Both Sadaqa and Zakat is distributed to those in need in the Lilburn area and Clarkston. 
(Please note, Masjid Omar funds are complete separate from Al-Farooq Masjid funds)
Should you have any questions regarding the Masjid or its operations, please feel free to speak with Br. Naqi or the Masjid Administration.
Jazakullah Khair!
---
You may also listen previous tafseer here
MOHID is Masjid Omar Bin Abdul Aziz's preferred method of accepting donations/payments.
Please write a check to "Masjid Omar" and either put it within a donation box at the masjid or mail it to:
Masjid Omar Bin Abdul Aziz
955 Harbins Road
Lilburn, GA 30047
"
We have not sent thee but as a universal (Messenger) to men, giving them glad tidings, and warning them (against sin), but most men understand not."