Wednesday, August 5, 2020
15 Dhu Al-Hijjah 1441
| | Starts | Iqamah |
| --- | --- | --- |
| Fajr1 | 5:19 AM | 6:15 AM |
| Zuhr2 | 1:44 PM | 2:00 PM |
| Asr | 5:27 PM | 6:45 PM |
| Maghrib | 8:38 PM | |
| Isha | 10:03 PM | 10:15 PM |
Thursday, August 6, 2020
16 Dhu Al-Hijjah 1441
| | Starts | Iqamah |
| --- | --- | --- |
| Fajr1 | 5:21 AM | 6:15 AM |
| Zuhr2 | 1:44 PM | 2:00 PM |
| Asr | 5:27 PM | 6:45 PM |
| Maghrib | 8:37 PM | |
| Isha | 10:02 PM | 10:15 PM |
Masjid Omar Bin Abdul Aziz
955 Harbins Road
Lilburn, GA 30047
(770) 279-8606
Eidul Ad'ha: 4 Prayers - Friday, July 31
Monday, July 27, 2020 5:37 pm
Alhamdulillah, Eidul-Adha is on Friday, July 31, 2020. As per the Shariah guidelines, it is Wajib (mandatory) on individuals to establish EID Salah collectively. With the help of Allah and from the help of volunteers, we are planning to establish the Salah at Masjid Omar Bin Abdul Aziz with the following guidelines:
Guidelines:
There will be 4 congregations.

50-70 people will be allowed at a time on a first-come-first-serve basis.

Children under 10 and individuals above 65 of age or with pre-existing conditions will not be allowed. 

Sisters are advised to stay home. We don't have any arrangements for them this time.

Masks and personal prayer rugs are mandatory.

Maintain 6 feet distance at all times and please make Wudu at home.

Please be ready to get your temperature checked at the entry point.

Please sign the questionnaire and Pledge form in order to attend the congregation to waive the liability of the Masjid.

Please leave the Masjid premises immediately after Salah.
Eid Salah Location:
The parking lot adjacent to the Masjid building.
Eid Salah Timings:
1st Jama'ah: 7:30 am
2nd Jama'ah: 8:30 am
3rd Jama'ah: 9:30 am
4th Jama'ah: 10:00 am
Note: 
Masjid Omar Bin Abdul Aziz will open its premises for Eid-ul-Adha in limited form and is happy to welcome all congregants for Eid salah. The actual building will remain closed. Therefore, all congregants, participants, and visitors are required to follow the guidelines and must fill the questionnaire before entering the Masjid premises. All are requested to print the questionnaire and Masjid waiver form at home, fill it and submit to our volunteers at the time of entry.
-Management-
July 29, 2020
---
Masjid Guidelines and Restrictions
Monday, July 27, 2020 5:17 pm
---
Qurbani Distribution Service
Saturday, July 25, 2020 6:21 pm
---
Eid ul Adha - Friday, July 31
Wednesday, July 22, 2020 10:11 am
Assalamu Alaikum,
InshaAllah Eid ul Adha will be on Friday, July 31.  Please visit 
masjidomar.org
 for Eid Salah updates.
*Important Dates:*
1st of Dhu'l-Hijjah (July 22)
9th of Dhu'l-Hijjah/Day of Arafat (Evening of Wed., July 29 to Evening of Thurs., July 30)
_Fasting on the day of Arafah for non-pilgrims is a highly recommended Sunnah which entails a great reward:_
_"Fasting on the Day of Arafah expiates the sins of the past year and the coming year." (Muslim)_
---
Juma Prayer Suspended until further notice
Thursday, July 16, 2020 12:21 pm
Assalamu Alaikum,
.....................................................
Juma Prayer at Masjid Omar Suspended until further notice.
.......................................................
Due to the rise in Covid-19 cases in Georgia, unfortunately, Juma Prayer at Masjid Omar Bin Abdul Aziz is temporarily being suspended until further notice. However, the Masjid will remain open for 5 daily prayers with guidelines and restrictions in full effect. We will keep you updated. We apologize for any inconvenience. May Allah (SWT) forgive and protect all of us! Ameen!
Management
Masjid Omar Bin Abdul Aziz
...............................................
---
Free Grocery Distribution
Wednesday, July 15, 2020 6:53 pm
---
Rediscover Dul-Hijjah
Wednesday, July 15, 2020 6:51 pm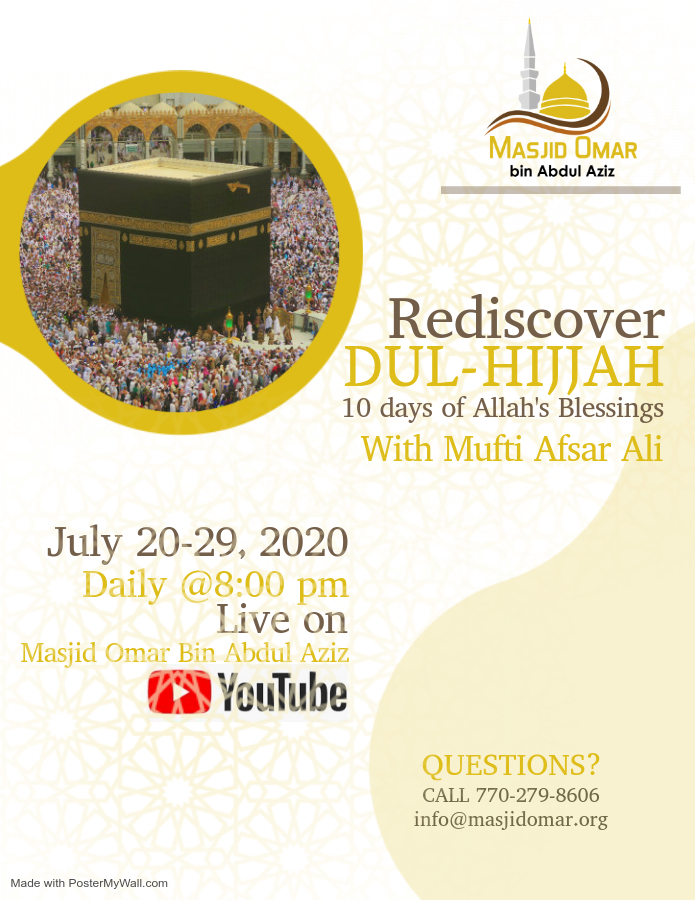 ---
Prophetic Seerah Series
Monday, July 13, 2020 4:00 pm
---
Share the blessing of Qurbani
Thursday, July 9, 2020 5:11 pm
---
Open House - Siraat
Thursday, June 18, 2020 2:22 pm
Assalamu Alaikum,
please join us to learn about our Islamic Studies programs and meet our instructors.
Topic: Open House for Siraat of Masjid Omar Date: July 11, 2020, Time: 2:00 PM to 3.00 PM (ET)
Organized by: Masjid Omar Bin Abdul Aziz
Hosted by: Mufti Afsar Ali & female SIRAAT instructors
Join Zoom Meeting https://us02web.zoom.us/j/83046987368?pwd=aXhFb1c2dzBTT2M0R213dkVPTVNWZz09
Meeting ID: 830 4698 7368
Password: siraat
Join by Phone Dial-in: +1312 626 6799
Meeting ID: 830 4698 7368
Password: 812121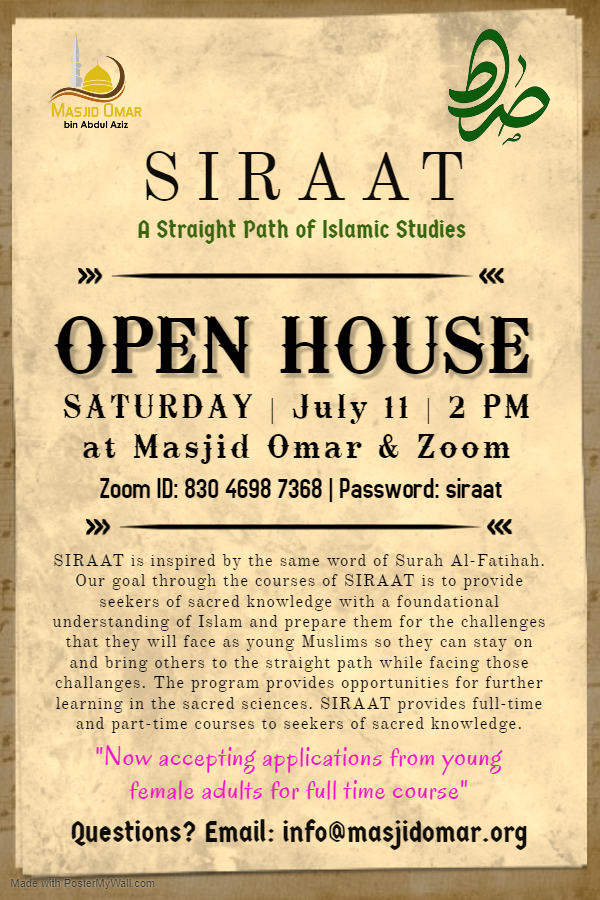 ---
Method of Eid Salah and Eid Khutbahs
Friday, May 22, 2020 12:17 pm
---
Hifz Enrollment 20-21
Tuesday, May 19, 2020 9:47 am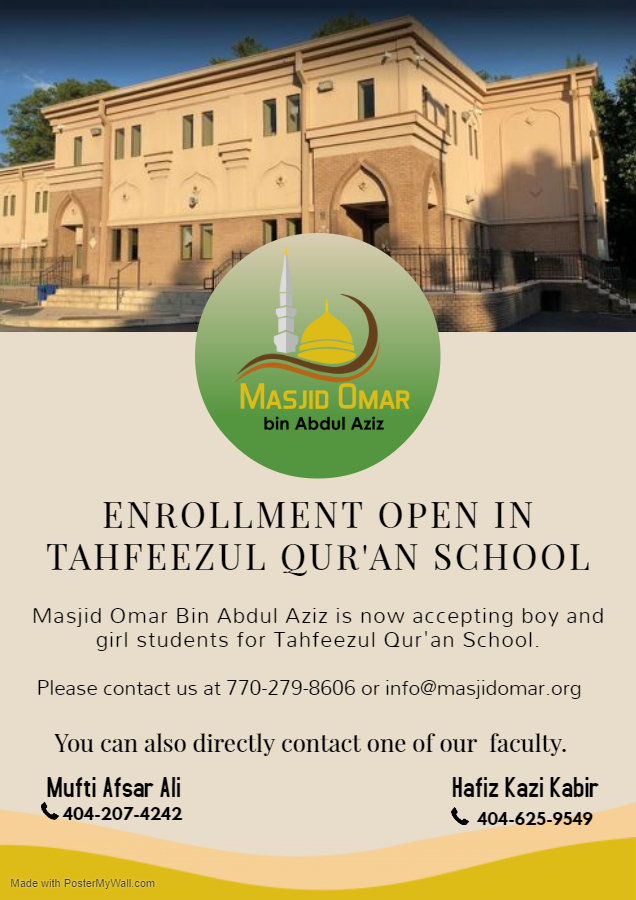 ---
Message to our community
Sunday, March 22, 2020 10:17 pm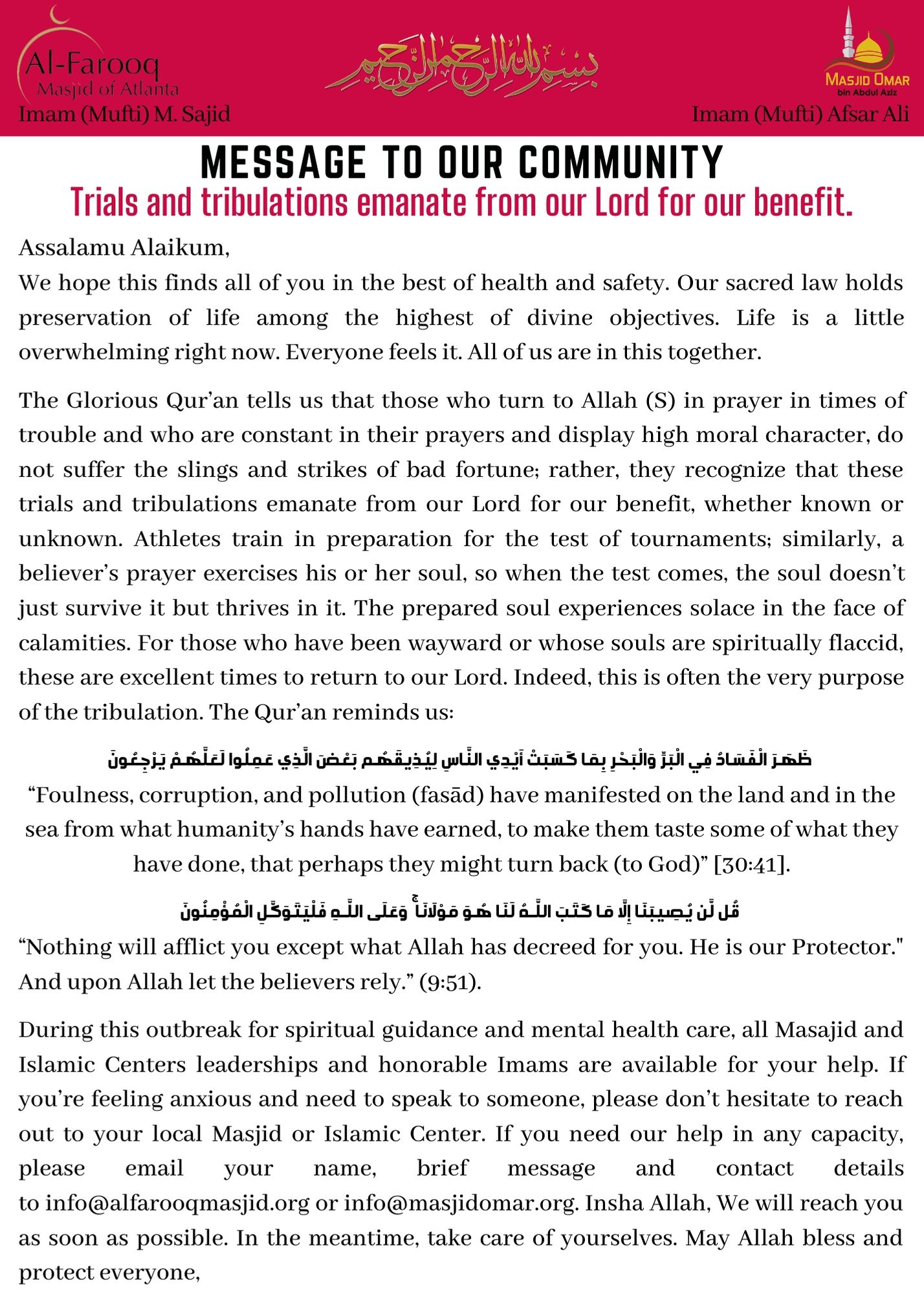 ---
How to Lead Jumu'ah Salah
Thursday, March 19, 2020 9:06 pm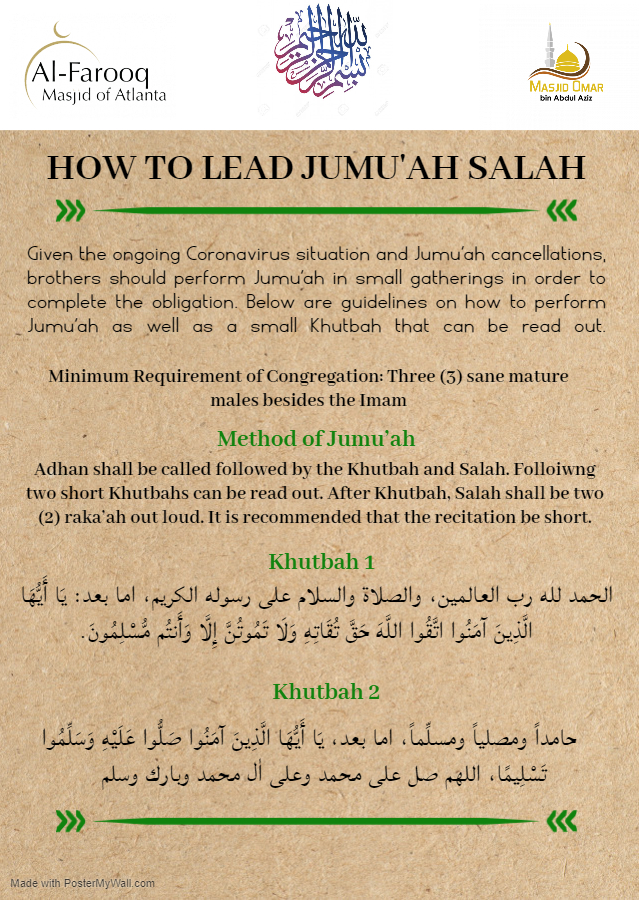 ---
Duas for Sicknesses Viruses and Diseases
Wednesday, March 18, 2020 3:35 pm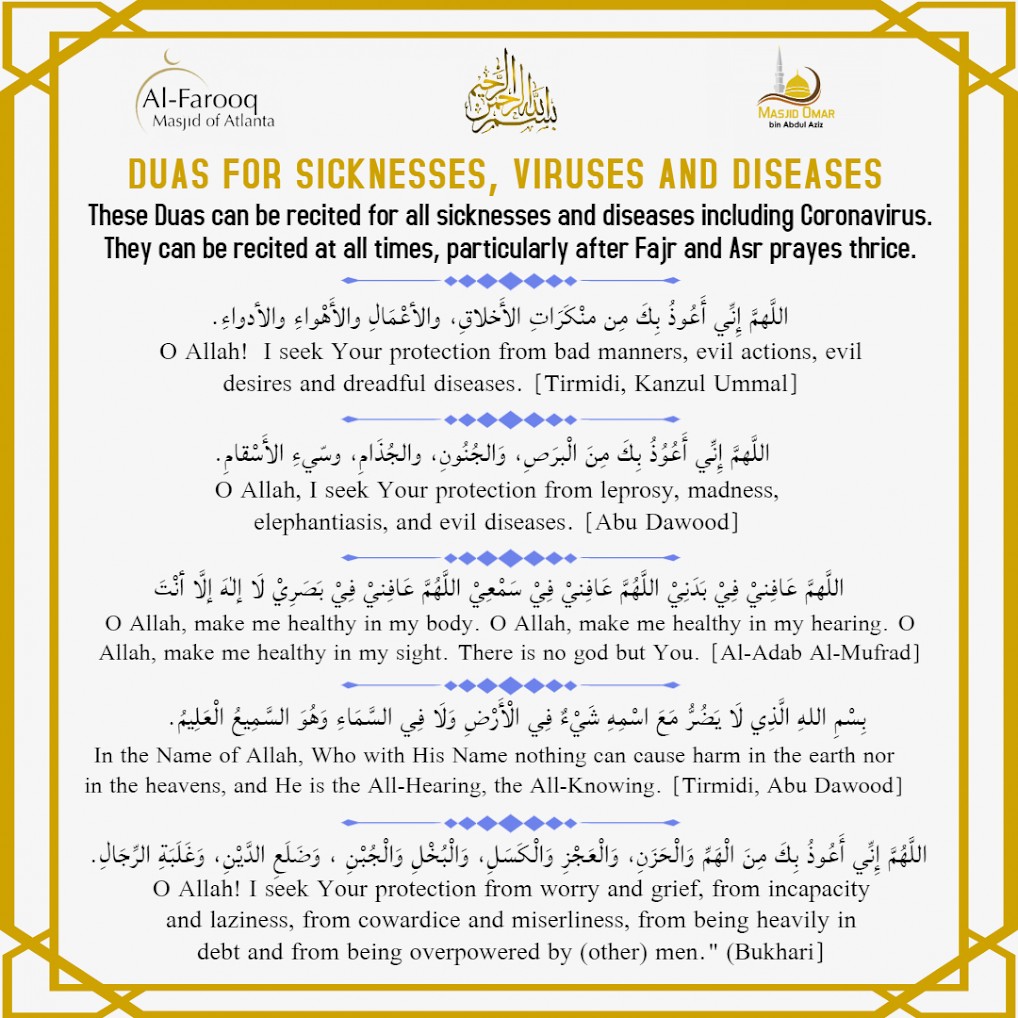 ---
Announcement Regarding Jumu'ah and Daily Salahs
Friday, March 13, 2020 12:31 pm
Assalamu Alaikum dear community members,
Due to the Novel Corona Virus outbreak and in the interest of everyone's health and well-being, Masjid Omar bin Abdul Aziz management has decided the following until further notice:
Masjid will be open for daily prayers for those who are willing to perform Salah at the Masjid. However, the daily Salah schedule will not be followed until further notice. Everyone is advised to perform their own Salah or in a small group and leave.
Everyone must bring their own prayer rug if they are willing to come to the Masjid.
Everyone must wash their hands when they come to the Masjid and again before they leave.
Elderly and those with chronic illness or with weak immune systems should not come to Masjid for any Salah including Jumu'ah Salah.
We encourage everyone to limit their appearance in public places such as Masjid.
We will perform the 1st Jumu'ah today (03/13/2020) at 2 pm. Please visit www.masjidomar.org for the following Jumu'ah prayers later this week.
We will not have 2nd Jumu'ah until further notice.
We encourage everyone to perform their daily Salahs and Jumu'ah Salah in following few weeks at home, workplaces and businesses. The minimum number to perform Jumu'ah Salah is three people and one Imam/Khateeb.
We advise everyone to read the following two Declarations for more clarity on the issue.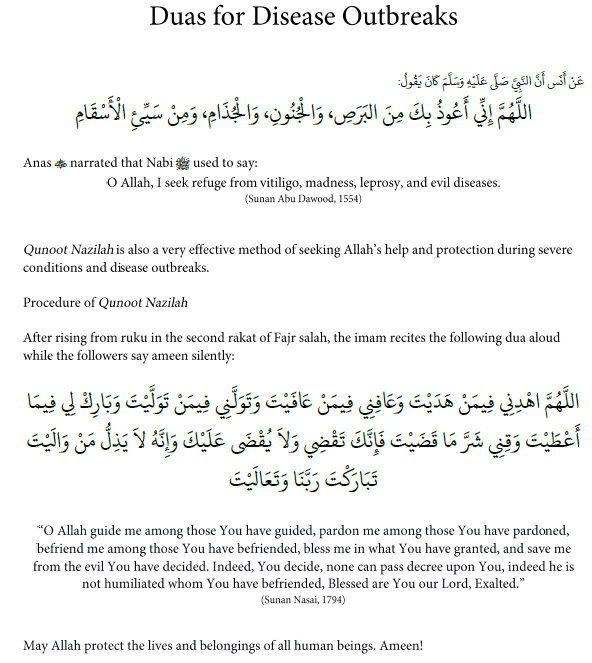 ---
Monthly Qur'an Recitation - Followed by story from the Qur'an
Friday, February 7, 2020 12:56 pm
---
A Message from the Founding Members of The Atlanta Mosque, Inc.
Friday, January 24, 2020 3:41 pm
A message from the founding members of The Atlanta Mosque, Inc.
---
You may also listen previous tafseer here
MOHID is Masjid Omar Bin Abdul Aziz's preferred method of accepting donations/payments.
Please write a check to "Masjid Omar" and either put it within a donation box at the masjid or mail it to:
Masjid Omar Bin Abdul Aziz
955 Harbins Road
Lilburn, GA 30047
"
Say: He is Allah, the One and Only; Allah, the Eternal, Absolute; He begetteth not, nor is He begotten; And there is none like unto Him."