Wednesday, June 7, 2023
18 Dhu Al-Qi'dah 1444

| | Starts | Iqamah |
| --- | --- | --- |
| Fajr1 | 4:44 AM | 5:55 AM |
| Zuhr | 1:37 PM | 2:00 |
| Asr | 5:37 | 6:45 |
| Maghrib | 8:50 | |
| Isha | 10:23 | 10:35 |
Thursday, June 8, 2023
19 Dhu Al-Qi'dah 1444

| | Starts | Iqamah |
| --- | --- | --- |
| Fajr1 | 4:44 AM | 5:55 AM |
| Zuhr | 1:37 PM | 2:00 |
| Asr | 5:37 | 6:45 |
| Maghrib | 8:50 | |
| Isha | 10:23 | 10:35 |
Masjid Omar Bin Abdul Aziz
955 Harbins Road
Lilburn, GA 30047
(770) 279-8606
info@masjidomar.org
(Photos) Class of 2023 - Annual Hifz Graduation
Saturday, May 27, 2023 10:00 pm
---
(Video) Class of 2023 - Annual Hifz Graduation
Saturday, May 27, 2023 9:54 pm
---
Siraat Graduation
Wednesday, May 24, 2023 9:49 pm
Assalamu Alaykum,
We are glad to announce our 2nd annual Siraat and Hifz Graduation.  Please join us for a sisters-only event on Saturday, June 3rd at 2:00 pm.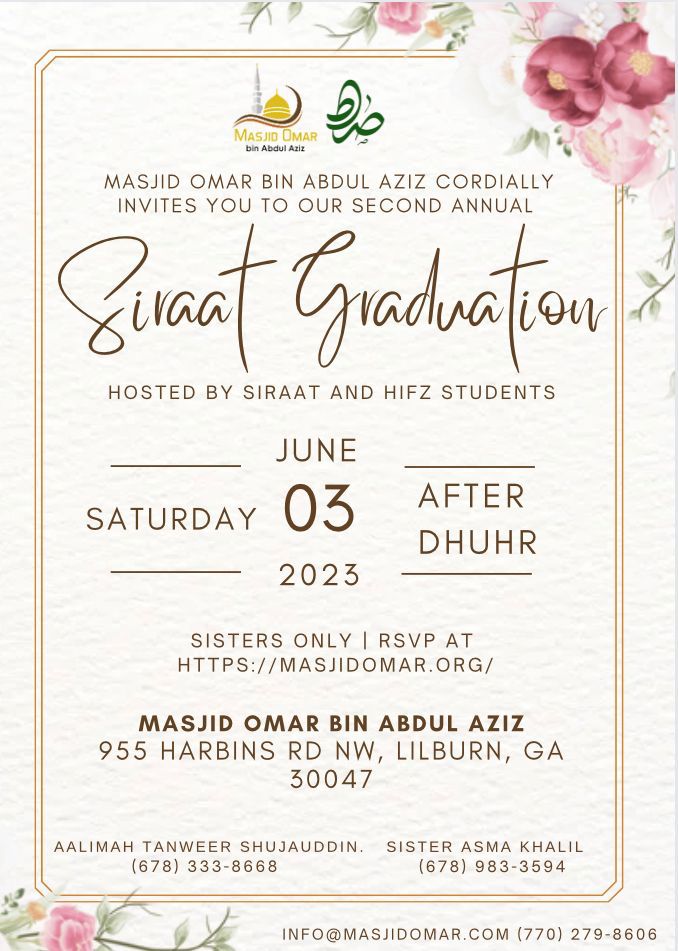 ---
High School and College Graduate 2023
Tuesday, May 16, 2023 7:48 pm
Asalamualaikum! New Date!
Are you a recent high school or college graduate? We want to celebrate YOU on your big achievement! In addition to the celebration, join us in discovering how to make the most out of your college experience and stand out amongst your peers in the workforce, guided by inspiring speakers and supported by a network of fellow graduates.

All current High School and College Students are welcome to enjoy the unforgettable experience!
All current and graduate Highschool and College students, please RSVP  here...
---
Islamic Classes - Sisters Only
Friday, May 12, 2023 11:22 am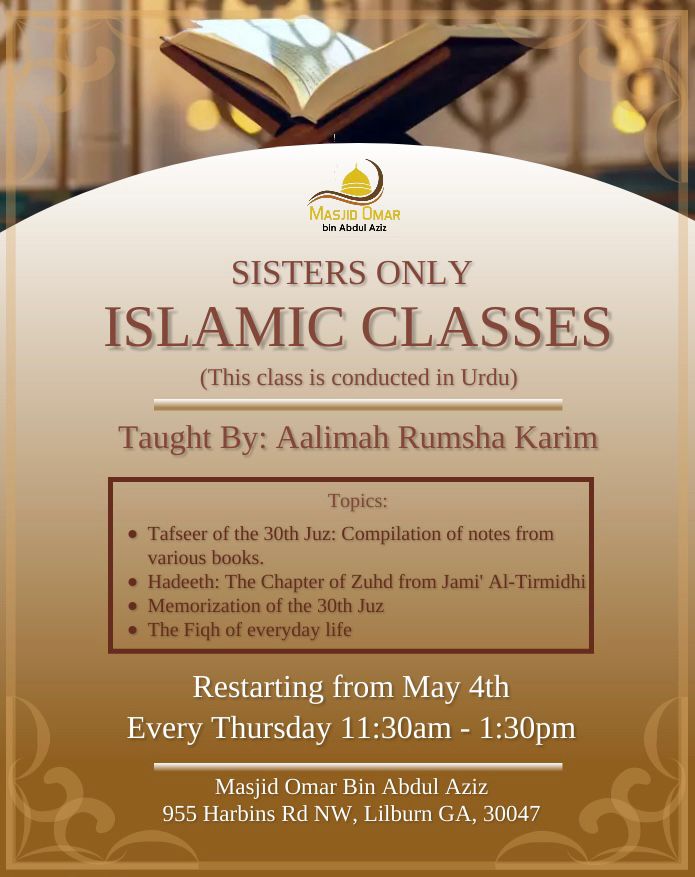 ---
Summer Hifz Camp @ Masjid Omar
Tuesday, May 2, 2023 5:14 am
Please register here>>>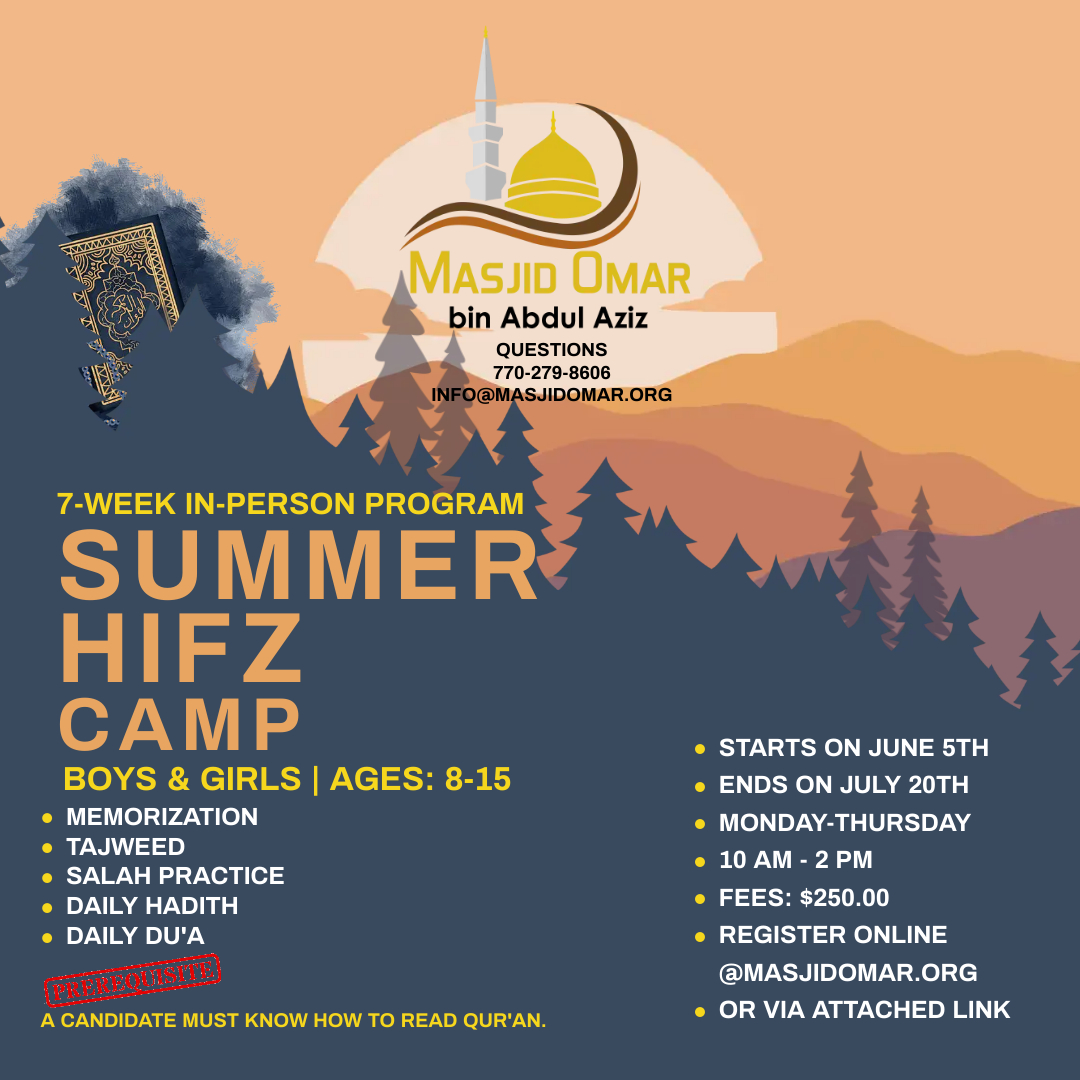 ---
Names of Allah - Urdu Workshop for Ladies Only
Thursday, April 27, 2023 7:43 pm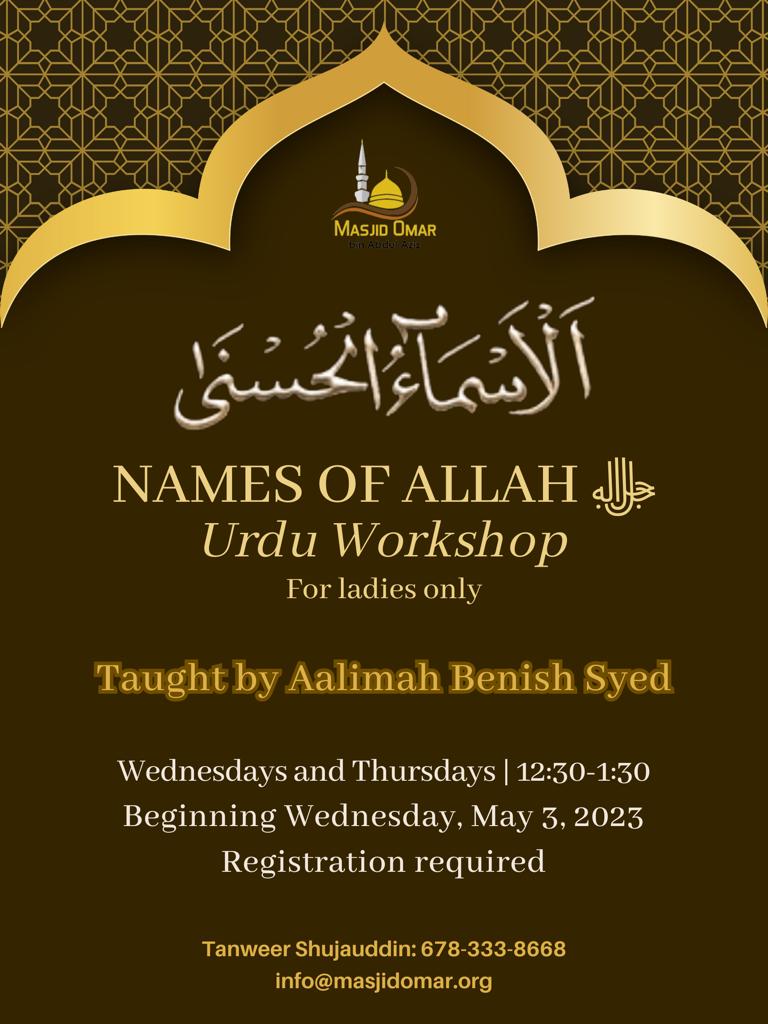 ---
Kids Summer School Registering Now @ Masjid Omar
Friday, April 21, 2023 4:18 pm
Assalam-alaykum!
Please follow link here to register>>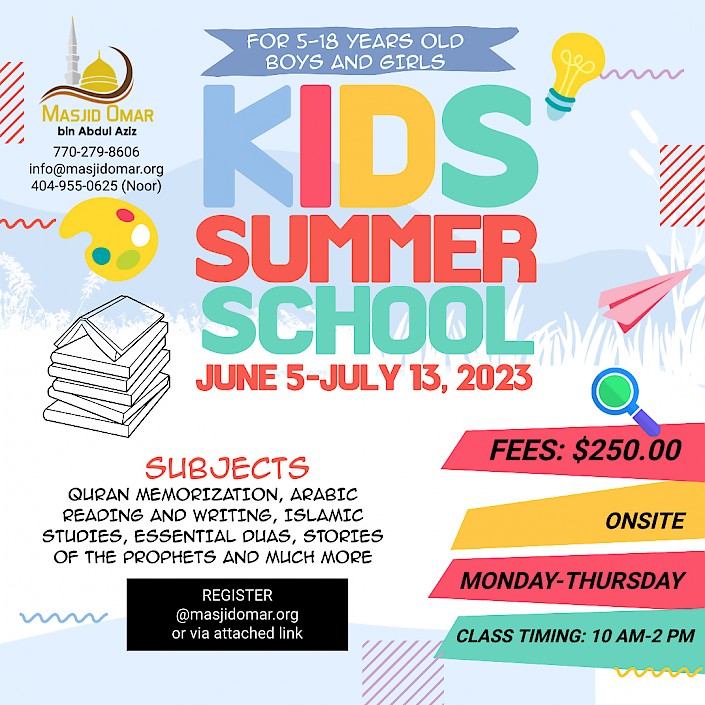 ---
New Masjid Omar App
Thursday, March 2, 2023 12:49 pm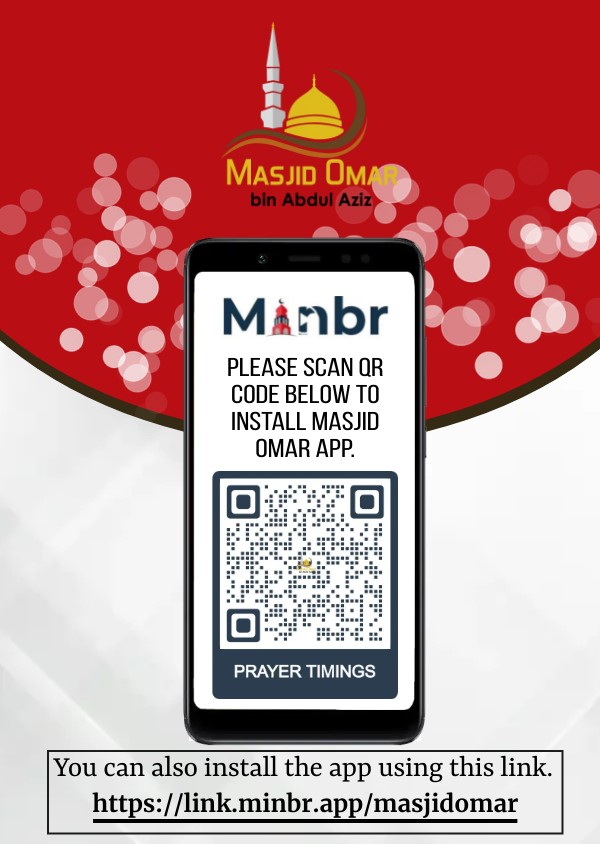 ---
Please write a check to "Masjid Omar" and either put it within a donation box at the masjid or mail it to:
Masjid Omar Bin Abdul Aziz
955 Harbins Road
Lilburn, GA 30047
"
Say: He is Allah, the One and Only; Allah, the Eternal, Absolute; He begetteth not, nor is He begotten; And there is none like unto Him."
You may also listen previous tafseer here