Saturday, September 30, 2023
15 Rabi' Al-Awwal 1445

| | Starts | Iqamah |
| --- | --- | --- |
| Fajr1 | 6:09 | 6:30 |
| Zuhr | 1:28 | 2:00 |
| Asr | 4:51 | 6:15 |
| Maghrib | 7:27 | |
| Isha | 8:42 | 9:10 |
Sunday, October 1, 2023
16 Rabi' Al-Awwal 1445

| | Starts | Iqamah |
| --- | --- | --- |
| Fajr1 | 6:10 | 6:45 |
| Zuhr | 1:28 | 2:00 |
| Asr | 4:50 | 6:00 |
| Maghrib | 7:26 | |
| Isha | 8:41 | 9:00 |
Masjid Omar Bin Abdul Aziz
955 Harbins Road
Lilburn, GA 30047
(770) 279-8606
info@masjidomar.org
Salatul Janaza
Thursday, September 21, 2023 1:49 pm
Assalamu Alaikum,
Our dear brother Muhammed Umar Sajid Memon father of (young) Hafiz Hammad Memon and husband of Hafiza Amina Memon from Masjid Omar community passed away. May Allah forgive him, admit him to Jannatul Firdaus, and grant sabr to the family! Ameen!
His Salatul Janazah and burial will be today (Sep 21st, 2023) at 5:30 pm at Muslim Cemetery @ Bethlehem.
Cemetery addres: 2245 Berry Hall Rd SE, Bethlehem, GA 30620
---
Partnering With Progress
Wednesday, September 13, 2023 9:11 pm
---
Clinic on Sunday @2pm
Saturday, September 9, 2023 8:58 am
Assalamu Alaikum
UPDATE
Masjid Omar's Weekend clinic will be open on *Sunday at 2 pm* instead of Saturday.
---
Quran Night @Sep 16
Saturday, September 9, 2023 8:56 am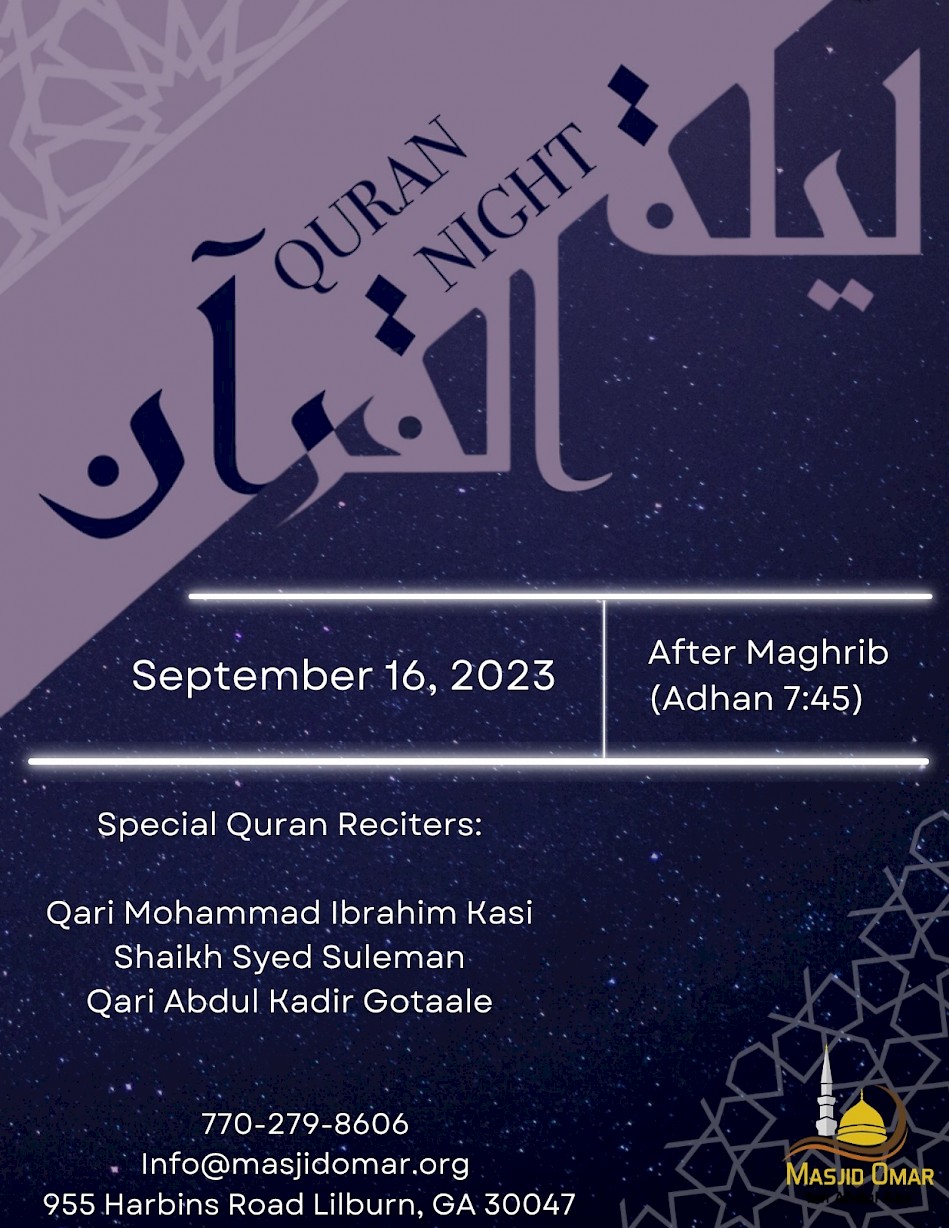 ---
Free Annual Health Fair
Saturday, September 9, 2023 8:55 am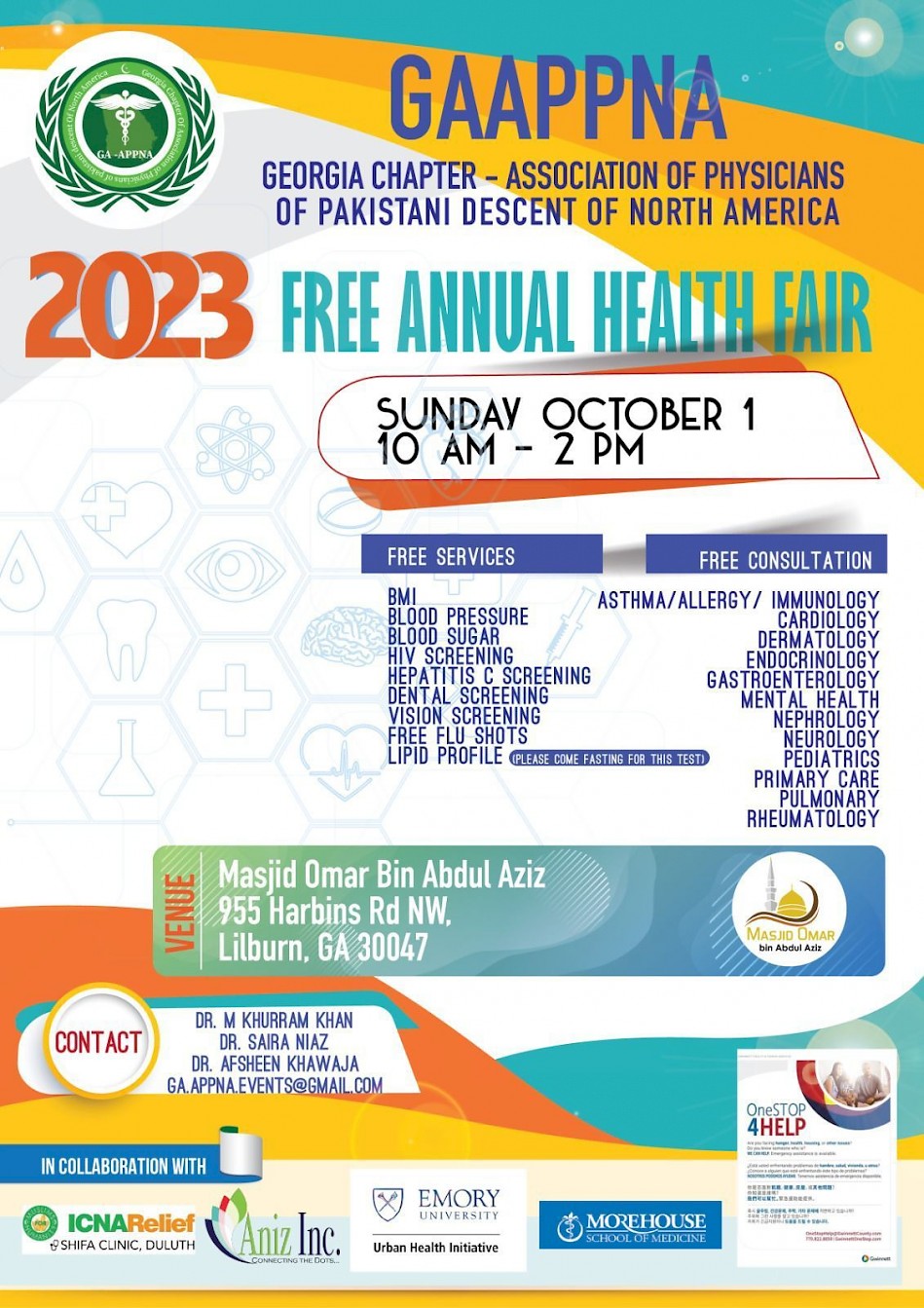 ---
Battle of Badr
Wednesday, September 6, 2023 9:14 pm
RSVP Link: tinyurl.com/BattleBadr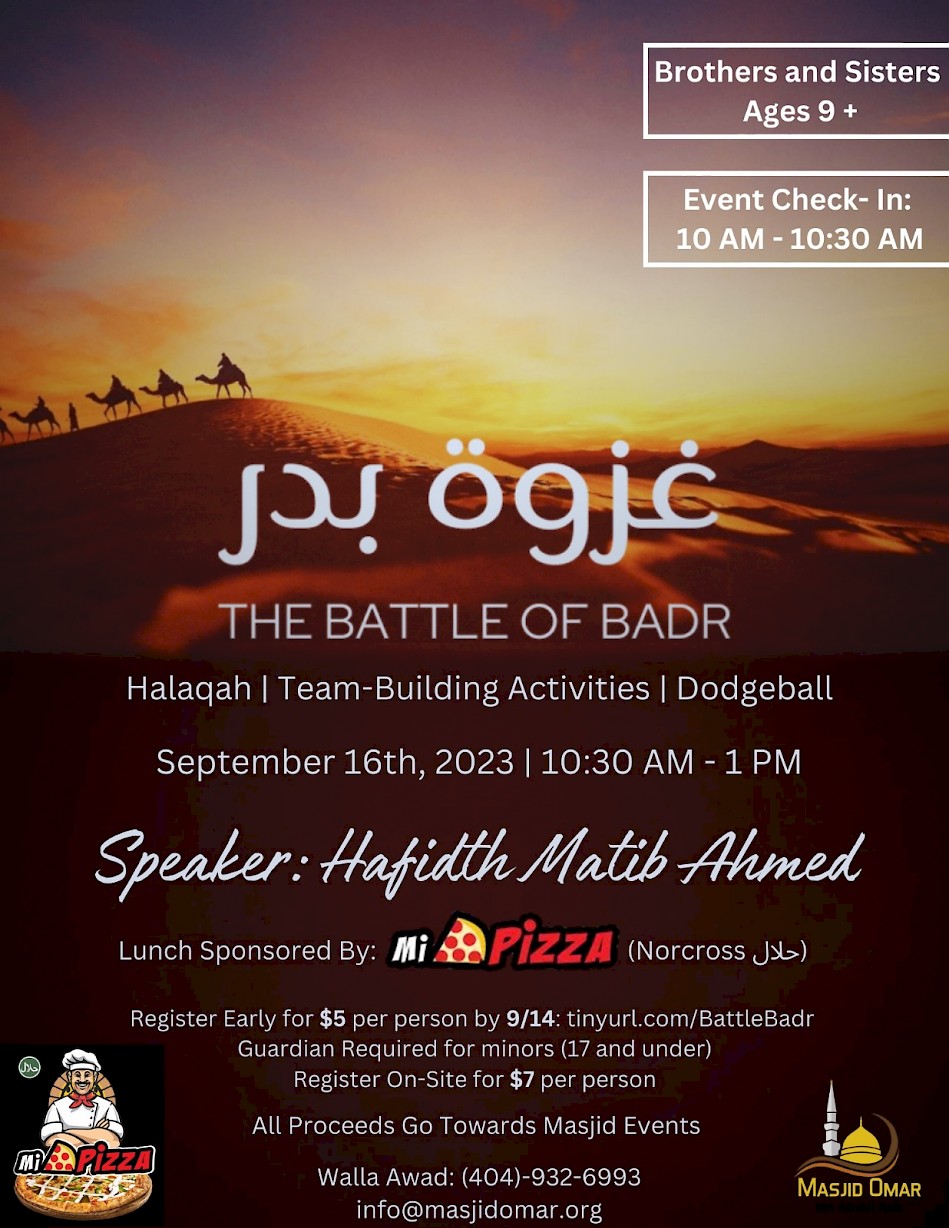 ---
Registration Open
Monday, August 14, 2023 1:22 pm
Assalamu Alaikum,
Registration is open for Masjid Omar's Sunday School and Evening School. Please register using the links below:
Sunday School Registration Link:
Evening School Registration Link: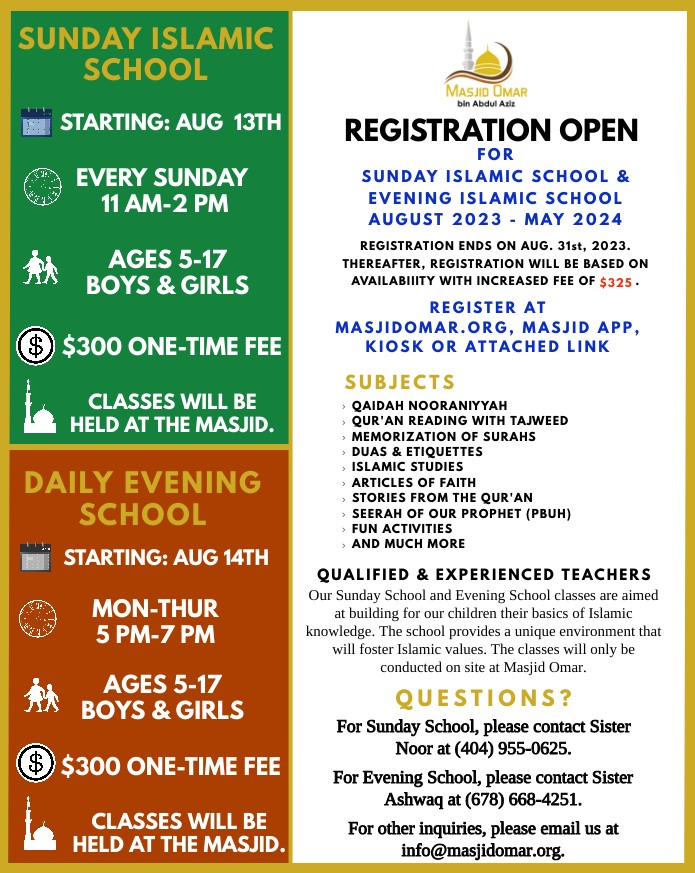 ---
Evening Islamic Studies for Sisters
Friday, August 11, 2023 11:48 am
---
Quran Competition
Friday, August 11, 2023 11:38 am
---
Part Time Hifzul Quran
Saturday, July 29, 2023 2:30 pm
---
Volunteer Opportunities
Thursday, July 20, 2023 12:11 pm
Asalaamu Alaikum!
Our Masjid is seeking dedicated individuals to join our team and make a positive impact in the community as we value your skills and passion.  This submission is for consideration to become a viable volunteer or hold a temporary Director position for a 1-year term. 
All appointments will be approved by the Board of Trustees. 
For questions, please email muhammad.varachhia@alfarooqmasjid.org.
---
New Masjid Omar App
Thursday, March 2, 2023 12:49 pm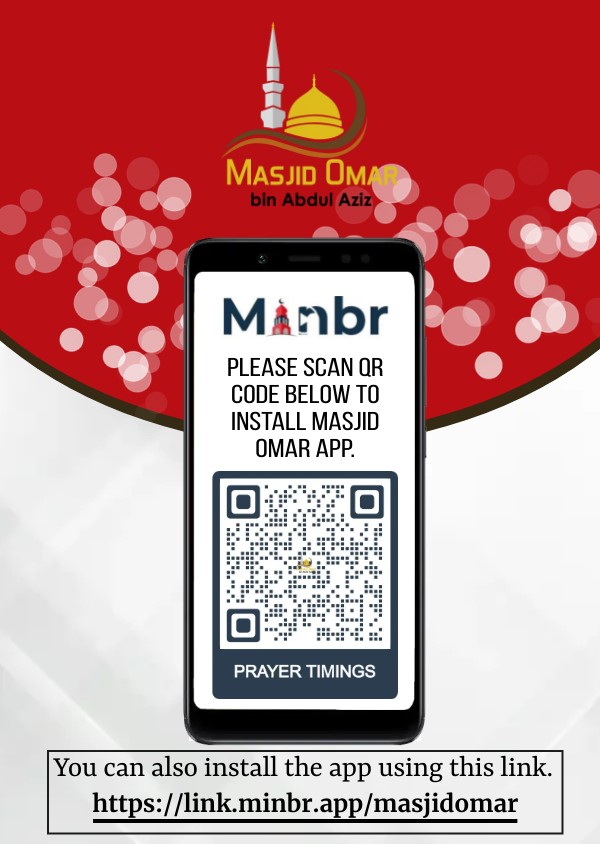 ---
Please write a check to "Masjid Omar" and either put it within a donation box at the masjid or mail it to:
Masjid Omar Bin Abdul Aziz
955 Harbins Road
Lilburn, GA 30047
"
And the servants of (Allah) Most Gracious are those who walk on the earth in humility, and when the ignorant address them, they say, "Peace!";"
You may also listen previous tafseer here