Tuesday, September 28, 2021
20 Safar 1443
| | Starts | Iqamah |
| --- | --- | --- |
| Fajr1 | 6:08 AM | 6:30 AM |
| Zuhr2 | 1:29 PM | 2:00 PM |
| Asr | 4:53 PM | 6:15 PM |
| Maghrib | 7:30 PM | |
| Isha | 8:45 PM | 9:10 PM |
Wednesday, September 29, 2021
21 Safar 1443
| | Starts | Iqamah |
| --- | --- | --- |
| Fajr1 | 6:09 AM | 6:30 AM |
| Zuhr2 | 1:28 PM | 2:00 PM |
| Asr | 4:52 PM | 6:15 PM |
| Maghrib | 7:28 PM | |
| Isha | 8:43 PM | 9:10 PM |
Masjid Omar Bin Abdul Aziz
955 Harbins Road
Lilburn, GA 30047
(770) 279-8606
info@masjidomar.org
FEED THE HUNGRY PROGRAM (FTH)
Masjid Omar Bin Abdul Aziz in collaboration with ICNA Relief will be serving hot meals to around 150+ homeless and hungry people in inner-city Atlanta every 1st Sunday of every month.
This program is brought you by Masjid Omar's Dawah & Outreach Committee and Social Welfare Committee. 
Your participation in this program requires 3 simple steps:
1. Click here to register for the item you would like to donate: https://tinyurl.com/yyyk7nf2
2. Prepare the food you have selected or purchase the item you are donating
3. Deliver the items to Masjid Omar volunteers, Please contact Br. Saleem Gilani(404-468-7937) at Masjid Omar Bin Abdul Aziz: 955 Harbins Road NW Lilburn, GA 30047 on the scheduled date.
The rest is taken care of by Masjid Omar volunteers who delivers the food to the location in inner city Atlanta and distributes it to the poor, homeless and hungry at 336 Joseph E. Lowery Boulevard Northwest, Atlanta.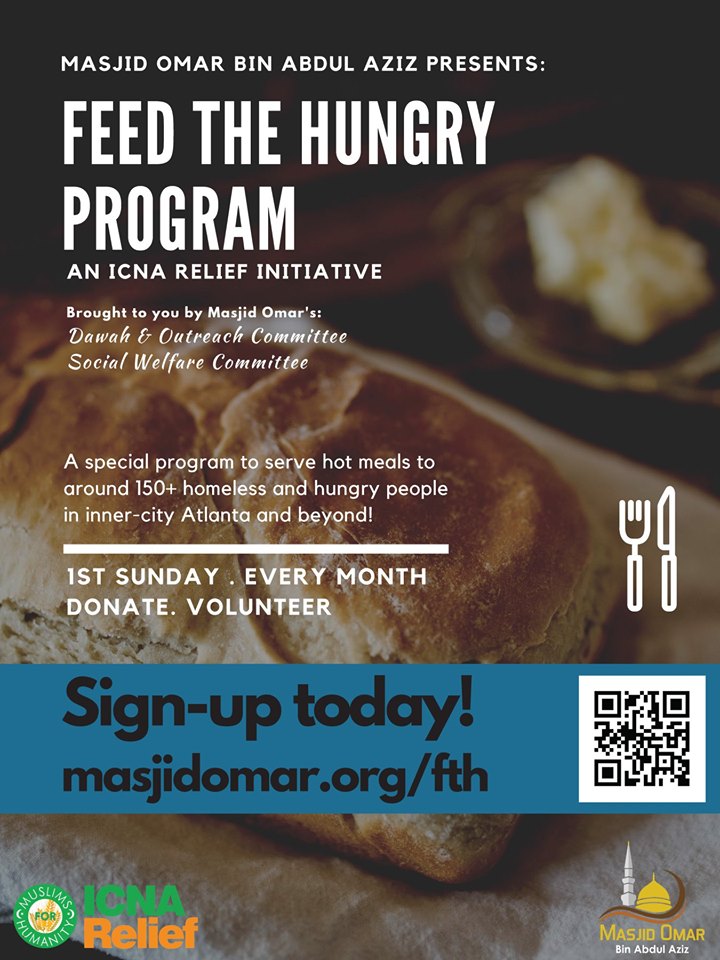 Online Programs:
* Prophet Seerah
Every Tuesday at 7:30 pm on Zoom.
Meeting ID: 863 5276 3696
Password: 786786

* Don't Despair of the Mercy of Allah

  Every Wednesday after Maghrib

Zoom Series for Sisters

Lives of the Prophets
MOHID is Masjid Omar Bin Abdul Aziz's preferred method of accepting donations/payments.
Please write a check to "Masjid Omar" and either put it within a donation box at the masjid or mail it to:
Masjid Omar Bin Abdul Aziz
955 Harbins Road
Lilburn, GA 30047
"
O ye who believe! Fear Allah as He should be feared, and die not except in a state of Islam."
You may also listen previous tafseer here