Tuesday, October 22, 2019
23 Safar 1441
| | Starts | Iqamah |
| --- | --- | --- |
| Fajr1 | 6:26 AM | 6:50 AM |
| Zuhr2 | 1:23 PM | 2:00 PM |
| Asr | 4:31 PM | 5:30 PM |
| Maghrib | 6:59 PM | |
| Isha | 8:15 PM | 8:30 PM |
Wednesday, October 23, 2019
24 Safar 1441
| | Starts | Iqamah |
| --- | --- | --- |
| Fajr1 | 6:26 AM | 6:50 AM |
| Zuhr2 | 1:22 PM | 2:00 PM |
| Asr | 4:30 PM | 5:30 PM |
| Maghrib | 6:58 PM | |
| Isha | 8:14 PM | 8:30 PM |
Masjid Omar Bin Abdul Aziz
955 Harbins Road
Lilburn, GA 30047
(770) 279-8606
Mental Health Forum
Sunday, September 29, 2019 10:23 am
A life comes to an end every 40 seconds due to suicide (WHO). Suicide affects people of all ages in all communities and it is certainly preventable. Are you aware of the signs? Do you know what resources are available for help? What can you do? Join our upcoming forum to find out more inshaAllah!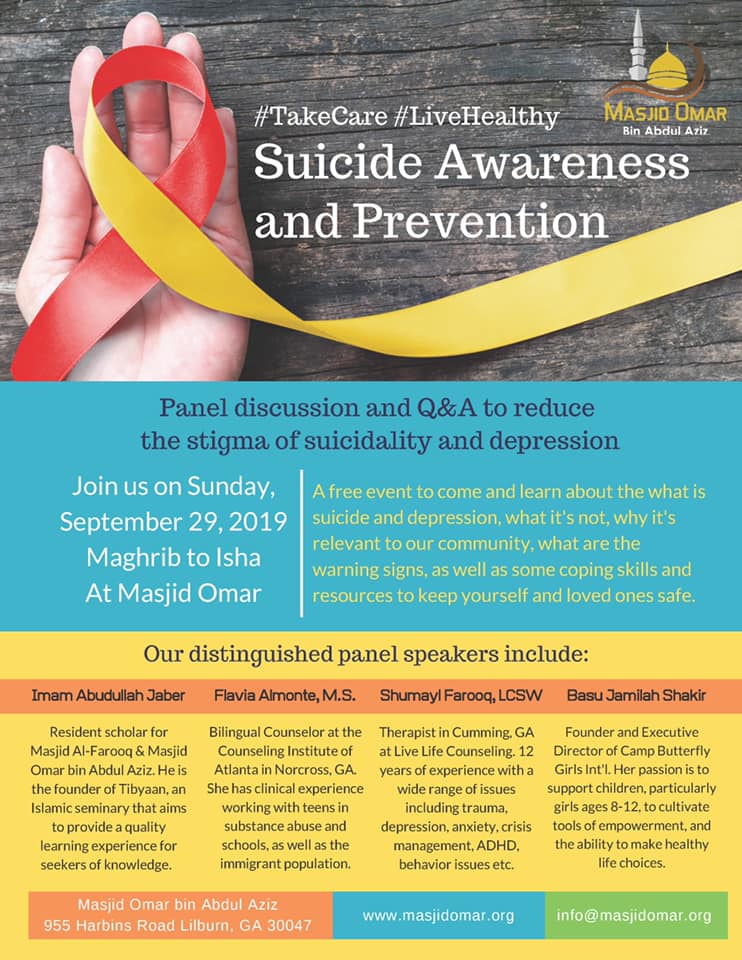 You may also listen previous tafseer here
MOHID is Masjid Omar Bin Abdul Aziz's preferred method of accepting donations/payments.
Please write a check to "Masjid Omar" and either put it within a donation box at the masjid or mail it to:
Masjid Omar Bin Abdul Aziz
955 Harbins Road
Lilburn, GA 30047
"
Say: He is Allah, the One and Only; Allah, the Eternal, Absolute; He begetteth not, nor is He begotten; And there is none like unto Him."