Friday, May 24, 2019
19 Ramadan 1440
| | Starts | Iqamah |
| --- | --- | --- |
| Fajr1 | 4:52 | 6:00 |
| Zuhr2 | 1:35 PM | 2:00 PM |
| Asr | 5:32 PM | 6:45 PM |
| Maghrib | 8:41 PM | |
| Isha | 10:11 PM | 10:30 PM |
Saturday, May 25, 2019
20 Ramadan 1440
| | Starts | Iqamah |
| --- | --- | --- |
| Fajr1 | 4:51 | 6:00 |
| Zuhr2 | 1:35 PM | 2:00 PM |
| Asr | 5:32 PM | 6:45 PM |
| Maghrib | 8:42 PM | |
| Isha | 10:12 PM | 10:30 PM |
Masjid Omar Bin Abdul Aziz
955 Harbins Road
Lilburn, GA 30047
(770) 279-8606
YOUTH: FRIDAY NIGHT LIVE
Wednesday, March 13, 2019 8:53 pm
Well, the equation is simple. Our youth, boys and girls, are our future. They are the leaders of tomorrow. If we can't get our youth to enjoy the masjid environment, how can we expect them to remain attached when they grow up? The Friday Night Live gives youth an open platform to discuss and learn about issues that matter to them.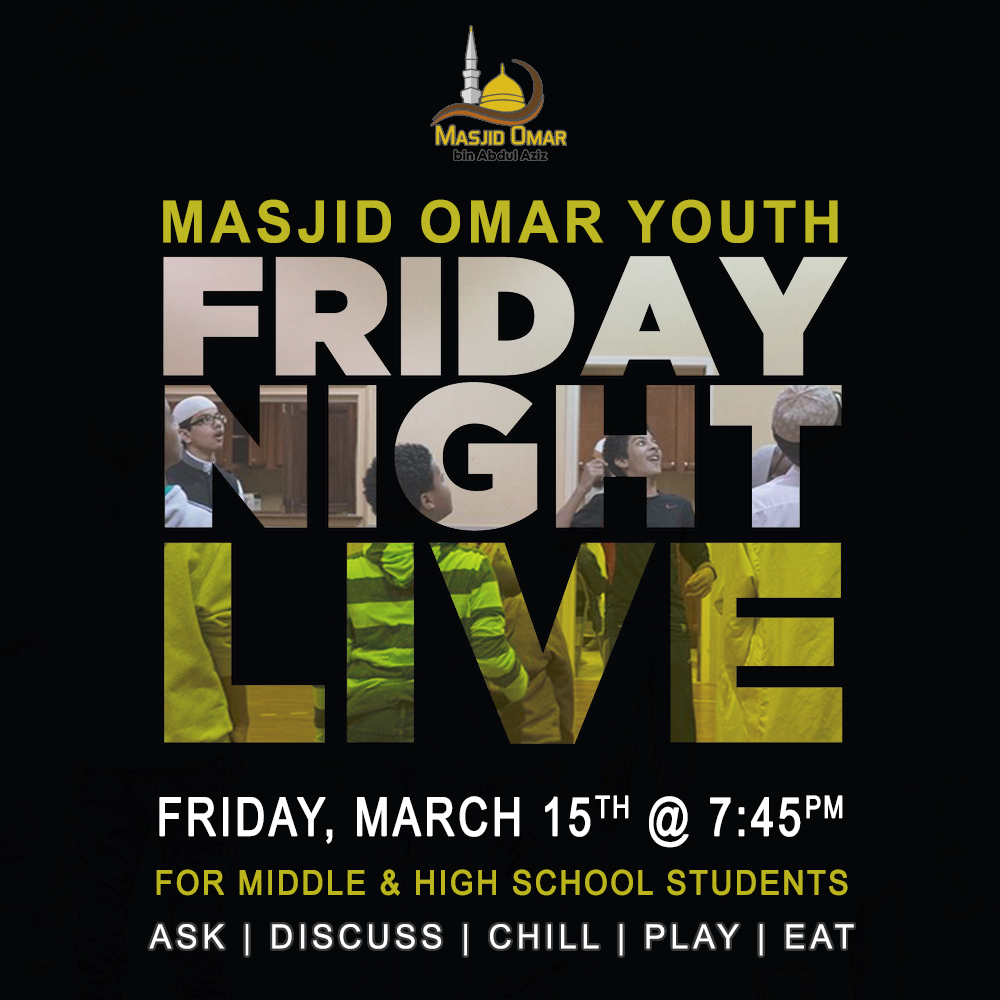 You may also listen previous tafseer here
MOHID is Masjid Omar Bin Abdul Aziz's preferred method of accepting donations/payments.
Please write a check to "Masjid Omar" and either put it within a donation box at the masjid or mail it to:
Masjid Omar Bin Abdul Aziz
955 Harbins Road
Lilburn, GA 30047
"
Say: He is Allah, the One and Only; Allah, the Eternal, Absolute; He begetteth not, nor is He begotten; And there is none like unto Him."