Friday, May 24, 2019
19 Ramadan 1440
| | Starts | Iqamah |
| --- | --- | --- |
| Fajr1 | 4:52 | 6:00 |
| Zuhr2 | 1:35 PM | 2:00 PM |
| Asr | 5:32 PM | 6:45 PM |
| Maghrib | 8:41 PM | |
| Isha | 10:11 PM | 10:30 PM |
Saturday, May 25, 2019
20 Ramadan 1440
| | Starts | Iqamah |
| --- | --- | --- |
| Fajr1 | 4:51 | 6:00 |
| Zuhr2 | 1:35 PM | 2:00 PM |
| Asr | 5:32 PM | 6:45 PM |
| Maghrib | 8:42 PM | |
| Isha | 10:12 PM | 10:30 PM |
Masjid Omar Bin Abdul Aziz
955 Harbins Road
Lilburn, GA 30047
(770) 279-8606
UNSHAKABLE FAITH
Wednesday, March 13, 2019 8:50 pm
Fatimah Al Fihriyya, the founder of the first degree-granting university in the world, University of Al Quaraouiyine, founded in 859 CE. She set the standard for modern day educational institutions. Fatima Al Fihriyya is a role model for every gender of every age and from every walk of life. But I'm not going to spoil it for you - you've gotta be there to experience it!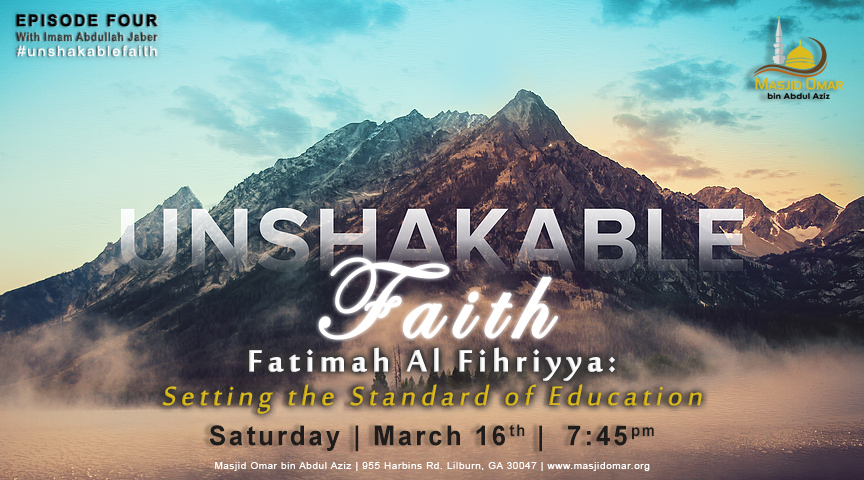 You may also listen previous tafseer here
MOHID is Masjid Omar Bin Abdul Aziz's preferred method of accepting donations/payments.
Please write a check to "Masjid Omar" and either put it within a donation box at the masjid or mail it to:
Masjid Omar Bin Abdul Aziz
955 Harbins Road
Lilburn, GA 30047
"
O ye who believe! Fear Allah as He should be feared, and die not except in a state of Islam."