Friday, May 24, 2019
19 Ramadan 1440
| | Starts | Iqamah |
| --- | --- | --- |
| Fajr1 | 4:52 | 6:00 |
| Zuhr2 | 1:35 PM | 2:00 PM |
| Asr | 5:32 PM | 6:45 PM |
| Maghrib | 8:41 PM | |
| Isha | 10:11 PM | 10:30 PM |
Saturday, May 25, 2019
20 Ramadan 1440
| | Starts | Iqamah |
| --- | --- | --- |
| Fajr1 | 4:51 | 6:00 |
| Zuhr2 | 1:35 PM | 2:00 PM |
| Asr | 5:32 PM | 6:45 PM |
| Maghrib | 8:42 PM | |
| Isha | 10:12 PM | 10:30 PM |
Masjid Omar Bin Abdul Aziz
955 Harbins Road
Lilburn, GA 30047
(770) 279-8606
PRE-RAMADAN QURAN CAMP
Wednesday, March 13, 2019 8:39 pm
The Muslim Ummah has done a wonderful job of producing a large quantity of Huffadh. Unfortunately, due to school and our busy lifestyles, there seems to be a lack of quality. And when Ramadan rolls around every year, we are unconfident, hiding behind the shield of "school" and "work." This program is designed to help. But we cannot help a closed hand. Join us and let us assist you to become more confident in your memorization.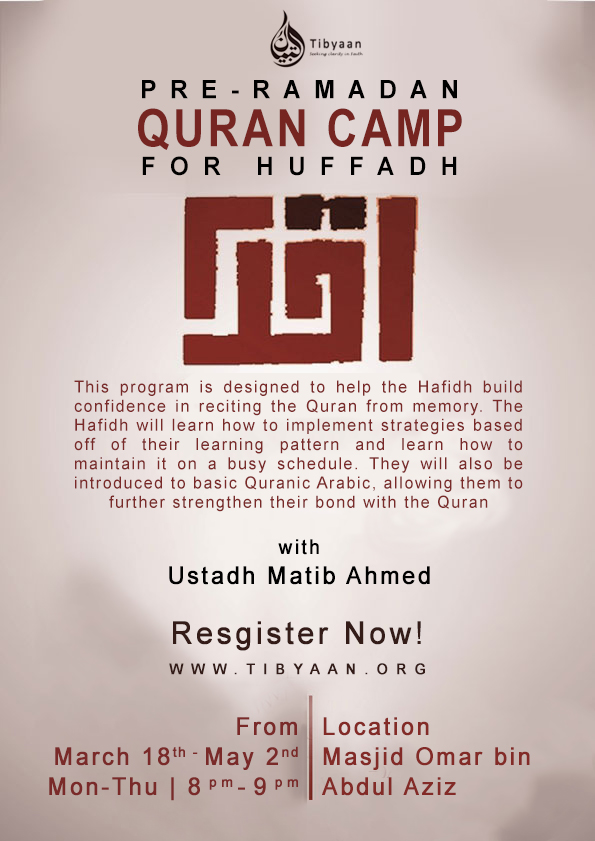 You may also listen previous tafseer here
MOHID is Masjid Omar Bin Abdul Aziz's preferred method of accepting donations/payments.
Please write a check to "Masjid Omar" and either put it within a donation box at the masjid or mail it to:
Masjid Omar Bin Abdul Aziz
955 Harbins Road
Lilburn, GA 30047
"
Narrated 'Umar bin Al-Khattab: I heard Allah's Messenger

saying, "The reward of deeds depends upon the intentions and every person will get the reward according to what he has intended. So whoever emigrated for worldly benefits or for a woman to marry, his emigration was for what he emigrated for.""