Monday, June 24, 2019
21 Shawwal 1440
| | Starts | Iqamah |
| --- | --- | --- |
| Fajr1 | 4:45 AM | 5:55 AM |
| Zuhr2 | 1:40 PM | 2:00 PM |
| Asr | 5:41 PM | 6:45 PM |
| Maghrib | 8:55 PM | |
| Isha | 10:29 PM | 10:35 PM |
Tuesday, June 25, 2019
22 Shawwal 1440
| | Starts | Iqamah |
| --- | --- | --- |
| Fajr1 | 4:45 AM | 5:55 AM |
| Zuhr2 | 1:41 PM | 2:00 PM |
| Asr | 5:41 PM | 6:45 PM |
| Maghrib | 8:55 PM | |
| Isha | 10:30 PM | 10:35 PM |
Masjid Omar Bin Abdul Aziz
955 Harbins Road
Lilburn, GA 30047
(770) 279-8606
Muslim Advocacy Day at the Capitol
Monday, March 18, 2019 9:08 pm
Join the overwhelming number of sponsors, all for the purpose of supporting our Muslim community at the State Capitol this week! The deadline to register is tomorrow, so please register today!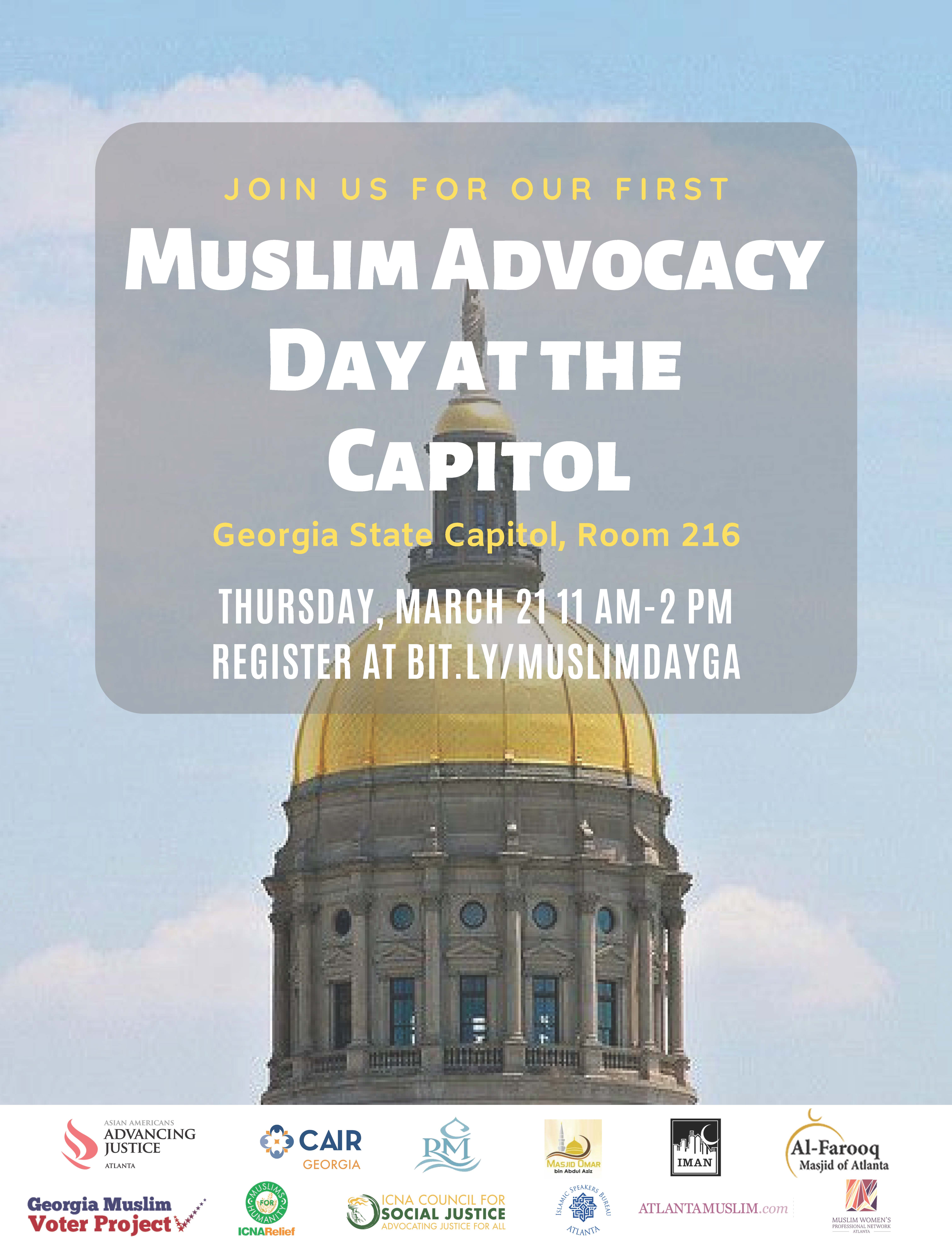 You may also listen previous tafseer here
MOHID is Masjid Omar Bin Abdul Aziz's preferred method of accepting donations/payments.
Please write a check to "Masjid Omar" and either put it within a donation box at the masjid or mail it to:
Masjid Omar Bin Abdul Aziz
955 Harbins Road
Lilburn, GA 30047
"
And every human being's destiny have We tied to his neck; and on the Day of Resurrection We shall bring forth for him a record which he will find wide open;"