Friday, May 24, 2019
19 Ramadan 1440
| | Starts | Iqamah |
| --- | --- | --- |
| Fajr1 | 4:52 | 6:00 |
| Zuhr2 | 1:35 PM | 2:00 PM |
| Asr | 5:32 PM | 6:45 PM |
| Maghrib | 8:41 PM | |
| Isha | 10:11 PM | 10:30 PM |
Saturday, May 25, 2019
20 Ramadan 1440
| | Starts | Iqamah |
| --- | --- | --- |
| Fajr1 | 4:51 | 6:00 |
| Zuhr2 | 1:35 PM | 2:00 PM |
| Asr | 5:32 PM | 6:45 PM |
| Maghrib | 8:42 PM | |
| Isha | 10:12 PM | 10:30 PM |
Masjid Omar Bin Abdul Aziz
955 Harbins Road
Lilburn, GA 30047
(770) 279-8606
MARTA REFORENDUREFERENDUM
Wednesday, March 13, 2019 8:46 pm
Trffic is terrible and ONLY TRANSIT BEATS TRAFFIC. For years, Gwinnett County has needed comprehensive transportation solutions. THE TIME IS NOW to support the plan that thousands of Gwinnett residents have helped shape through an extensive public participation process. Join us to learn more about the MARTA extending into Gwinnett County. Join us to learn more.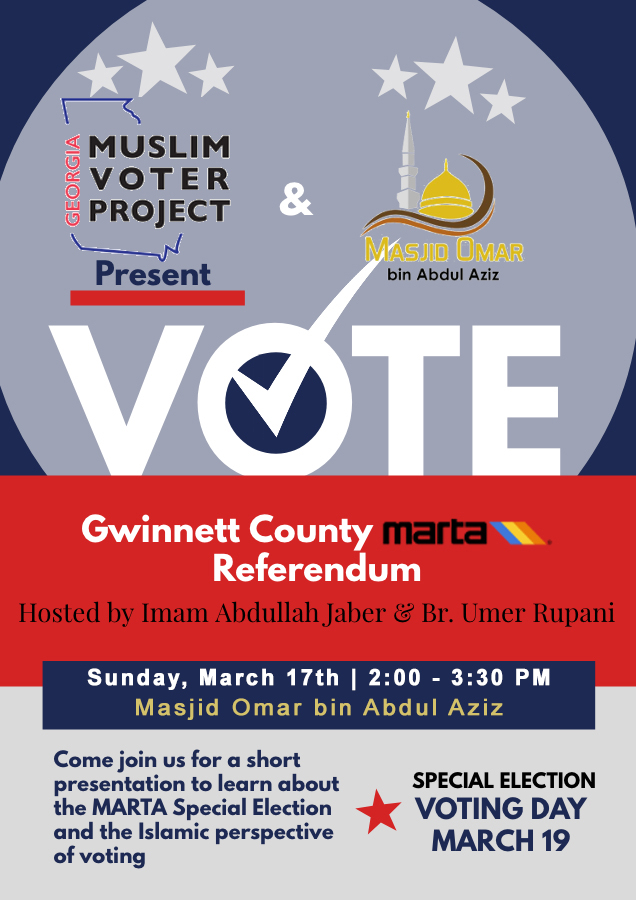 You may also listen previous tafseer here
MOHID is Masjid Omar Bin Abdul Aziz's preferred method of accepting donations/payments.
Please write a check to "Masjid Omar" and either put it within a donation box at the masjid or mail it to:
Masjid Omar Bin Abdul Aziz
955 Harbins Road
Lilburn, GA 30047
"
Say: He is Allah, the One and Only; Allah, the Eternal, Absolute; He begetteth not, nor is He begotten; And there is none like unto Him."