Wednesday, August 21, 2019
20 Dhu Al-Hijjah 1440
| | Starts | Iqamah |
| --- | --- | --- |
| Fajr1 | 5:36 AM | 6:30 AM |
| Zuhr2 | 1:41 PM | 2:00 PM |
| Asr | 5:21 PM | 6:30 PM |
| Maghrib | 8:21 PM | |
| Isha | 9:41 PM | 9:55 PM |
Thursday, August 22, 2019
21 Dhu Al-Hijjah 1440
| | Starts | Iqamah |
| --- | --- | --- |
| Fajr1 | 5:37 AM | 6:30 AM |
| Zuhr2 | 1:41 PM | 2:00 PM |
| Asr | 5:21 PM | 6:30 PM |
| Maghrib | 8:20 PM | |
| Isha | 9:40 PM | 9:55 PM |
Masjid Omar Bin Abdul Aziz
955 Harbins Road
Lilburn, GA 30047
(770) 279-8606
Jesus In Islam
Thursday, January 24, 2019 9:56 pm
Nearly 4 billion, Muslim and Christians, believe in him, yet Jesus (peace be upon him) is perhaps the most misunderstood and misrepresented person in history. So, how well do you know him?
This seminar explores and demystifies Jesus (peace be upon him) – his life, teachings, personality, and mission. It highlights commonalities but also examines the differences between Christianity and Islam.
Take this seminar to strengthen your conviction and deepen your understanding.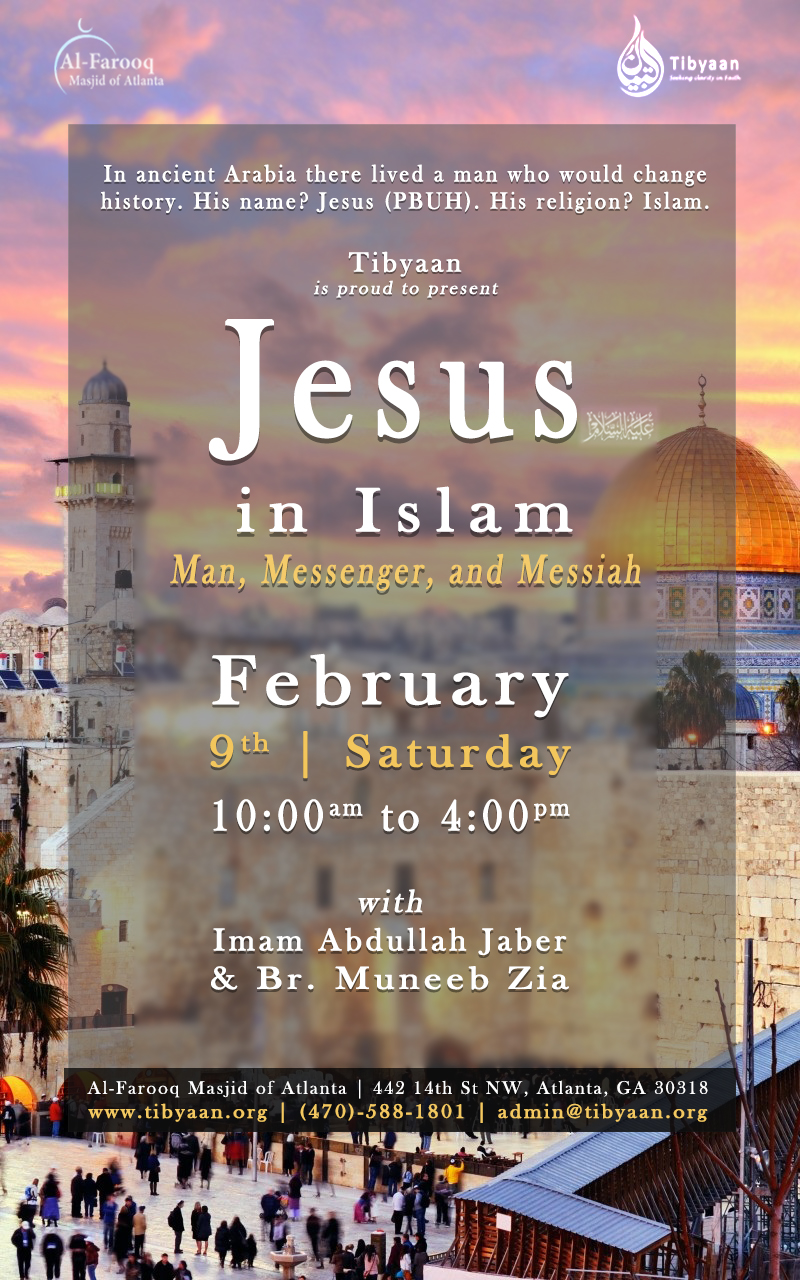 You may also listen previous tafseer here
MOHID is Masjid Omar Bin Abdul Aziz's preferred method of accepting donations/payments.
Please write a check to "Masjid Omar" and either put it within a donation box at the masjid or mail it to:
Masjid Omar Bin Abdul Aziz
955 Harbins Road
Lilburn, GA 30047
"
Say: He is Allah, the One and Only; Allah, the Eternal, Absolute; He begetteth not, nor is He begotten; And there is none like unto Him."