Wednesday, August 21, 2019
20 Dhu Al-Hijjah 1440
| | Starts | Iqamah |
| --- | --- | --- |
| Fajr1 | 5:36 AM | 6:30 AM |
| Zuhr2 | 1:41 PM | 2:00 PM |
| Asr | 5:21 PM | 6:30 PM |
| Maghrib | 8:21 PM | |
| Isha | 9:41 PM | 9:55 PM |
Thursday, August 22, 2019
21 Dhu Al-Hijjah 1440
| | Starts | Iqamah |
| --- | --- | --- |
| Fajr1 | 5:37 AM | 6:30 AM |
| Zuhr2 | 1:41 PM | 2:00 PM |
| Asr | 5:21 PM | 6:30 PM |
| Maghrib | 8:20 PM | |
| Isha | 9:40 PM | 9:55 PM |
Masjid Omar Bin Abdul Aziz
955 Harbins Road
Lilburn, GA 30047
(770) 279-8606
Dhul Hijjah Mubarak
Thursday, August 1, 2019 9:21 pm
Alhamdulillah- the moon for the month of Dhul Hijjah has been sighted! This marks the beginning of the blessed 10 days of Dhul Hijjah. May Allah accept our good deeds, duas, and dhikr. May Allah bless all of us, our family members, community, and ummah during these Blessed Days! Ameen!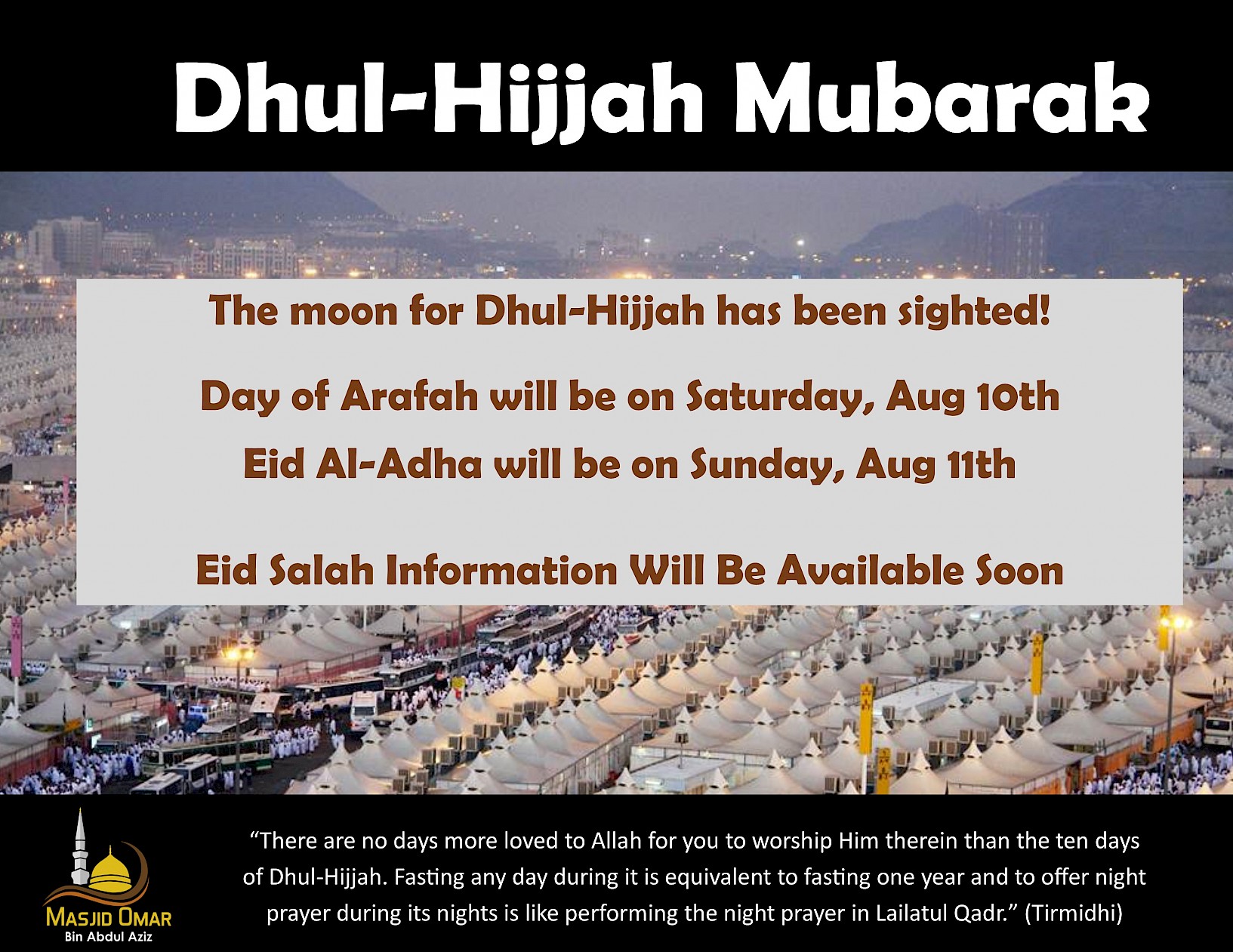 You may also listen previous tafseer here
MOHID is Masjid Omar Bin Abdul Aziz's preferred method of accepting donations/payments.
Please write a check to "Masjid Omar" and either put it within a donation box at the masjid or mail it to:
Masjid Omar Bin Abdul Aziz
955 Harbins Road
Lilburn, GA 30047
"
Surely those who guard (against evil) are in a secure place, In gardens and springs;"